I see an awful lot of movies. More than one a day, on average, when you take it all in. And, granted, the vast, vast, vast majority of those are not animated films, and I know there are some years I won't even see a foreign animated film. So you'll have to forgive a relative lack of framework in which I can say I was totally blown away by The Adventures of Prince Achmed, a film quite unlike any I've ever seen.
Reiniger was twenty-three years old when she embarked on the project, which is now the oldest surviving feature-length animated film, and only the third one ever made anywhere. So you can imagine how daunted she must have felt when financier Louis Hagen asked her if it were possible for her to take her hand-cut silhouette style, which she'd been using to create title sequences and shorts, into the big leagues. The result of that conversation was three years, 96,000 frames, 250,000 images, and a whole mess of individually-cut characters, objects, backgrounds, and assorted other shapes that all came together to a huge financial success, and one of the most important films ever made.
---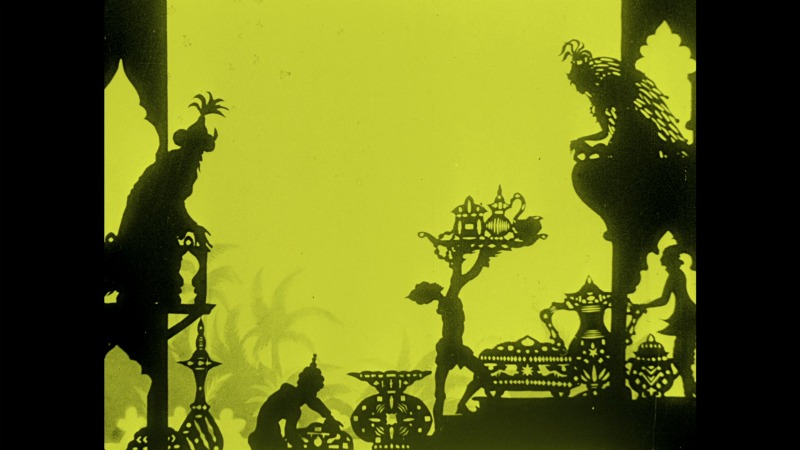 ---
Using 1001 Arabian Nights as her source, Reiniger focused in on the story of Achmed, a passionate adventurer continually in conflict with a wicked African sorcerer, who first sends him far into the sky on a flying horse before, as always, stealing from him the woman he loves. As often as we've seen these types of stories onscreen (and, more familiarly for the animation crowd, the Aladdin tale that eventually factors in), I'd venture to say they've never found a more perfect medium than Reiniger's. Her style, which only allows for black figures against white (or tinted) backgrounds, forces her to think both simply and archetypically. Every character must be defined by their profile, and completely distinct from those around him or her, a feat she not only accomplishes with seemingly total ease ("I could cut out silhouettes almost as soon as I could manage to hold a pair of scissors," she wrote in 1936, going on the entertain family with Shakespeare shadow plays), but which can be realized immediately, as a series of introductions parade the characters through the screen, almost like the sort of character posters we see for so many movies today.
But that's nothing compared to how she gets them moving. Each character is imbued with a life at once all their own – a convincing sensuality in the women, sensitive stoicism in the male heroes, quick, sneaky movements in the villains – yet fitting within the aesthetic Reiniger reflexively establishes. The tactile nature of her medium hardly prevents her from using some of animations more outlandish tropes, allowing characters to morph and transform, exaggerating physicality for emotional effect. The effect is quite often musical, not so surprising, I suppose, as the film was developed in tandem with Wolfgang Zeller, who wrote the score for the film that's still used today. The unity between the two displays a unique sort of perfection, familiar to animated works like Fantasia that use music as the basis for their rhythms, more impressive here due to not relying on an established relationship with the composition at hand. It's also, not for nothing, just deeply moving and affecting, the kind of thing you can find yourself lost in for minutes without fully taking in the plot developments that may have happened in the meantime. The form is the content.
---
---
Her sharp, proudly cartoonish and yet slightly dark style also fits in quite well with the German Expressionism movement that was all the rage at the time, especially those that deal relentlessly in classical archetypes, like The Cabinet of Dr. Caligari, Faust, and Metropolis. There's a certain purity to the storytelling that meshes well with with the stripped-down, characters-defined-in-silhouette, pointedly unrealistic yet emotionally authentic visual language of expressionism.
The new Blu-ray release of The Adventures of Prince Achmed from the BFI is really something of an overall introduction to Reiniger, as it also includes her The Adventures of Dr. Dolittle, made immediately after the success of Achmed, as well as two earlier works, The Flying Coffer and The Secret of the Marquise, an advertisement for skin lotion. Those earlier works are presented without a score at all, but, at 8:00 and 2:00 apiece, eminently watchable, and, along with Dolittle, show that she had hardly exhausted her imagination and storytelling capacity with Achmed. Slightly more disappointing are two later works, The Star of Bethlehem from 1956 and The Lost Son from 1974, that mostly simply relate Bible stories (the Nativity and the Prodigal Son, respectively) without any authorial perspective. There's an adventure element added into Bethlehem, and that one certainly benefits from much more affecting imagery, but The Lost Son really just sits there.
---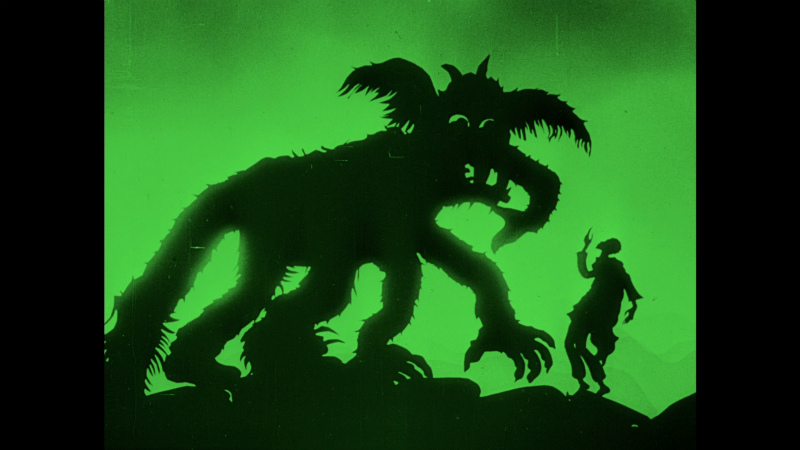 ---
All of the shorts, along with the feature, obviously, are presented in high definition, and look spectacular. There was some danger of Achmed being lost in the years following World War II, but a print was found in England, so it is only fitting that the British Film Institute should bring the film to Blu-ray for the first time anywhere (albeit in a Region B locked edition). The film is not without damage and grain, but has been beautifully rendered onto the digital format, losing little of the quality one would expect from seeing this projected theatrically. The shorts generally keep to that as well, with only the later ones being terribly faded (the colors don't hold up quite as well, bleeding at times). But all in all, this is a tremendous value, and a great introduction to a woefully overlooked, vital filmmaker.
---