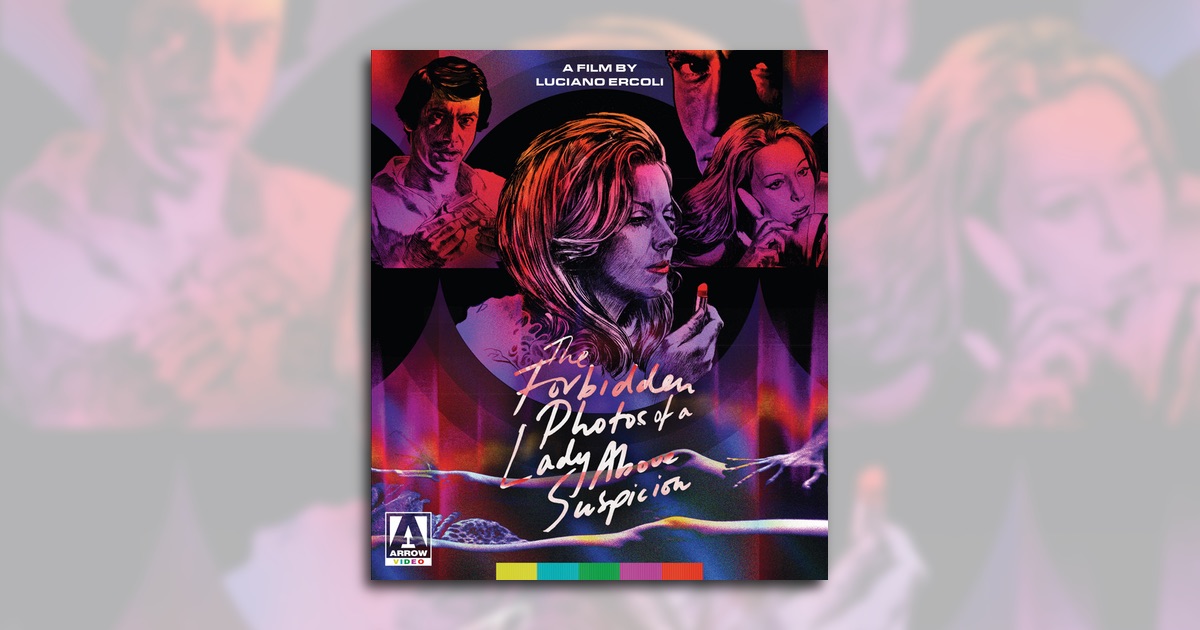 Giallo burned bright and fast, when the Italian film industry churned out all manner of violence quickly, cheaply, and beautifully. But the genre it is sold as today wasn't established immediately. It took some time to build to the more aggressive sex and violence. Earlier giallos either had too much prestige or too little, building out more dramatic elements and leaving the schlock and awe to only those most heightened moments. Kat Ellinger brilliantly discusses this in her commentary track on Arrow's new Blu-ray edition of The Forbidden Photos of a Lady Above Suspicion, arguing that although films such as this might not deliver so fervently on the genre elements we now associate with it, it falls into a fascinating realm of the "F Giallo," or female-focused giallo film, concerned more with undefinable feelings than with "just how dismembered can this person become?" Not that the latter can't include a bit of the former, or, for that matter, vice versa.
I found hers to be a compelling defense, especially as I didn't much feel the film worked as I watched it through the first time. Was it purely my male perspective to blame? Well, that may still be the case, and is not for me to say, but I certainly would find Ellinger's case – and the film – more convincing if not for Dagmar Lassander's lead performance. She plays Minou, a bored wealthy housewife who just can't keep her too-busy husband's attention. One night, she's attacked on the street by a creep on a motorcycle, who threatens sexual violence and informs her that her husband has killed a man. He has the proof, and he'll send to the police if she doesn't have sex with him!
Screenwriter Ernesto Gastaldi would go on to write some of the more notable entries in the genre (including All the Colors of the Dark, Death Walks In High Heels, Death Walks at Midnight, and Torso), and one can see elements of those in this, especially as Minou becomes increasingly paranoid that her perceptions of reality are not what she believed. Director Luciano Ercoli made his debut here, and while he and cinematographer Alejandro Ulloa create some eye-catching compositions with expressive color palettes, his ability to shape the film still feels quite limited. The performances are all in different registers, with Lassander attempting something straightforward and emerging ridiculous, Nieves Navarro (credited as Susan Scott) as her friend Dominique going full into camp, and Pier Paolo Capponi as her husband playing things too close to the vest – is he a murderer??? philanderer??? or just boring??? – to really register. The film provides various excuses to get these people to communicate across purposes in an effort to drag a handful of misunderstandings into feature length, but just comes across as uncommitted.
All of which would hang together much better if not for Lassander. The actress cut her teeth in these sort of exploitative boobs-and-blood affairs, and unfortunately she comes across much like the stereotype – overly made-up, emotionally detached, physically uncomfortable. To a certain extent, the character too much feel out of place, but too often Lassander seems unable to play the line most women in her character's position have to. Minou must be part of her world while feeling outside of it, and Lassander never feels like she's attempting to fall in step with everything else.
Arrow's new Blu-ray edition makes a very good case for the film, presenting it in a brand-new 2K restoration that they mounted themselves. The colors are beautifully saturated, not too modern at all, and the grain gives it a fabulous texture. Kat Ellinger's commentary track is the real winner of the supplements, passionately arguing a case for the film with which I don't entirely agree, but which challenged my initial assumptions and assessments of it.
The new documentary piece Private Pictures assembles interview footage old and new with Gastaldi, Ercoli, and Navarro, providing some biographical info on all involved and some reflections on the film's production. At around 45 minutes, I can't say there's 45 minutes worth of material per se (hey, Navarro thought both of the leading men in the movie were pretty handsome!…okay!), but it helps cement the spirit of the time, built on collaboration and instinct. The Forbidden Soundtrack of the Big Three centers on an interview with Lovely Jon, some British soundtrack enthusiast, who's obviously focusing on Ennio Morricone's striking score. Is it Morricone's fault that it sounds exactly like the Laverne & Shirley theme song? Well, no, but so it goes. Again, at 45 minutes, it does become a bit of a for-enthusiasts-only piece, but more power to 'em. And finally we get another 45-minute piece, this an interview with Lassander from the 2016 Festival of Fantastic Films in Manchester.
I've far from an expert on giallo, and have mostly relied on Arrow to guide my viewing, generally to pretty great success. This was the first of their selections I've seen that was a bit of a miss, but they've assembled a nice array of supplements – Ellinger's commentary in particular – that makes a very strong case for the film. So if you have a substantially greater interest in the genre, this would be well worth picking up.
$19.99
$39.95
in stock
10 new from $19.99
6 used from $27.97
as of August 11, 2022 7:31 am
Last updated on August 11, 2022 7:31 am