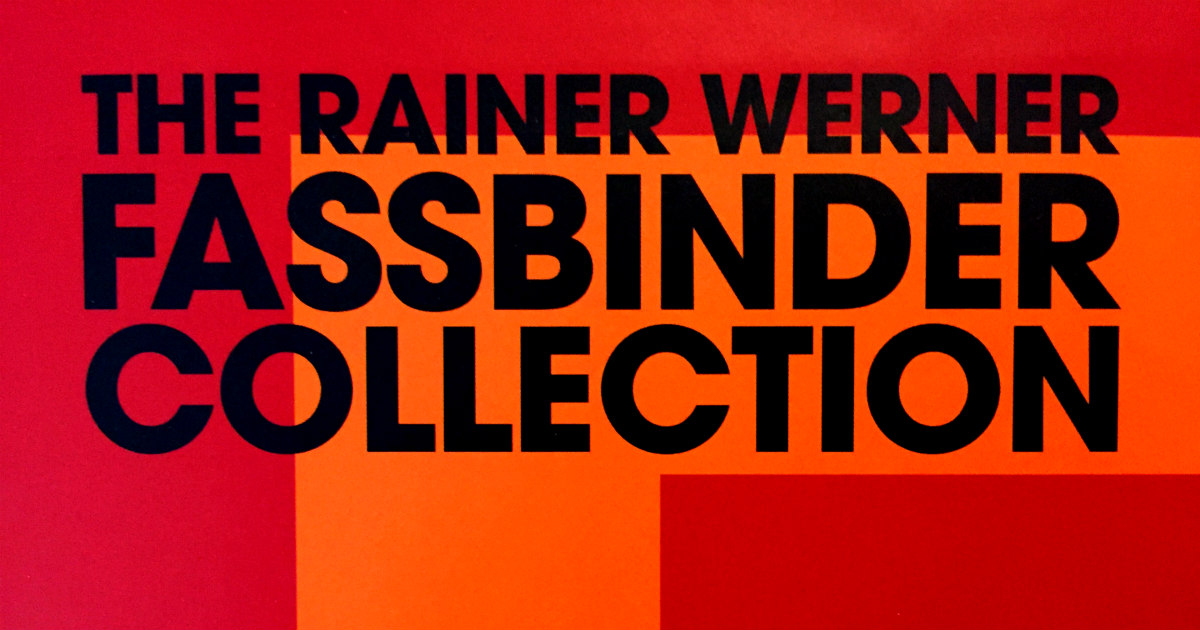 It's no real secret that we're reaching a tipping point with home video. Streaming is proving a better and better option for the casual consumer every day, and even the cinephile dollar, which has rather successfully driven home video decisions for the past couple of years, has such services as Hulu, Fandor, Mubi, and – soon – FilmStruck vying for their attention. Physical distributors have subsequently doubled down on their most successful and acclaimed models. Criterion is going big on new-to-disc, big international titles with new restorations (Brighter Summer Day, Paris Belongs to Us, A Touch of Zen) and lavish new editions of American classics (The New World, Dr. Strangelove). Kino is investing in silent classics (Fantomas, The Phantom of the Opera, Diary of a Lost Girl) while diversifying to include more American studio titles. Masters of Cinema is going into deep specialty stuff with an Early Murnau box and Edvard Munch.
But no company really focuses on the physical release itself – the thing you put on your shelf and gaze lovingly at – the way Arrow has the past couple years. Where most companies are looking to slim down their packaging, Arrow's releases are economic without appearing cheap or overly compact. They have a grandeur and a presence that is far from ostentatious. Their recent Jacques Rivette Collection (about which we will be speaking soon) is the pinnacle of this, but their recently-released Rainer Werner Fassbinder box set is no joke either. Housed in a sturdy cardboard box with seven plastic cases containing ten(!) feature films on (Region B locked) Blu-ray and a 200-page hardback book, plus a slew of bonus features, this is exactly the sort of thing we love box sets for – they look great, come with a bit of exclusive material, and offer a significant discount over buying the films individually. The set is only being sold on their online store, and is in limited supply.
---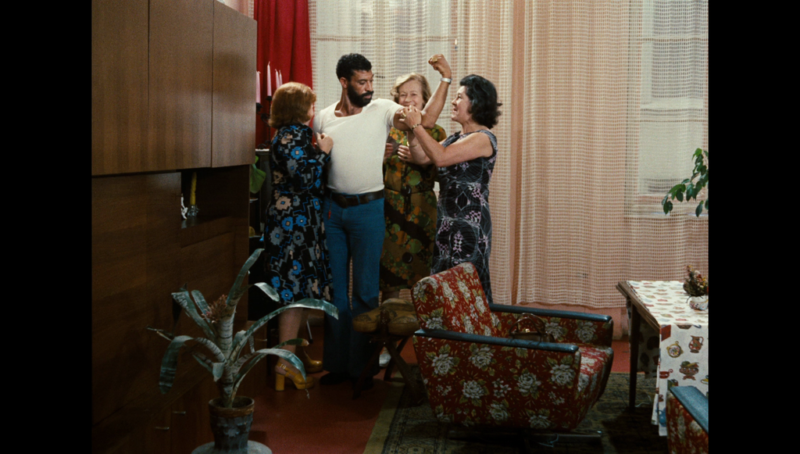 ---
The question, of course, is whether the discs are as substantial as the set housing them. I haven't had a chance to see all the films in the set, but I have had a chance to see how they look and preview a few supplements. The broad answer is that if you're at all interested in it, the set has a lot on which to recommend it, gathering some of Fassbinder's best-known films in new 4K restorations produced by the Rainer Werner Fassbinder Foundation. The quality of those restorations vary, though all were clearly produced with honest intentions towards presenting them correctly. But everyone has their own definitions of what is "correct." I will attempt to be as impartial as possible, but know that I am biased towards transfers with uneven grain, focus, and damage that flicker, flutter, and are low on contrast but high on detail.
On that tack, the transfers start out very impressively, build towards a point at which they look too "clean," then settle back into the excellence with which they first emerged. (screencaps utilized for this piece come from comparable editions of Ali: Fear Eats the Soul, The Bitter Tears of Petra von Kant, and The Merchant of Four Seasons; while not precisely the same edition, they utilize the same restorations and give a good sense on what you're in for). The only transfer I really object to is 1974's Effi Briest. This stark black-and-white film is heavy on contrast and low on grain and detail. The whites look outstanding, but the whole tone of the film seems to have shifted to something closer to sepia than true black-and-white. Looking at Arrow's presentation side-by-side with the copy streaming on Hulu from Criterion (which has the same RWF Foundation title card at the beginning), the differences are immediately evident and striking, with a much more filmic look to the latter. At the beginning of chapter five on Arrow's disc, the foliage is completely still – I went through this scene frame-by-frame, looking for the normal movement of film grain, but each step along the way, the leaves and flowers remained completely still. Absolutely no change was evident. There is a bit of flutter (noticeable at the beginning of chapter two), some light scratches (beginning of chapter six), and a few moments here or there (the beginning and end of chapter seven, for example) where the grain is intact and the texture enriching, but they are too few and far between.
For evidence of how good a black-and-white film can look on Blu-ray, though, one could hardly do better than Love is Colder Than Death or Katzelmacher (both made in 1969). Both display heavy grain, rich textures, contrast that doesn't hide detail in the blacks or blow out the whites. On Love is Colder, there's a drastically underlit (the film was made on a nearly-nonexistent budget) driving sequence that retains a great deal of texture and detail in spite of this. The beginning of chapter 5 shows the other end, a totally-white room that distinguishes between a white table, white window sills, white pillows, white bedding, and white skin. Imperfect focus is inherent to the source, and allows for greater overall clarity. On Katzelmacher, which looks a bit more professionally-made, you really get a sense of what will remain the strongest attribute of these transfers – how the restorations handle lighting. This is really getting into the most festishistic of interests, but one of the pleasures of watching especially-well-lit films on film is seeing the light soften on the edges of faces, bodies, and objects, a sensation that DVD often had difficulty replicating. Even in HD, this is the quality I see lost most often (Barry Lyndon's candlelight scenes may have revealed the limits of HD) in the desires to turn everything into lines and edges. But the Katzelmacher restoration, as with most in this set, looks absolutely luminous. At the beginning of chapter six, it balances light hitting the couch and looking straight out the window with all available detail intact and a lovely contrast between that natural light and the fixed objects onscreen.
Those two films are housed on one disc (entitled "The Early Works") that includes a short feature – End of the Commune? (1970) – that takes a behind-the-scenes look at Love is Colder Than Death and two early shorts by Fassbinder, The City Tramp and The Little Chaos (both 1966). Commune looks terrible (blocky, low-res, indifferent contrast), but the shorts are in decent shape, with decent contrast, depth, clarity, and texture. They look like SD to me, but I can't be sure.
---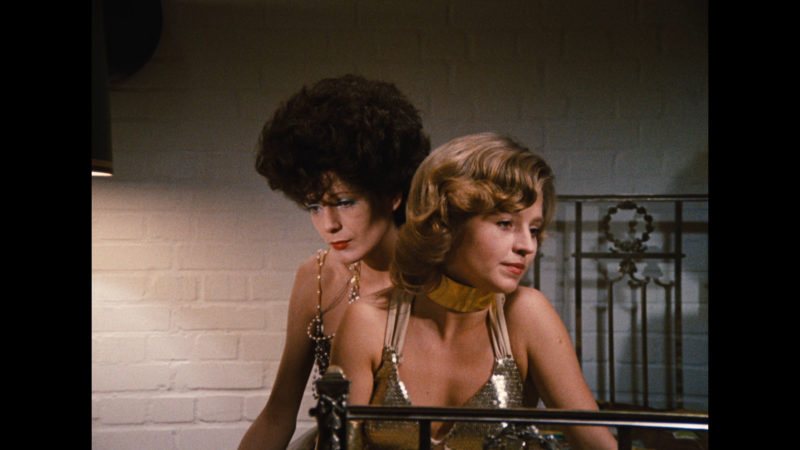 ---
The next disc jumps into the color films, and we start to fall into a sort of uniform appearance. The colors are a little bolder and brighter than they would likely appear on a print of a film made in the early 1970s (the latest films in the set, The Marriage of Maria Braun, was made in 1979 and looks more appropriately "modern"; the rest were made from 1971 to 1976). Grain is minimal, but its relative absence doesn't sacrifice texture, depth, or image integrity, so it's okay with me. The Bitter Tears of Petra von Kant, which looks essentially identical to Criterion's presentation, is best-suited to this application of color, with its ostentatious costumes and exquisitely-designed set. Ali: Fear Eats the Soul (simply titled Fear Eats the Soul here) feels the most "wrong" – the cafe looks right, but once we get into the naturalistic apartment settings, the color scheme makes it look more like an advertisement than the lived-in film environment it should be. The Merchant of Four Seasons has this same sort of problem, but the grain is a bit stronger, more scratches are allowed (noticed at the 44:10 mark), and the lighting is a bit softer, more impressionistic (look at the beginning of chapter 3 or a few seconds after that 44:10 point for examples of this). Beware of a Holy Whore exhibits the same strengths as these other films, and like Petra, the color scheme feels a bit better-suited to what seems to be another wild ride.
---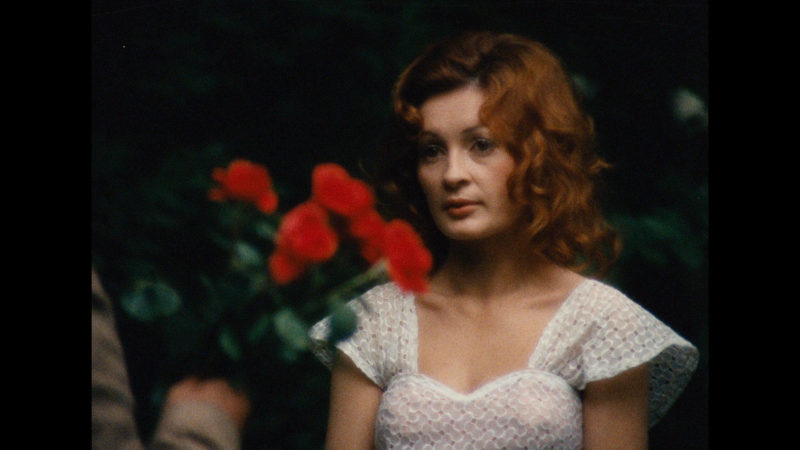 ---
The colors dip a little bit more to the naturally faded with Fox and His Friends and Chinese Roulette, which share a disc. Chinese Roulette in particular looks like it stepped right out of the archives – great grain and texture, not too much clean-up, not too robust of colors. Grain levels vary, so that some shots look "better" than others, no real unnatural emphasis on "uniformity." The image flutters a bit (see the beginning of chapter ten), and the lighting is outstanding. Look to 17:45 – characters at medium distance in natural light, and the focus and lighting scheme holds even when it pushes some into blurriness. As mentioned before, the set finishes strongly with a film that looks ready-made for their approach to color and texture, The Marriage of Maria Braun.
I've only lightly sampled the numerous supplements included in the set, but we wanted to get a piece up about the overall experience with it as soon as possible, seeing as it will soon be sold out. The individual discs are getting released by Arrow as well (the advantage of the set being the book and discount), so we'll be looking at those in more detail on a later basis. But for now, even if you're just intrigued by Fassbinder and not yet fully immersed in his work, this is an excellent excuse to do so and, seemingly, a perfect place to start. And it looks damn handsome on a shelf.
---