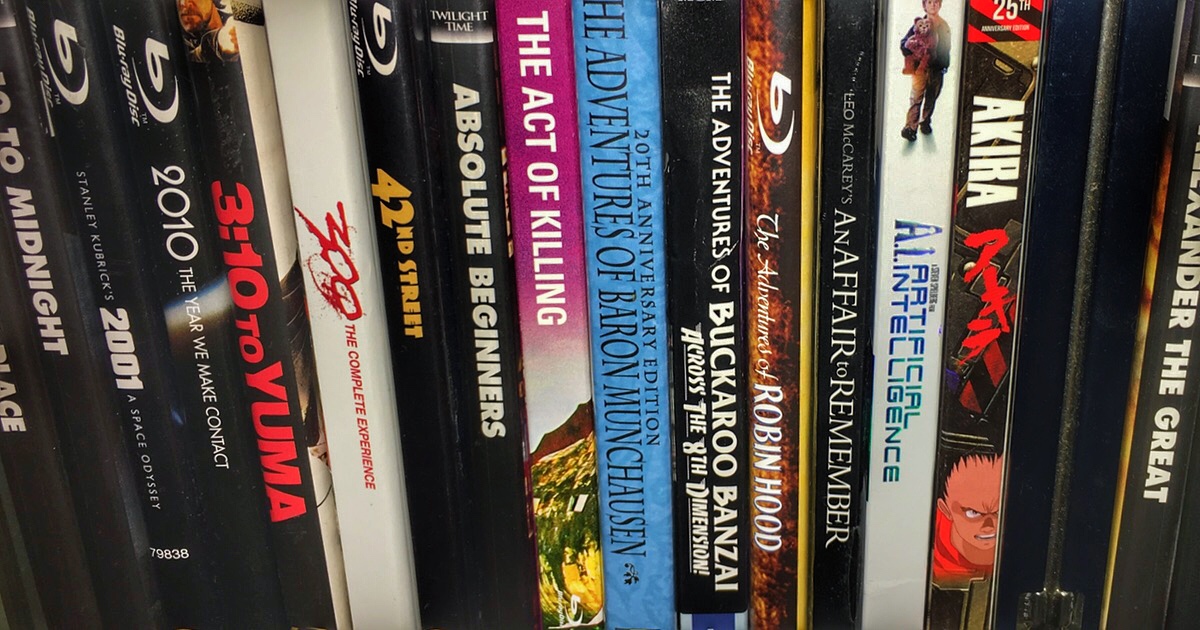 It's a new month, and with that, some retrospection. Each month, hundreds of home video releases hit the streets, and who better to curate the best of the best than us here at The CriterionCast. So with that, here are the five best home video releases of May 2019, as per yours truly:
5. The Heiress (The Criterion Collection)
Opening this Best Of list is one of the great literary adaptations from one of the great American filmmakers. Entitled The Heiress, this film comes from director William Wyler, and say the legendary American auteur take on Henry James in this adaptation of Henry James' Washington Square. Led by a towering performance from Olivia de Havilland as Catherine Sloper (a role that would win her some of her greatest notices and even an Academy Award), The Heiress is a provocative, heartbreaking romance picture that stands as one of American cinema's great costume dramas. Edith Head's costumes have never looked better as this DVD/Blu-ray from The Criterion Collection features an astounding 4K restoration that breathes new life into a film with superlative black and white photography and some incredible physical performances. De Havilland is an absolute revelation as is Montgomery Clift, both of whom give textured, nuanced and physical performances and closes on one of the great final sequences from this period of cinema. Adorning this release are a cavalcade of supplements, led in no small part by an enlightening conversation between writer Jay Cocks and critic Farran Smith Nehme. Edith Head is a major player on this release as well, as costume collector Larry McQueen has a piece focusing on the costume design here as well as a short film featuring Head entitled The Costume Designer. Both are incredibly insightful and shine a light on one of the defining aspects of this great film. Rounding out the release is an appearance by de Havilland on the Paul Ryan Show, Wyler's 1973 tribute on The Merv Griffin Show, his 1976 acceptance speech from AFI's Salute To William Wyler and an interview with Ralph Richardson. That's what we call a stacked release.
4. RKO Classics x2 (Kino Lorber)
From a supplement heavy release to two of the month's bigger collections of films, brought together under single releases. Riffling through the RKO catalog, Kino Lorber has released two box sets of sorts, focusing on "Classic Romances" and "Classic Adventures." The romance release is the more dense, including five films, all from the heyday of RKO Studios. All released in 1930-1931, the films in this set include Sin Takes A Holiday, Millie, Kept Husbands, The Lady Refuses and The Woman Between. These five Pre-Code discoveries were preserved by the Library of Congress and are brought back to life thanks to new restorations from Lobster Films, who have partnered with Kino Lorber for both of these sets. There aren't any supplements on either of these sets, but thankfully the films are engrossing enough to keep you coming back. The Adventure set includes three films, The Painted Desert, The Pay Off and The Silver Horde, all of which are thrilling and an entrancing look at the early stages of action/adventure filmmaking. This set features maybe the most exciting discovery of the pair, which is Clark Gable's talkie debut, The Painted Desert. It's a fantastic and compelling 1931 Western, and it being Gable's debut talkie makes it more than just a genre curio. Curio is going to be thrown around with regards to this set, but very few of these are anything less than absolute gems. Particularly dense is the Romance set, which brings together five briskly paced romances that will be catnip for any fan of Pre-Code melodramas.
3. One Sings, The Other Doesn't (The Criterion Collection)
People may be focusing on the (admittedly great) release of David Lynch's Blue Velvet as Criterion's great May release, but I must part company with that group. Brought back to theaters thanks to Janus Films last year, Agnes Varda's incomparable masterpiece One Sings, The Other Doesn't is one of the company's most interesting and exciting home video releases not just of May but of 2019 writ large. One Sings tells the story introduces us to Pauline (who will go by the moniker of Pomme after getting involved with a ragtag group of street performers), who befriends a mother of two named Suzanne after encountering her photographer husband whilst perusing a gallery. The two spark a lively friendship, a connection that is tested after Pauline is sent away after tricking her parents into helping cover the costs of an abortion for Suzanne. Set against the backdrop of growing civil unrest and ultimately the events of May 1968, the film has been seen as a feminist text that attempts to give a nuanced look at the role of women in society, a film that waxes poetically about the importance of abortion and the right to have one, while in equal measure celebrating the process of becoming a mother. It's a film of, maybe not extremes but of definitive empathy, a film of love and loss, of life and death, of human connection and life-changing breakups. Oh, and it's also a musical. A damn good one at that. The new 2K restoration is utterly incredible, with the photography getting a new sense of warmth and vitality, and the supplements here are equally as good. Women Are Naturally Creative is a 1977 Katja Raganelli-directed documentary throwing the viewer into the middle of this film's production. Two Varda-directed short films are also included here, as is an incredible essay from critic Amy Taubin, which is a moving ode to a giant of cinema. A really special release, this is.
2. Paul Leni x2 (Flicker Alley)
Another pair of releases take the number two slot for the best of the best of May 2019, this time from Flicker Alley. The undervalued boutique label has taken it upon themselves to release a pair of Paul Leni-directed masterpieces, both of which should be at the very topper most of your must-buy list this summer. Both The Man Who Laughs and The Last Warning have been released from the label in May, and in some genuinely stunning sets. Also both being part of the ongoing silent restoration program by Universal Studios, these two films look glorious in new 4K restorations that highlight the impressive and evocative black and white cinematography and equally top tier direction from the underrated Paul Leni. A master of silent cinema, Leni is one of the great artists of his generation, and proves through these two films to be worthy of consideration in that type of discussion. The releases are also decked out with supplements, including a pair of video essays from scholar John Soister, various score options and "rare image galleries." The releases are top-heavy for sure, with the restorations proving to be the true highlight of the pair, but the essays about both the film and the new scores really add some much-needed depth and vibrancy to the releases. These are essential silent films, and look incredible in these 4K restorations.
1. The Nun (Kino Lorber)
And speaking of "essential" films, the most "essential" May 2019 home video release is of one of the great, hard-to-find pictures of the 1960s. Released in 1965, Jacques Rivette's The Nun remains one of the French New Wave's great and important productions, an adaptation of Denis Diderot's legendary novel telling the story of a nun (played by a never-better Anna Karina) who after being forced into her vows begins a relationship with her Mother Superior after being sent to a new convent. Long hard to see here stateside, the brilliant, haunting drama finally hits Blu-ray here via Kino Lorber, and the new 4K restoration is an absolute godsend. The film is one of Rivette's most ambitious and moving works, with each shot popping off the screen thanks to this new, luscious restoration. Karina's performance is unshakable, a towering work from a towering screen presence, a performance that hints at the emotional nuance that makes this such an incredible work. An angry, erotic and deeply moving work, The Nun is one of the great films from one of the great filmmakers of the French New Wave, and thankfully this release does it proper service. Film critic Nick Pinkerton is on board as the voice you'll hear on the film's commentary, and Dennis Lim pens one of the month's better essays as part of the release's booklet. Both are deeply insightful bits of scholarship about a film that deserves deep discussion. Finally there's a new making-of documentary entitled Suzanne Simonin, The Scandaleuse and it's at just 29 minutes the film's a bit short but quite engrossing. All in all it's one of the year's best home video releases, and also one of its most important.