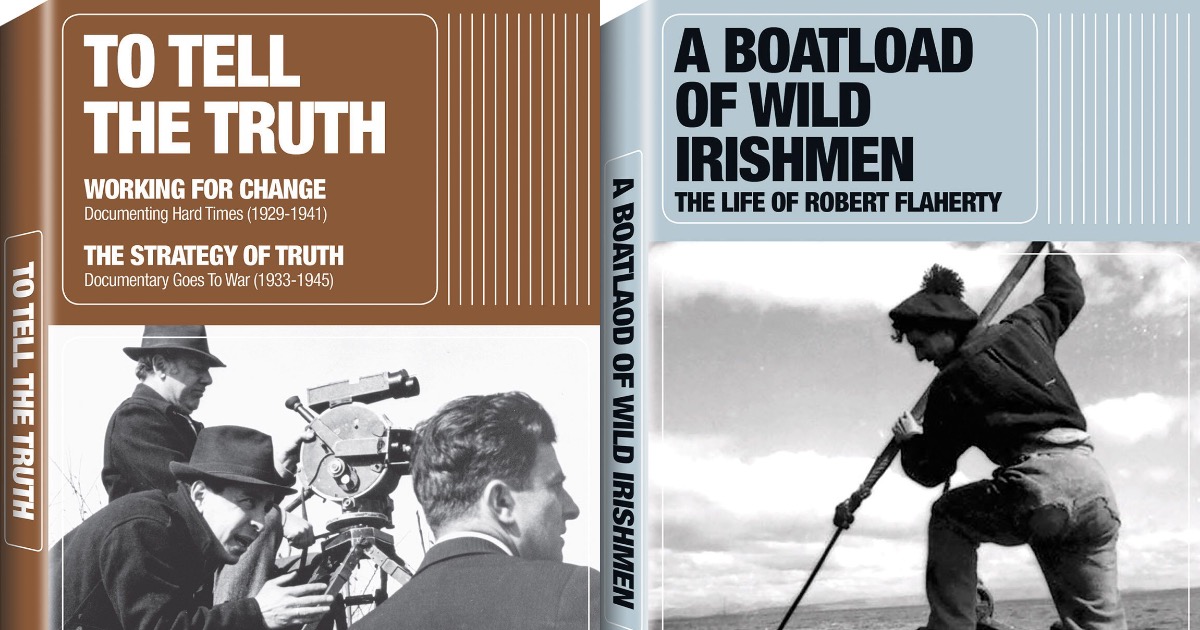 Over the last decade or so, non-fiction and documentary cinema has been the breeding ground for some of cinema's most interesting films and film-makers. However, for many cinephiles the history of this world of cinema has been vastly undervalued and works vastly underseen. Be it the earliest days of silent cinema to the importance of documentary films in global conflicts, non-fiction directors have crafted some of the greatest and most influential works in all of the art form.
And thankfully two great, if light, histories of some of the great films are finally available on DVD.
From Icarus Films comes the release of three films, across two DVDs, that take a direct look at the early days of documentary cinema, ostensibly from the beginning with films like Nanook Of The North to the work of German propagandists like Leni Riefenstahl and US news reels which would see names like John Huston take to the battlefield.
First up, there's A Boatload Of Wild Irishmen. From director Mac Dara O Curraidhin, this biographical documentary looks at the life and work of director Robert Flaherty. Often billed as the father of modern documentary cinema, Flaherty would be best known for his film Nanook Of The North, and this feature documentary takes a look squarely at the life and work of this legendary filmmaker.
Then there's the second DVD release, a pair of roughly hour long documentaries that look specifically at the evolution of non-fiction filmmaking from it's earliest days into something that could truly help change the world. Focusing decidedly on the political power of the medium, each film takes a broad but compelling approach, spinning a tight yarn about non-fiction filmmaking as the proper outlet for holding up a mirror to the world we all live in.
Besides sounding far less focused, this second release, under the title of To Tell The Truth, is a thin yet captivating meditation on the real power of non-fiction films, and the importance of them and the artists behind them. The first short is entitled Working For Change: Documenting Hard Times, and finds director Calvin Skaggs looking at the documenting of the Great Depression and The New Deal. The Strategy Of Truth is the second film, and its director David van Taylor takes a look at the run up to and documenting of WWII.
These two shorts, clocking in at just shy of two hours in combination, both narrated by Alec Baldwin, are indicative of what really makes these two DVDs worth a watch. Despite being admittedly quite low on substance, those first being introduced to documentary cinema through a class or simple interest in the medium will find a treasure trove of information, particularly the gradual evolution of the cinematic language throughout the early days of documentary filmmaking. The Depression pictures of the first film are a far cry from the Riefenstahl documentaries seen in the second, and this growth of filmmaking acumen is quite thrilling. That being said, both films are brief and briskly paced, playing more like a PBS special one would see in a high school film class than something really resembling a must-see work of historical documenting.
Irishmen falls into similar traps, but is far more focused. Instead of taking on decades of history and world conflict, this film looks squarely at the life of a documentary film pioneer, and rightly carries with it a deep interest in this man's life and influence. Classical to a fault aesthetically, the film is not much more than a normal talking head documentary, but there's quite a bit to unpack here. A filmmaker whose decisions would go on to completely change what viewers expect from documentary cinema, Flaherty is as influential a filmmaker as the art has, and an interesting life and even more interesting art can make even the most sterile of films rather compelling. No film here is much to write home about stylistically, but each carries with it great import intellectually. Oh, and the supplements included are remarkable.
On the Irishmen disc there are a treasure trove of additional materials. Included alongside the 16-page booklet with an essay by scholar Brian Winston are three video pieces. First there is an interview with acclaimed documentarian Ricky Leacock (his final before his death), as well as a remembrance of Flaherty by J.C. Boudreaux and a piece on the impact of Flaherty on the documentary art form. The real highlight across these releases however comes on the To Tell The Truth set, in the form of two WWII documentaries by John Huston. One is his masterpiece Let There Be Light as well as The Autobiography Of A Jeep, both of which are fascinating watches and there are few things in film more intriguing than the war time efforts of directors like Huston. There are also interviews with Baldwin, Agnes Varda, Kevin Brownlow and a host of others talking about topics ranging from the importance of documentaries to the work of Leni Riefenstahl.
Overall, while no film here breaks the mold aesthetically, these historical documentaries offer up a captivating, if thin, look at documentary cinema's history not only on a global scale, but also a personal and specific one. Both are worth your time.