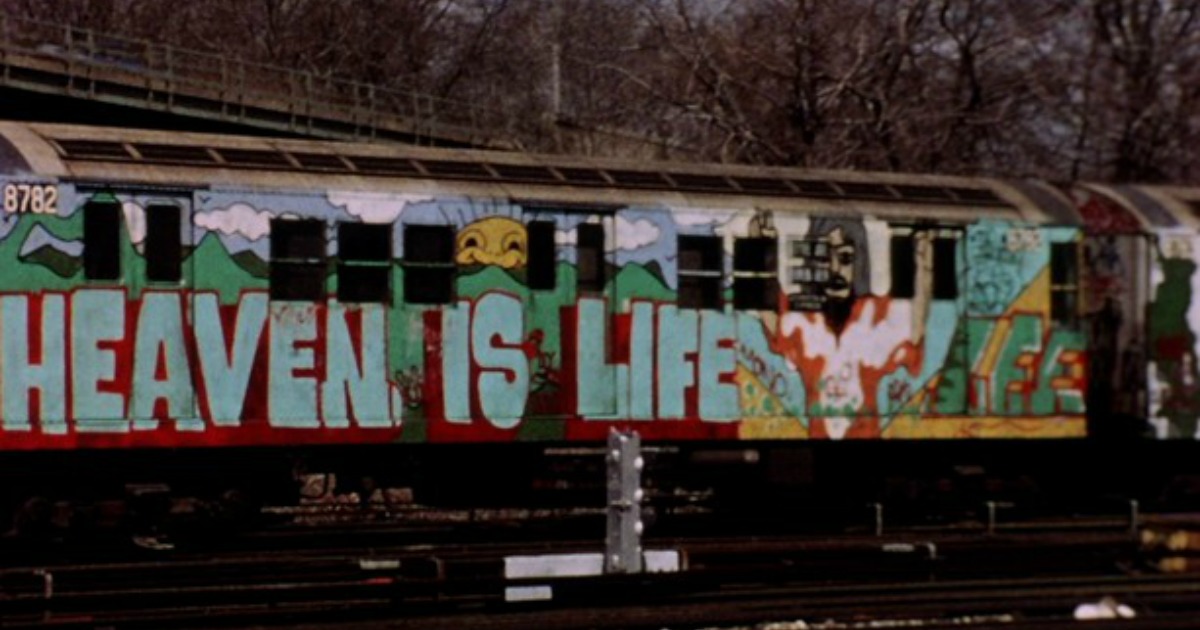 New York is a one in a million type city. A melding of nationalities, races, religions, sexual orientations, New York City is the rare city that is both shockingly intimidating and yet singularly alluring and inviting. However, even it has seen a dramatic change in the face of rampant gentrification, leading to many lifelong New Yorkers to reminisce about a New York they now don't recognize.
And the cinema surrounding New York City is showing this evolution as it seems to happen. Just a few weeks ago, Fredrick Wiseman's In Jackson Heights delved deep into the titular neighborhood in the legendary city, a neighborhood that is as diverse as they come, yet is pushing people further and further away with oncoming gentrification. Now, thanks to Oscilloscope Laboratories, one of the great documents of the rough New York people lament about having lost is finally available in a new limited edition DVD box set.
Entitled Stations Of The Elevated, the film comes from director Manfred Kirchheimer, and is a breathtaking 16mm medium-length meditation on the urban landscapes of 1970s NYC. Blending shots of subway trains, along with all the graffiti that came with them, and a beautiful soundtrack of jazz and gospel songs, Kirchheimer's film is a gorgeously composed look at a singular city at its most vibrant and vital.
---
---
At 45 minutes, this film is a shockingly brisk watch. Very much rooted in the same type of poetry that would ultimately lead to films like Godfrey Reggio's film work, Kirchheimer paints a picture that is as stimulating aesthetically as it is intellectually. The big selling point here is the imagery, which despite its 45 minute runtime, Stations features some of the most awe-inspiring urban sequences you'll ever see. The graffiti here takes center stage, showing off the vibrancy that would become the groundwork for the hip-hop culture that would envelope not only New York City, but ostensibly the entire planet. The definition of an impressionistic piece of cinema, Hirchheimer blends the noise of the city with a great soundtrack all scoring what is a painterly 16mm documentary that shows both the street culture and the mainstream corporations that would begin the gentrification of the city.
At its very best, this "experimental" documentary is as inviting as the art can possibly get. While the aforementioned runtime is definitely a plus for mainstream audiences, the film is not only a gorgeous portrait of a major metropolis, but it has an inner energy that is hard to find in modern cinema. Where most modern documentaries are driven by directors that have a heavy hand in their themes, this is one of the earliest examples of what would become modern sensory documentaries. thrusting the viewer into the middle of a bustling city. With art from tag legends like Slave, Daze and Blade, Stations is a lush portrait of modern street culture in its infancy. And while this type of time capsule may not sound like a mainstream hit, this is one that even novice cinephiles would find great import in.
Along with this short documentary comes a great home video release. With only 500 copies of the DVD available (the film itself will be available on VOD platforms), this is a limited run, and should be a top priority. The transfer here is great, and while it's sad it isn't available on Blu-ray, this is a gorgeous DVD transfer. There's a new interview with Kirchheimer, a discussion with artists Lee Quinones and David Villorente, as well as a printable script, an update on locations, a portrait of artists as they paint the legendary 5Pointz wall and even a documentary about Kirchheimer, shot by one of his students. A second disc is the real selling point here, as it includes what have loving become known as The New York Films. These include early shorts from Kirchheimer, Colossus On The River, Claw, Short Circuit and Bridge High, with Claw being the real highlight. A black and white short involving a nightmarish construction site, this is one of the most original documentary shorts you'll ever see. And to think, it's just one of a cavalcade of groundbreaking works from a director few even know exists. Hopefully this great home video release will help change that.