Listen, I watch a lot of movies. But when I fired up Pier Paolo Pasolini's  Hawks and Sparrows, I realized I was in for something wholly different as soon as the opening credits were sung at me as they flew onto the screen.  Hawks and  Sparrows never lets up this playful energy, but is equally enthused about the surprisingly resonant areas of the human experience it explores.
It's a simple enough set-up – Totò (played by a famous Italian comedian of the same name) and his son Ninetto (Ninetto Davoli) are walking along the road to a series of appointments, when they meet a talking crow. So, you know, just your average father/son story. By this point we already view the men as bumbling idiots, while the crow is introduced as a left-wing intellectual. Why the crow picked them, we'll never know, but then again, perhaps they picked the crow.
To pass the time, the crow tells the story of how St. Francis instructed two of his disciples to spread the Good News, not to the poor or sick or otherwise needy, but rather to the birds – the hawks and the sparrows of the film's title. And here the film begins to take quite a different shape. The disciples are also played by Totò and Davoli, which informs their introduction, but not the whole. Davoli shares his first name with both characters, linking them in a key, and soon quite obvious, way – neither are terribly bright, though the friar's restlessness results in a boundless enthusiasm for his faith, while the son is more interested in women. Ciccillo, however, couldn't be more different from Totò (the character, mind). His boundless patience and genuine determination to reach the birds is a testament to his faith, a quiet reminder of how far depictions of religion have fallen in the past fifty years. Pasolini was an atheist, but still he found beauty in representations of faith, tying in with his larger belief that the world contains an innate holiness that religion need not imbue it with.
---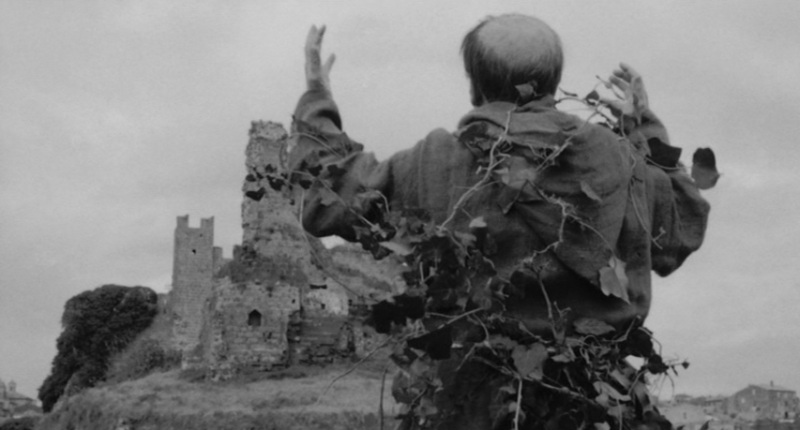 ---
One would be hard-pressed to find that same beauty in the modern landscape he's wrought here. The two men seem to be landowners in some capacity, as their trips tend to center are little more than gathering the rent. At one stop, they come across tenants who are so poor, they're boiling a bird's nest for  sustenance, while the mother has kept the children in bed for four days, telling them nothing more than "it's still night!" If they get up, she tells Totò and Ninetto, she'll have to feed them, and she doesn't have anything to provide. Meanwhile, Totò stands firm, telling her he'll have to take legal action if they are not paid, but it's clear from the woman's eyes that she has surrendered to her fate. Pasolini doesn't let things sit at that, however, later showing Totò put in the same position as that family before an even wealthier master (in a decidedly more comedic premise), leading us to wonder who that man serves.
This is but a small taste of Totò and Ninetto's journey, but it goes to show the extreme tones with which Pasolini is playing. The absurd coexists with the tragic, just as it must in life, though wrung through a certain charming insanity present in Pasolini's cinema. The filmmaker believed it to be the best of his films, the only one that did not disappoint his expectations. In many ways, it must be seen to be believed.
---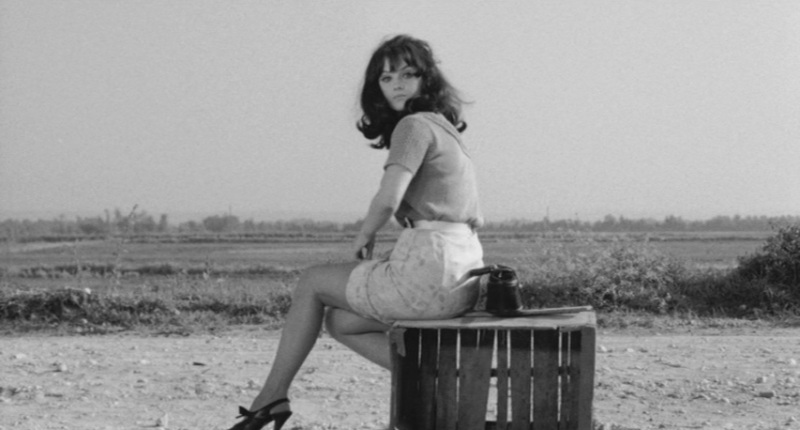 ---
Hawks and Sparrows arrives in a DVD-only edition from Masters of Cinema. It's a little on the soft side, looking a little blown-out at times, but maintains a consistent grain pattern, and looks comparable to prints of foreign films from this period that often play at rep houses. Blacks, when present, have decent integrity, and the image is crisp enough, but it's understandable why MoC went DVD-only here. The screencaps, courtesy of DVD Beaver, don't quite do the transfer justice (these things always look better in motion), so know that it fares a touch better than you're seeing here. Audio is similarly suitable, but not exceptional (though the music is lovely at any bitrate).
The only available special features are a theatrical trailer and a booklet.
Hawks and Sparrows  would have only been distantly on my radar were it not for this new edition from Masters of Cinema, who have done a great service by bringing this film out. Since it can be got for quite cheap, those with region-free DVD players are advised to put it on their own radar. It's a quiet, odd sort of film, but it has been rattling around in my head in the days since seeing it, growing leaps and bounds in my estimation with each thought. I'll be glad to continue considering it for years to come.
---