I'm not the first to suggest, nor I hope will I be the last, that Leo McCarey is one of the great unsung talents of the studio system. Not only was he key to the development of Laurel and Hardy, not only did he direct arguably the best Marx Brothers film (Duck Soup), but he gave every other director of the era a run for their money during the 1930s. Even just his one-two punch in 1937 of Make Way for Tomorrow and The Awful Truth would be enough to inspire jealousy. So when Charles Laughton, a great admirer of Laurel and Hardy, sought McCarey out for Ruggles of Red Gap, he couldn't have known the whole talent he was soon to encounter.
As much as this is Laughton's film from a performance perspective – he stars as the titular English butler sold to an American in a round of poker and forced to move to the then-still-pretty-wild west – it's McCarey who really defines the tone, a careful balance of slapstick and absurd with genuinely patriotic compassion. Ruggles is initially fearful of more brutish American customs, and not without reason. His new employer, Egbert Floud (Charlie Ruggles), is the very model of an American rancher. Sporting a Yosemite Sam mustache, checked suit, cowboy hat, overcooked Southern accent and no taste for the European culture that his wife, Effie, has been dragging him through, he's everything about America that horrifies Ruggles. During their initial excursion into the Parisian streets, Egbert, upon spotting a fellow American, immediately begins whooping and hollering, dancing about the otherwise docile neighborhood.
McCarey, who had a customarily uncredited hand in writing the screenplay, carries this cartoonish exaggeration of American attitudes with the film when Ruggles and the Flouds arrive back in Red Gap, WA. In perhaps my favorite shot of the film, Ruggles is welcomed into town by a large crowd, hooting and hollering, with, best of all, a man rearing a horse and firing guns into the air as Ruggles struggles to even stand up amidst the chaos.
McCarey's willingness to poke fun at American attitudes is matched only by his immense compassion for them. It's telling that, as much as the film begins by celebrating European manners, it quickly reveals anyone purporting them to be self-interested, conceited, greedy, and vain, while those who embrace American culture are shown to be decent, warm, and honest. According to Laughton biographer Simon Callow, interviewed in one of the special features on this disc, this was something the actor genuinely believed; that American rough-and-tumble attitudes also made for a more forthright and sincere culture.
---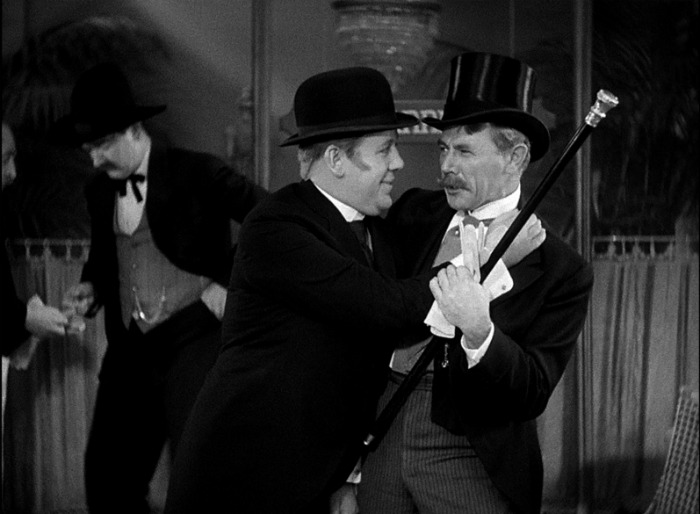 ---
All of this is overlooking how immensely entertaining Ruggles of Red Gap is. Laughton is in peak form here. If not as outright theatrical as some of his more famed roles, his commitment is almost frightening, always making very precise decisions and sticking to them with almost inhuman dedication. I always think of a scene in which an inebriated Ruggles rides a carousel, and instead of riding the horse traditionally and laughing his head off, Laughton instead strikes a glamour pose, with a grin a mile wide, holding it as the ride goes around and around. Pitting him in collaborating with Charlie Ruggles was inspired, as Ruggles (the actor, mind) had similar dedication to specific decisions, but found success in repetition, stumbling over words and sentences in an attempt to clarify himself. It's a strong juxtaposition against Laughton's mannered performance, and they're an expectedly great onscreen duo.
The new Blu-ray from Masters of Cinema looks spectacular. When Blu-ray first hit the market, the prevailing attitude was that it was great for sci-fi blockbusters and widescreen epics, but offered limited benefit to run-of-the-mill productions, especially those from the studio system. This MoC disc offers sufficient evidence to the contrary, reminding us that all films are necessarily visually-driven and that Blu-ray enhances any film, especially those shot on film. The contrast is incredible, offering abyss-like blacks and glowing whites. I was especially taken with the beer bust scene, in which the distorted backgrounds of hung lanterns create an otherworldly glow, a natural translation of reality to image on black-and-white film at the time that is extraordinarily rendered by MoC. The image is crisp and incredibly clean for a film approaching its 80th birthday. Grain is prevalent, as one would expect and hope, and the light flickering the crops up from time to time is in keeping with how it would appear theatrically. The screencaps on this post (courtesy of DVD Beaver) don't quite do justice to how well this looks in motion – grain naturally looks a little messy in stills, but in motion, the picture is luminous.
---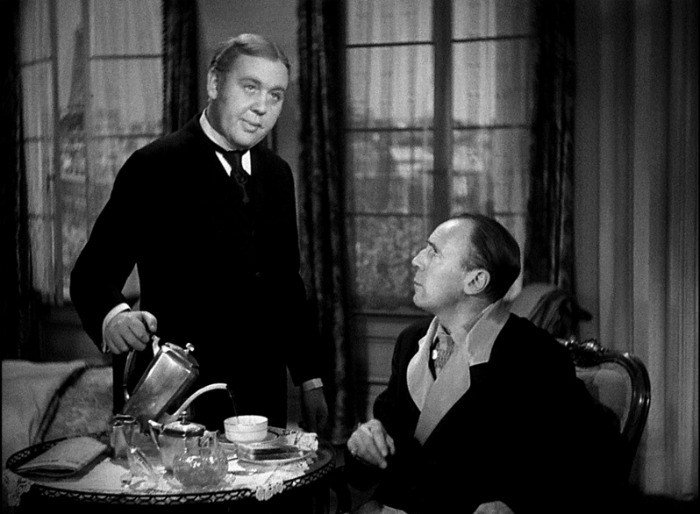 ---
The audio presentation is equally extraordinary. Coming to us lossless, it's remarkably clean and free of the hissing one associates with older tracks. Naturally it's not the most dynamic, and the manner in which audio was recorded at the time only gives so much, but MoC has drawn from it all its power.
On the special features side, the most notable is the interview with Simon Callow, which runs seventeen minutes. Callow is an enthusiastic subject, always eager to discuss Laughton's life and career. He acknowledges the strangeness of the actor's performance in Ruggles, which at first seems a little otherworldly, but which he asserts makes for a more than compelling screen presence.
Beyond that, we get three radio versions of the film from 1939, 1945, and 1946 respectively. Each feature Laughton and Ruggles reprising their roles from the film, in increasingly liberal takes on the material. The first one runs nearly an hour and is pretty faithful to the text, while the other two run only a half-hour each and are necessarily abridged (the third begins with Ruggles and the Flouds arriving in America). They're hardly going to replace the film in anyone's hearts and minds, but it's interesting to see how they translated the film to an audio-only format, and these recordings still have all the old station identifications and advertisements, which are fun to hear.
Lastly, there's a recording of Laughton reciting the Gettysburg Address, which factors in prominently in the film and quickly became one of Laughton's trademarks (he would recite it on sets upon request). The version we hear here was released as a 78-rpm record in 1937.
MoC also includes a 32-page booklet with a new essay by Dan Sallitt.
Ruggles of Red Gap was a film I enjoyed the first time out a few years ago, but which upon rewatch I've come to love even more, and greatly look forward to revisiting in the years to come. The new (region-B-locked) Blu-ray from Masters of Cinema is a real treat, sporting a pristine high-definition transfer and some very good special features. Highly recommended.
Order the the Ruggles Of Red Gap Dual Edition from Amazon UK.
---