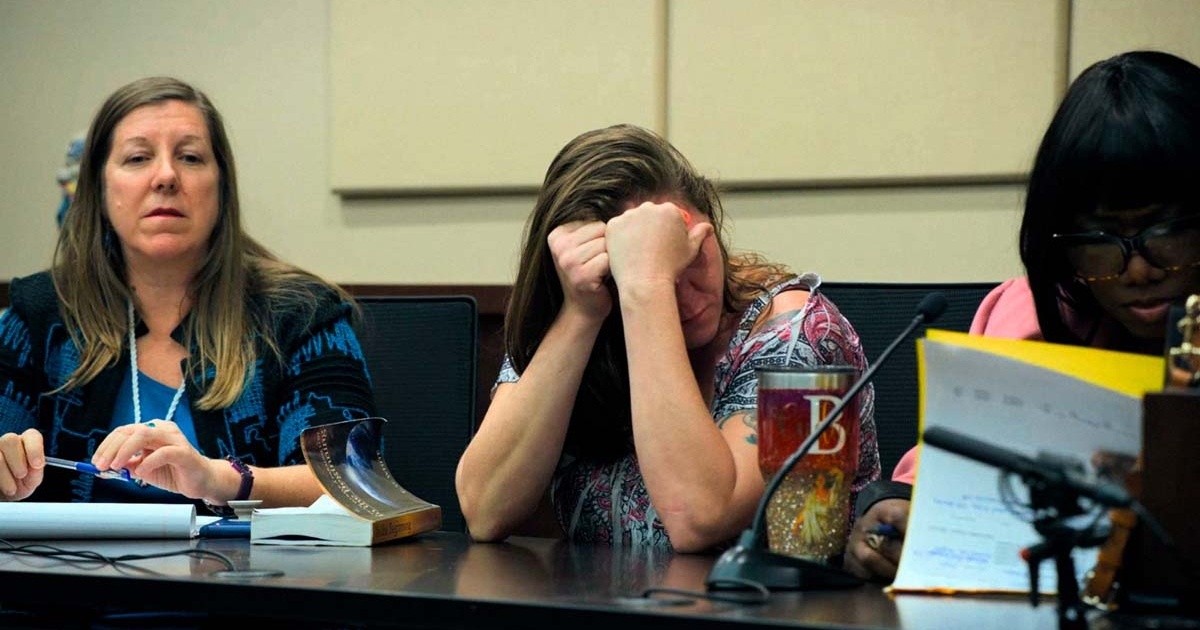 With the 2021 edition of AFI DOCS firmly in our rear view mirror, it's time to look back fondly at the festival that was, and specifically a couple of documentaries that stood head and shoulders above the rest of the impressive festival lineup.
Arguably the biggest discovery of the festival this year came in the form of Courtroom 3H, the latest film from director Antonio Mendez Esparza, his first non-fiction work. 3H sends viewers to a Tallahassee family court, where a battle is waged between parents trying to stay in touch with their children and courts who are questioning if that's the safest idea for the minor. Shot over 30 days, the film takes an almost Wiseman-like approach, dropping viewers square into the middle of various hearings, learning only brief snippets of what are much larger stories about the judicial system and the prioritization of protecting minors, even from their own families.
While the cold, fly-on-the-wall style direction may give readers visions of a dry, passion-less piece of issue-based filmmaking, Esparza instead crafts a film of almost perverse intimacy, giving light to proceedings usually held behind closed doors. Making up the film's first act, these public hearings feel often disembodied from larger context, but play in the film's own larger context as something of a prelude for the pair of court hearings that make up the majority of the picture. Particularly crescendoing with the story of a father who chooses to give his child up for adoption with the hopes of allowing him to have the life he ultimately deserves, Courtroom 3H is an impressive, often profoundly visceral, exploration into a part of the American judicial system that's often sealed away. Truly no other film quite like it at this year's festival.
Next up, another rather intriguing discovery. The second film from director Debbie Lum, Try Harder! is a beautifully textured, endlessly compelling look into the lives of various high school students at one of the country's foremost schools. Sending viewers to Lowell High School in California, Lum's film is a poppy, compelling portrait of modern life. Ostensibly following five incredibly charismatic students as they deal with the strains of life on the brink of adulthood, Harder! is a fascinating anthropological text, discussing everything from the stresses of being Asian and applying to colleges, to just exactly what it takes to take that next step in one's education.
And therein lies the film's real beauty. While the broad log line sounds relatively straight forward, the film is delightfully textured, finding its narrative touching on everything from racism in American college admissions to the pressure of AP hoarding by students needing every edge they can get. With GPAs hitting near 5.0s, these are some of the best and brightest students this country has ever seen, and yet they are viewed by colleges as either "all Asian" and asking "would you want your school to look the same" or little more than machines who do well on tests but not much else. It's a fascinating and deeply empathetic look at a system that's largely failing our students, despite them proving time and time again that there's exponentially more to them than a simple grade point average.
Rounding out this wrap up of this year's AFI DOCS festival is a film from one of the more accomplished filmmakers among the lineup. The latest from director Greg Barker, White Coat Rebels is an experiential dive into the battle between medical professionals and "Big Pharma." Following, more or less, a UCLA medical student named Neda Ashtari, White Coat Rebels is a dense, thought provoking portrait of a collection of men and women attempting to fight for reform against all odds.
Almost too in-depth and "wonky" for its own good, White Coat Rebels is a remarkable bit of storytelling. Ashtari stands as a remarkable focal point for the documentary, giving a charismatic, human center to an otherwise comprehensive issue picture. Expanding from Ashtari's story to a larger conversation around grassroots movements seeking medical reforms, the film has a remarkable modulation of tone and scope, properly balancing conversations about the history of the pharmaceutical industry with specific tales of those trying to fight against its onslaught. Maybe a bit too dense for its own good, Rebels may very well leave some viewers wanting more context, but for those with any interest in this issue or with a connection to the opioid crisis, this is truly essential viewing.