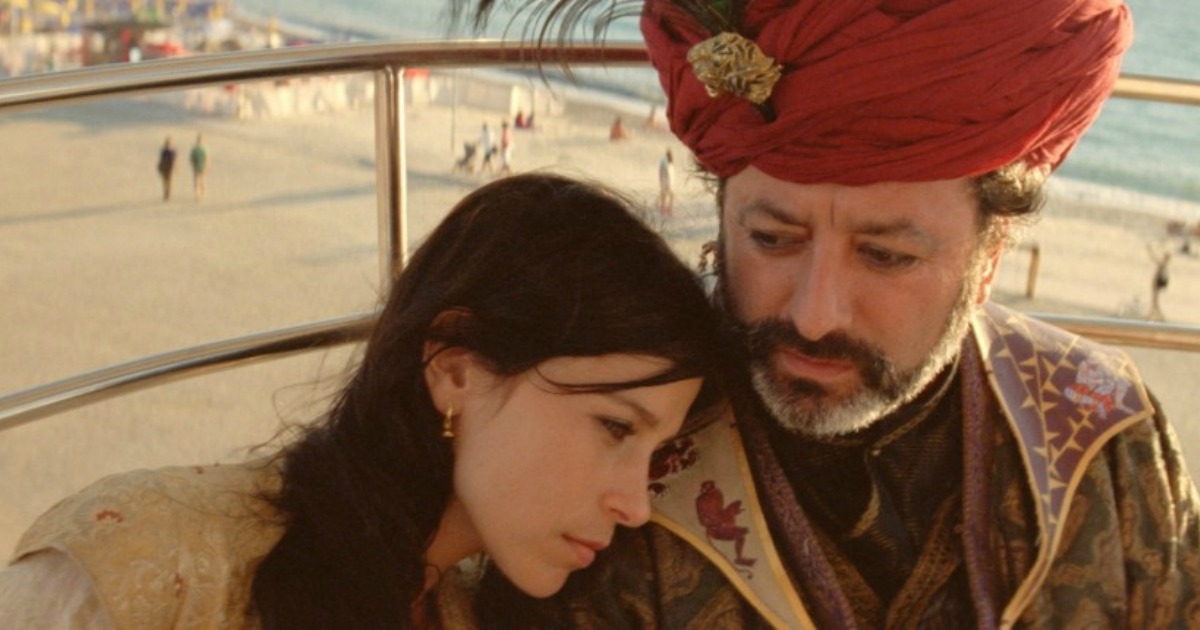 While the end of any given year is chock full of films that come across as more spectacle than actual substance, few films have brought both with as much consistency and assurance as the latest and possibly greatest effort from director Miguel Gomes. Over the last two weeks, the first two films from Gomes' Arabian Nights trilogy(?) have begun a theatrical run that has brought both Gomes' absurdist take on the legendary fables from which the film draws its title as well as his powerful dissection of modern injustices that has sent his native Portugal into a downward spiral. And now, with The Enchanted One, the triptych comes to a close, and with a hell of a bang.
Taking back over the narrative thrust of the story, Volume Three puts its focus back on the central narrative force of the trilogy, the beautiful storyteller Scheherazade (Crista Alfaiate). Whereas the first two segments of this magnum opus played as patently absurd satire, one soon realizes that the finale is one of a far different stock, one that is far more expressionistic and emotionally resonant an experience. It's a different type of picture. The structure here is far less narratively playful, focusing on Scheherazade, and the reason for her telling these stories. We begin to see more of her relationship with the man she calls king, her life in the world that she calls home and ultimately a powerful interaction with the Grand-Vizier (Americo Silva), her father. From there we go on to hear a collection of stories surrounding the songs of chaffinches, or more so the stories of the trappers who try to train these birds to sing with the hopes of winning awards. This segment itself carries within it one particularly interesting subplot, that of a Chinese girl who arrived in Portugal during a relatively troublesome time period, ultimately playing as a powerful and unforgettable coda to what as a collective is one of the year's best films.
---
---
Aesthetically, the film itself carries much of that coda-like feeling. Told primarily through on screen text, the film is an entrancing dissection of storytelling, at times being utterly aggravating and neo-pretentious, and at others being shockingly captivating. The opening segment here, focusing on our narrator, is of particular interest, as it carries much of the aesthetic experimentation of the final few moments of Volume Two (particularly its use of superimpositions). This volume is Gomes at his most dream-like, with Sayombhu Mukdeeprom's photography taking center stage in a way not yet completely seen in this trilogy. Lisa Persson's work as cinematographer for the Chaffinches segment is also fantastic, and the use of on screen text is most entrancing here, as the songs sung by the birds are absolutely worth making the central focus, adding an ambience to a film that is at moments utterly melancholic and at the very next seething with frustration. The mixture of 16mm and 35mm really helps breathe life into the story, and the costumes from Silvia Grabowski and Lucha D'Orey are beautiful, tactile and carry with it the same sense of lush vitality that makes Arabian Nights one of the year's best films.
As a singular film, The Enchanted One would be a tough sell for any viewer. While it does stand as an oddly moving cinematic experiment in its roughly two hour runtime, as part of Gomes' Arabian Nights threesome, it becomes utterly engrossing. The final act here is a perfect coda for this surreal satire to conclude on, this entire volume feels like a melancholic poem, a reflexive meditation on not only storytelling but a nation undone by human self destruction, a nation so flush with beauty and culture that there is always a glimmer of hope on the horizon. A touch too long, Gomes' third Arabian Nights picture may have its peaks and its valleys, but when one takes a step back, looking at the trilogy as a whole, it is hard to find a more important, moving, profound and engrossing piece of filmmaking in all of 2015.