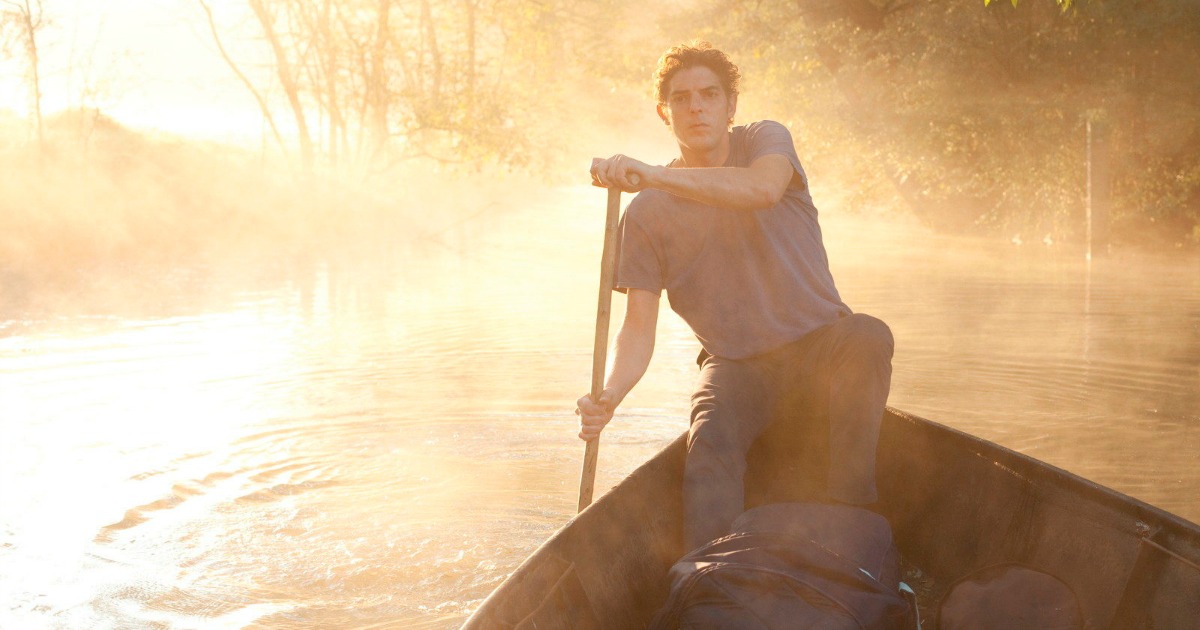 As we near a new year and a new festival season, commencing with The Sundance Film Festival later this month, one of the great gems of last year's cavalcade of festivals is finally arriving in US theaters.
Nearly a year after it debuted at the 2015 edition of the Cannes Film Festival, Staying Vertical marks the return of beloved French filmmaker Alain Guiraudie, whose previous film, The Stranger By The Lake turned him in a relatively household name among film circles privy to world/arthouse cinema. Winner of various awards including the Queer Palm and the Un Certain Regard Best Director award for the aforementioned Stranger, Guiraudie's latest continues his trajectory as one of French cinema's most esoteric and exciting voices.
The film introduces the viewer to Leo (Damien Bonnard, who is a real find here), a screenwriter/filmmaker suffering from an intense case of writer's block, as he tries to make headway on an overdue screenplay by going to the countryside for inspiration. There he meets a beautiful shepherdess named Marie, played by India Hair, and with one of the most exciting leaps forward in time you'll ever see, almost instantly has a child with her. A vagrant of sorts, not much is truly known about Leo, other than he's a seemingly ill-equipped father as seen after Marie leaves with the vague explanation that she's suffering from post-natal depression. Taking on an almost dream-like reality, the film floats from moment to moment, including sequences ranging from an almost profoundly moving opening sequence that itself is repeated throughout the film to sex scenes that are once deeply intimate and another deeply surreal. Quiet in its pacing yet bombastic in much of its aesthetic choices (there's a euthanasia scene that viewers won't soon forget, for example), Guiraudie's latest is a return to his earlier works, a quiet work from a singular genius.
Jettisoning the single setting thriller aesthetic of his 2013 masterwork Stranger By The Lake, Guiraudie instead invites the viewer into something far more hallucinatory. A mainstay of modern queer cinema, Guiraudie turns what sounds like a relatively straight forward meditation on fatherhood into something far more alluring, whether it be the portrayal of sex on screen (both straight and gay) or a quietly surreal sequence involving a healer later on in the picture. The French countryside is beautifully shot here, manifesting our lead's sense of isolation and mental state as he tries to break down his writer's block. The sex seen in this picture is also of great import, particularly as the initial moments of Leo and Marie's relationship progress. We see genitals in all states, culminating with one of the most beautiful and genuinely moving sequences you're bound to see this year.
---
---
Guiraudie is creating a sort of dual picture here. At once Staying Vertical plays like a quiet character study steeped in modern realist filmmaking. The aforementioned scene of childbirth hints at this, with the filmmaker framing it, aesthetically, as an almost documentary-like piece of realism. However, Vertical also plays as something far more surreal, with that sequence, structurally, coming seemingly out of nowhere, the director completely disinterested with the moments in between. Very much an idea rooted heavily throughout the film, we begin to ask why an image we've seen moments earlier, such as Leo's head resting above Marie's vagina evolves from tender and sexually arising suddenly become something that initially stuns the viewer in a more grotesque manner. Sex scenes play a similar role here, and it's clear that Guiraude is entranced by this dichotomy of images. Guiraudie isn't afraid to take his films very dark places, and despite the picture's deep surrealism, the direction here is quiet and almost lyrical, with geographic features seemingly repeating with slight changes, the viewer never able to truly get their feet under them.
Bonnard is a revelation here as well. As Leo, Bonnard's performance is a quiet one, but also one of deep and profound nuances. A man caught between deep seeded feelings and interests and the uneasy world around him, Leo is a layered character, and one who finds great humanity embedded within thanks to Bonnard's turn. There's an intimacy and blunt realism to the camerawork, and as a character study <b>Vertical</b> makes the most of Bonnard's assured, lived in naturalism. Equally as great is Hair, whose Marie is a superb piece of acting craft. Entirely unknown to this writer, Hair gives a performance just as lived in as Bonnard, and their chemistry is instantaneous but barely registers in any real way. This is a film of quiet moments, and the two leads perfectly make every gesture, every glance count.
Simply put, Vertical is a moving experiment in faux dream logic that turns this muted character study into a stunning tone poem that builds on its rhythmic, almost fairytale-like narrative (a pack of wolves are ostensibly the film's greatest threat in a literal sense), both focusing on a man caught in his own psyche. Concluding with an absolutely unforgettable finale, Staying Vertical is an obtuse feature that will hopefully find an audience as it rolls out nationally.