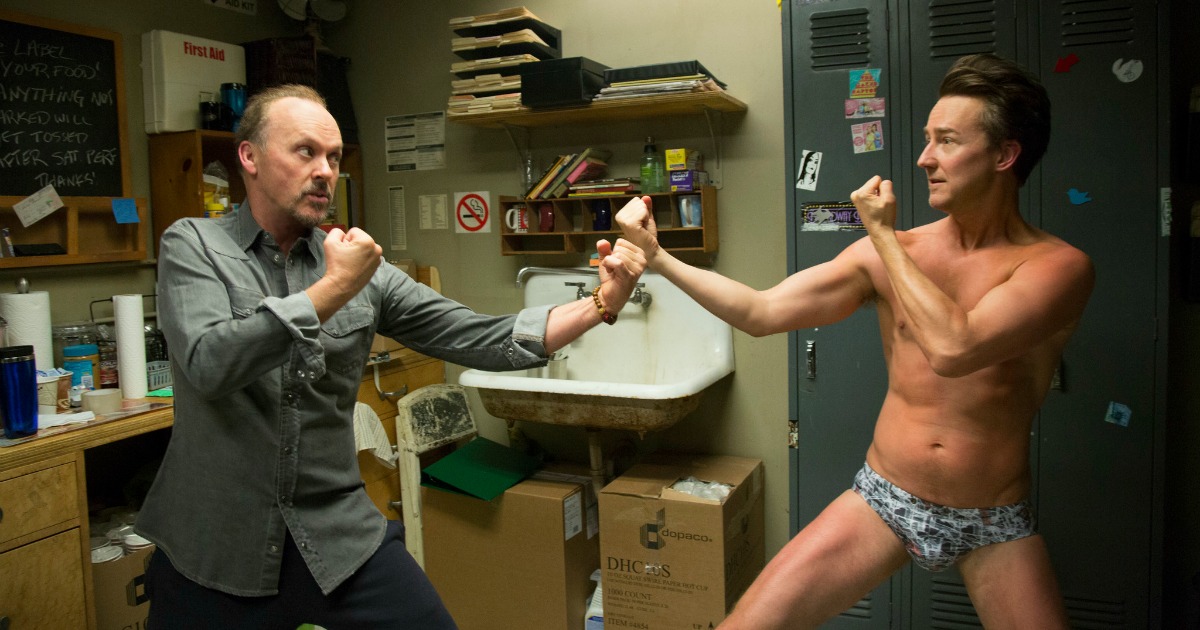 A lot has been said about this year's fall darling, the breathtaking and much talked about Birdman. Be it the supporters of this breathless experiment in craft proclaiming from the highest rooftops that it is the rebirth of not only its lead actor's career but the re-introduction of pure craft into megaplexes, or detractors claiming that it's all brawn with little to no brain, Birdman is a riotous piece of work that has left as many people gasping for air come its final act as it has shaking their fist at the sky for having been subjected to awards circuit hype and film festival buzz.
Too bad every last drop of that hype and every last word of that "buzz" still doesn't do this best-of 2014 contender any justice.
From director Alejandro Gonzalez Inarritu comes Birdman, a film of many descriptors. The film tells the story of Riggan Thomson (Michael Keaton, at the absolute apex of his acting powers), an aging thespian who has become the butt of the public's jokes following the conclusion of his big budget superhero movie franchise, Birdman. Divorced, estranged from his troubled daughter and without a real penny to his name, Thomson does what anyone in their right mind would do; he decides to write, direct and star in a stage adaptation of Raymond Carver's What We Talk About When We Talk About Love. Because that's just something anyone would think up, right?
Not a film to take time as a strict entity, the film plays with its passing of time quite a bit, so while the two hour runtime may not seem hefty, it carries more than its fair share of narrative. When one actor is thrown out of the play by an "accident," Thomson's co-star brings aboard her boyfriend, Mike (Edward Norton) and from there the film truly takes a left turn jumping from back stage comedy into the world of pure meditation, becoming an unforgettable look at the world of perception in today's world, or at least what is perceived to be power in today's world. Is it the person who turns a passion project into a critical darling? Or is it the underwear clad maniac running down the street that turns himself into a YouTube sensation? This question is at the crux of the year's best film.
Best known for films like Babel, Inarritu takes a decidedly broader turn with this pitch black comedy, but also amps up his craft. Ostensibly a meta-comedy skewering of superhero adulation seen through the lens of a single take film like Russian Ark, Inarritu's film gets some breathtaking photography from beloved director of photography Emmanuel Lubezki and also (with the help of some clever editing) turns the film into a moving (literally) bit of directorial experimentation. Set up to look as though it was one single shot, there are moments here that will leave a viewer reaching out into the air trying to get back the breath that was ripped right out of their chest thanks to Inarritu and his team. It's a towering bit of craft and, along with a rousing score, is one of the most awe-inspiring pieces of work seen in ages.
And who would have thought Keaton still had this performance in him. Thanks in part to a fantastic screenplay, Keaton channels a manic side of himself that we rarely see, especially in this part of his career. Now, while one will instantly fall under the idea of him riffing on his time as Batman, this is a performance far deeper than that superficial descriptor. Thomson is a man not so much trying to break free of a past character, but instead a man trying to be important. To anyone. In a world where power is given in six second videos and fame in 140 characters, Thomson seeks something from an era long gone. It's a beautifully nuanced performance and one that given the great direction, is allowed to really breathe completely and fully. Not to be outdone, Edward Norton is at his most anarchic, a performance that is far beyond anything we've ever seen out of the actor. Opposite him are the likes of Amy Ryan, Emma Stone and Naomi Watts, all of whom are at their very best. Stone is of particular note, having such a way with this screenplay. There's a naturalism to her performance, particularly when she's opposite Keaton, and there is one towering sequence in particular that will hopefully be seen come Oscar Sunday for both Stone and Keaton. It's a relationship that feels real and raw in a world that is admittedly a heightened reality chock full of surrealism. The Ryan/Keaton relationship is also fantastic, and it adds some much needed palpable humanity to the film.
Overall, while it won't be everyone's cup of tea, Inarritu's latest masterpiece is not only the best film he's crafted to date, but stands as this year's crowning cinematic achievement. Bound to be dissected by film fans and students going forward, Birdman is the type of surreal Hollywood meditation that we have been craving. A nearly perfect bit of cinematic playfulness, Inarritu's look at power in today's world is a must-see film.