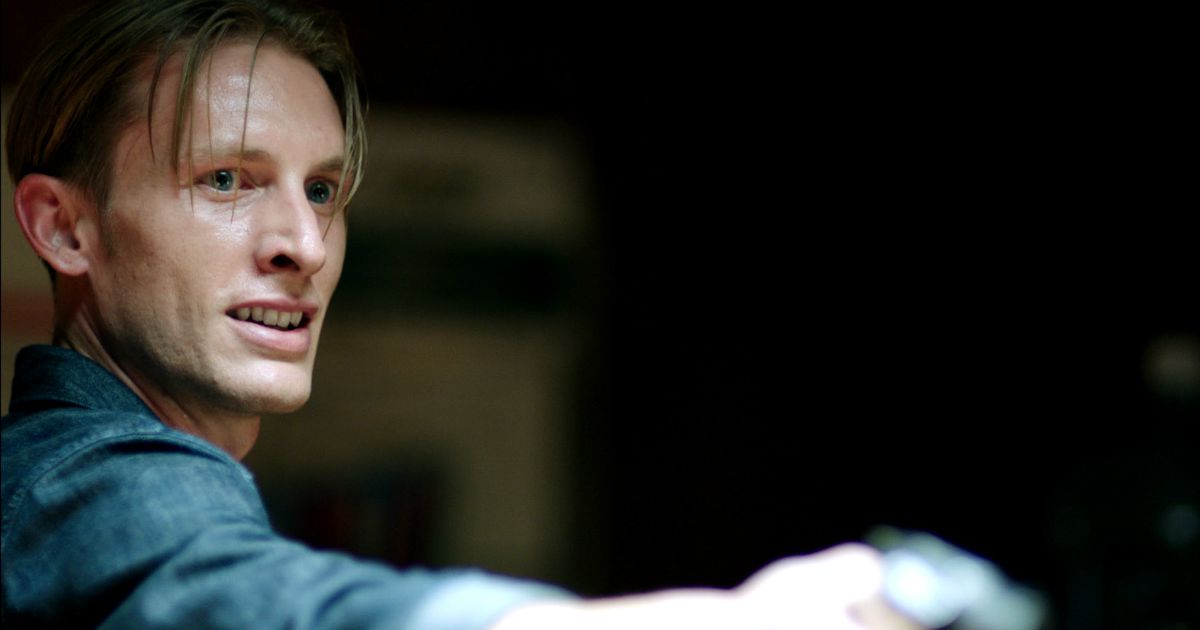 In a summer where worlds have been threatened by evil robots, lives taken by reanimated dinosaurs and heroes born out of men with the ability to shrink to the size of an ant, it may seem like the days of the low-key, small town thriller have passed us by. While this may be true for mainstream theaters and your local megaplex, if you dig just a tad bit deeper into the arthouse and VOD circuit, there's one new thriller waiting ever so patiently.
Entitled Two Step, the film comes from director Alex R. Johnson, and is a decidedly low-fi affair. A throwback in many ways, the film finds a young man named James, at a crossroads. Recently kicked out of school for skipping classes, James heads home hoping to finds some support in his last remaining family member, Grams. Sadly, Grams passes away relatively quickly after his arrival in town, and while settling all her affairs he meets her neighbor, Dot, and the two spark a friendship. What sounds like a good setup for a small town coming of age tale is thrust directly into the world of pulp thrillers when we meet Webb, a career criminal now free once again. With a debt to be paid, it's revealed that Webb has been milking Grams for all she's worth, posing as James to take her money. From there the two find their worlds on a collision course culminating in a small scale, and arguably overbearing, thriller that is saved by some great performances and a deftly assured hand with tension.
The debut from writer/director Johnson, Two Step is a defiantly low-key thriller that owes as much to the Texas indie scene from which it has sprung as it does the hard boiled crime stories that it draws direct inspiration from. Exactly the style of picture one thinks of when describing a "slow burn" thriller, Johnson's film is a beautifully paced thriller above all else. Told primarily through lengthy dialogue sequences, the film's screenplay is punchy and gets some great performances out of its relatively unknown cast, but the real punches come via the brief beats of action and violence which are some of the most startling in indie cinema this year. They are rare, save for the final act which sees all the pieces come into play narratively, but when they occur they are never shied away from and really give the film a great sense of atmosphere and mood.
---
---
Performances here are also top notch. Skyy Moore stars as James, and gives a reserved but textured performance. His turn really shines when he begins talking to Beth Broderick's Dot, Broderick being a welcome face amongst this unknown cast. She's a talented actress, and one we don't get to see enough of in films these days. Rounding out the lead cast is James Landry Hebert as Webb, giving a brutal, but one note, performance as the film's villain. His turn is magnetic, but ultimately doesn't give the film much richness narratively, instead coming into the narrative as as negative a force as he ultimately leaves the film as. It's as empty a performance as the film's score is a one note piece of composition, a manipulative piece of work that does hamper a handful of beats within the film.
A superb debut from a welcome new voice on the indie scene, Two Step is a wonderfully crafted thriller that doesn't give much in the way of new life to the genre, instead treading some well worn ground in an emotionally resonant and genuinely thrilling manner. A deliciously taut and tense piece of work, this is a thriller that may be hard to hunt down, but will hopefully find a market on the genre scene through VOD channels.