To many film goers, this weekend will be a welcome introduction into the work of director Alex van Warmerdam. The beloved Dutch auteur kick started his feature length directing career in 1986 with the rather superb debut Abel, and has since become known as one of the greatest, yet least discussed, world cinema juggernauts of his day. With a distinctly dead-pan sense of humor and an even more straight forward and dry sense of style, van Warmerdam is a filmmaker entirely his own, and thankfully, he's back with what may be his best and most commercial (if that's even possible) picture to date.
Entitled Borgman, the Oscar-nominated picture hits theaters this weekend via Drafthouse Films, and with that ever growing branch of the beloved theater chain behind it, the film is going to begin slowly making the arthouse/limited release rounds, and is an absolute must-see for anyone interested in pitch black, brutally dry motion pictures. Ultimately a confounding, bleak bit of black comedy, the film ostensibly introduces us to a man named Borgman, a man seemingly in duress. Played by Jan Bijovet, the character is first shown to us under attack by a group of men set to kill him, including a priest. Ultimately finding solace in the home of a beautiful and kind housewife played by Hadewych Minis, only to invade her and her family's home with his group of minions.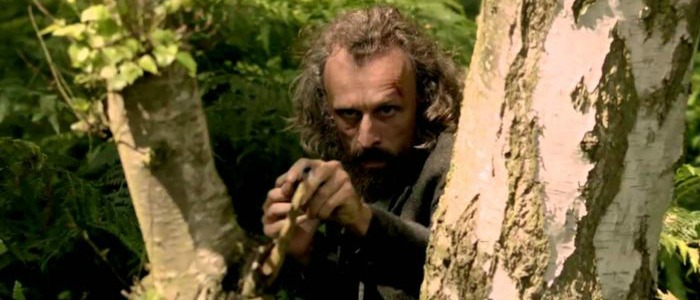 A darling at last year's Cannes Film Festival, this disturbing and often challenging black home invasion sort-of comedy, also written by van Warmerdam, is a beautifully blunt and obsidian black look at the unbreakable power of evil brought into a world by even the smallest of lies or simplest of actions. As with most of his pictures, van Warmerdam is the film's biggest star, and will become an instantly beloved genre auteur for those who go along for the ride and give this film a shot to sink in. Unrelenting and often times narratively muddy, Borgman is definitive van Warmerdam.
His script here is about as dry as they can get. While the jokes here land with a deceptively gut busting punch, the dead pan screenplay and equally dry performances here really add to the film's overall no-frills aesthetic. A plaintive camera looms over the proceedings, something not new to the canon of van Warmerdam. The violence is honest and raw, the line readings deceptively lifeless, and the set pieces choreographed to look and feel as vital and natural as they can come. The photography is breathlessly earth toned and allows the violence here, of which there is a lot and of the flinch-worthy variety, and van Warmerdam seems to have an absolute blast, albeit an unsettling one, allowing the brutality to breath all its own.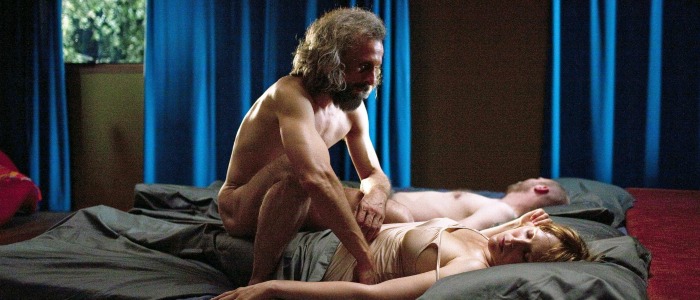 Performances here are uniformly great. Bijovet steals the show as our lead here, but it's not without Minis that the film truly comes alive. While they never seem to break through much emotional depth or broad character expansions, the chemistry between each person involved here is great, and the conviction to their characters is remarkable. Wonderfully tense and deliciously bleak, van Warmerdam's latest picture is one of his strongest aesthetic pieces, and features a handful of naturally raw performances, particularly those from the two primary leads.
Overall, while van Warmerdam is far from everyone's proverbial cup of tea, this meditation on the power of evil is unlike anything you'll see all year. Dry and blunt almost to a fault, this stunning piece of pitch black comedy cinema is wholly its own. The picture must be seen to be believed, and even then, you may not be all that sure what you sat in front of. All you will know is that it's the definition of a singular cinematic experience.