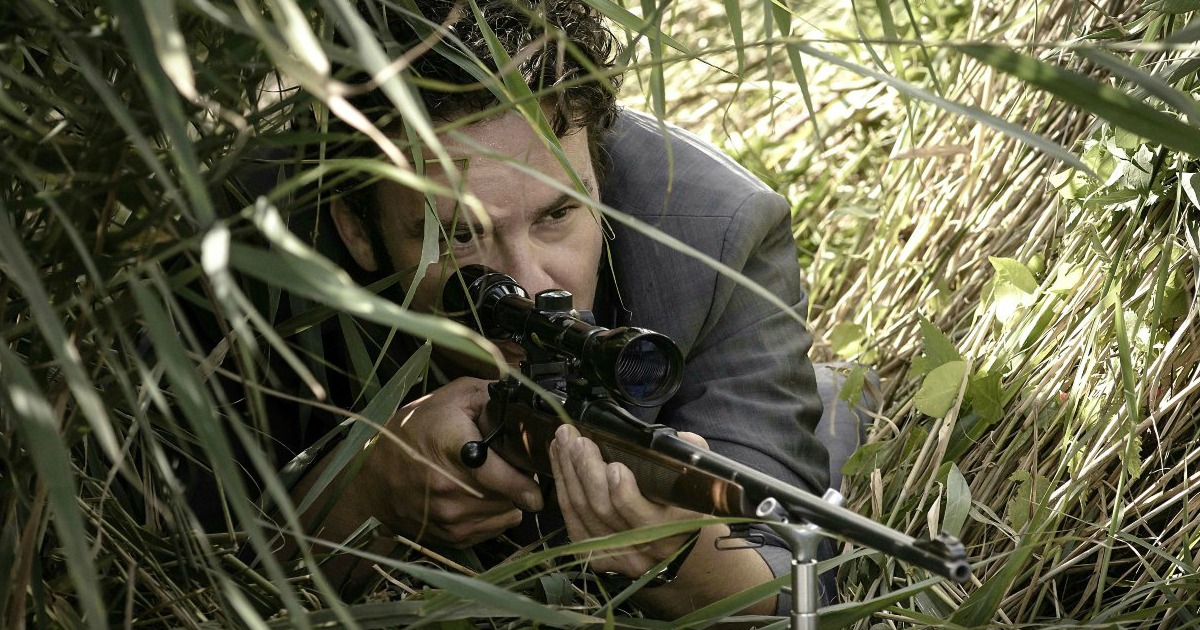 After garnering the most wide spread acclaim of his career with his previous picture, Borgman, director Alex van Warmerdam is back with what may be not only his most accessible film, but also the prototypical black comedy that he has been striving to make his entire career.
Ostensibly a hit man story in the mold of a Spy vs. Spy comic tale, Schneider Vs. Bax is a pitch black comedy that introduces us to our two titular lead characters, Schneider (a suburban father played wonderfully on edge by Tom Dewisplaere) and Bax (who is a writer with a penchant for booze and hard drugs and is played by van Warmerdam himself). Where the humor truly comes in is the picture's almost farce-style narrative, which sees these two have to deal with their respective hits (which may or may not be born out of less than ideal intentions) as well as their families, as Schneider's wife and two daughters are planning on throwing him a birthday party and Bax's own daughter arrives to spend time with him. It all results in a raucous, hilarious and ultimately engaging black farce that will hopefully find a market in arthouse circles and on VOD.
The star of the picture is van Warmerdam, who once agains proves to be one of world cinema's most underrated directors. While not shying away from the film's truly pitch black darkness, van Warmerdam's hand with humor is something to be cherished. The comedic beats here are subtle, played in a lower register than most films, and only add to the singularity of both this picture and van Warmerdam's overall vision. More or less free of any thematic weight (the men and their relationships with their families is interesting but too surface level to garner much intellectual stimulation), van Warmerdam's pacing is what engages the viewer here, with Job ter Burg's editing standing out as something truly remarkable. There's a sense of uncertainty about the proceedings, and the viewer is never at ease, a feeling that's hard to come by in a film so lushly and assuredly composed.
Van Warmerdam also proves to be a capable thespian, with the film coming to life in the moments Bax gets to share with his daughter, played by Maria Kraakman. These sequences bring not only a great deal of humanity, but when paired with the scenes of Schneider interacting with his family, stands to humanize and add texture to the film. The most humorous sequences belong to a character named Mertens (Gene Bervoets), first introduced as the man backing Schneider. As the film progresses we see his character become more and more absurd, only turning the situation into more and more of a knot. It's a truly superb comedic turn, and there's particularly one sequence after a rather tense phone call that receives a laugh so fully felt that it seems to come out of the viewer's soul.
With Borgman garnering a great deal of praise and van Warmerdam's name hopefully gaining a bit of prestige, this should be one of the bigger hits of this year's Portland International Film Festival. A briskly edited, pitch black hitman farce, Schneider Vs. Bax is a must see motion picture.
Fri, Feb 19, 2016 at 8:30 PM (World Trade Center)
Mon, Feb 22, 2016 at 8:30 PM (Cinema 21)
---
https://youtu.be/0nOl0oeTYXY
---