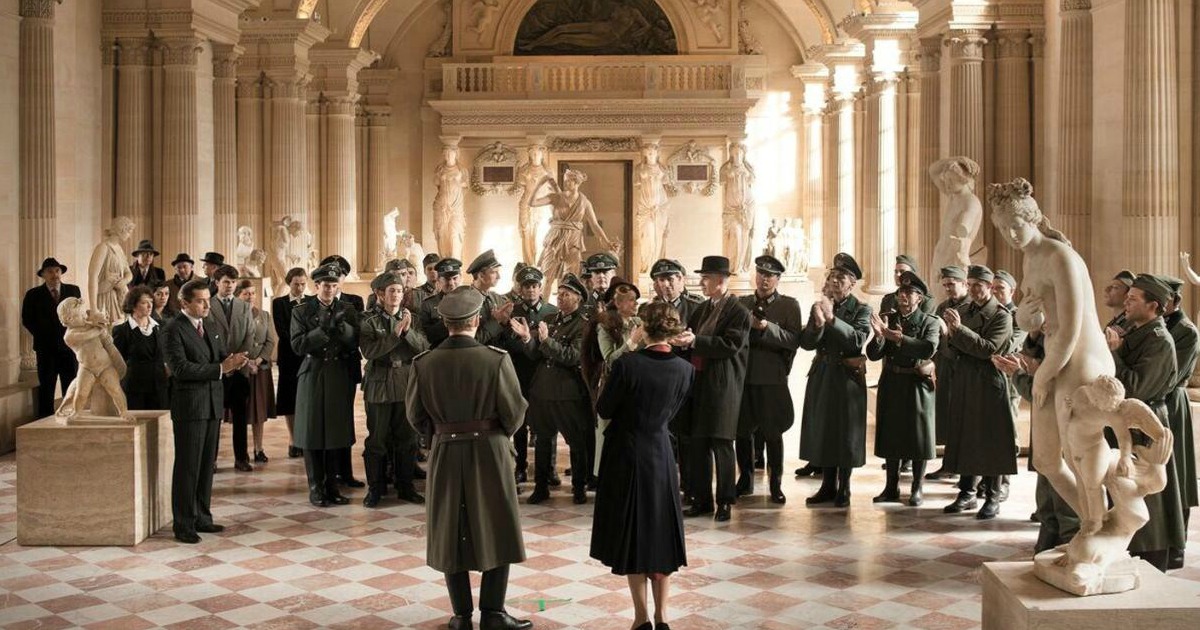 As cinema progresses as an art, more and more filmmakers are jettisoning normal ideas of narrative and pushing what boundaries there may appear to be on the definition of "cinema." Even looking at this year's Portland International Film Festival, you have filmmakers like Ben Rivers and Peter Greenaway who have no interest in classical narrative tropes. And then there is one of world cinema's foremost boundary-pushers, Alexander Sokurov, who is back with one of his most entrancing and yet oddly accessible experiments to date.
Entitled Francofonia, Sokurov's latest finds him delving back into the world of art and a nation's history, but this time leaving Russia as seen in Russian Ark and arriving in Paris, focusing his lens on The Louvre. In a similar vein to a film like Frederick Wiseman's National Gallery, Sokurov takes what sounds like well tread ground and brings to it his uncanny knack for getting into deeply profound themes and a breathtaking amount of cultural history through digressive vignettes blurring the line between documentary aesthetics and fiction storytelling. Where his Russian Ark found its experimentation in its use of one single take, Francofonia is a beast of an entirely different color.
While there are numerous digressions to account for, the film's main narrative, from which much of the thematic work is derived, involves the invasion of Paris by the Nazis in 1940. We meet the head of the Louvre at that time, Jacques Jaujard (Louis-Do de Lencquesaing) and a German officer named Franziskus Wolff Metternich (Benjamin Utzerath), the latter being the man given the job of taking stock of France's art for the Nazis by Hitler himself. However, when he finds the museum bare of the very pieces Hitler has his eyes on, the film devolves in a way into a series of discussions looking at not only the history of the Louvre or of France, but of the impact of art on French society and culture, and how the museum stands as a testament to that very concept.
Where Russian Ark takes us on a journey through Russian history in one monumental take, Francofonia is an even more aesthetically esoteric achievement. Where one segment of the picture finds Sokurov himself talking to a captain of a shipping vessel in what is more or less a documentary piece, the next segment finds a narrator discussing historical facts like you would in a Ken Burns picture, only to focus primarily on the aforementioned dramatic retelling of this meeting between two men on different sides of human conflict. Each segment of the film carries with it a great sense of tone and never feels contrived or superficial, with Sokurov having an unnatural ease with this constant switching of tone, aesthetic and atmosphere. With gorgeous photography across the board, the film is at its best when it doesn't shy away from the dense thematic discussions here, ranging from meditations on what makes us "human," the importance of culture and the power found within an artist's art.
While the film's focus on narrative, or lack there of, my lead many mainstream audiences scratching their heads, Sokurov has made yet another masterpiece, a film that takes on the power of art and its relation to the base levels of humanity and turns these dense and heady thematic digressions into one of the most breathtaking pieces of film art seen on screens in quite some time. Joining a film like Ben Rivers' The Sky Trembles as a 2016 film that will likely find a home in museums instead of theaters, this will hopefully find a market in the small circles of cinephiles with an interest in seeing just how far the cinematic boundaries can be pushed.
Mon, Feb 15, 2016 at 8:30 PM (Whitsell Auditorium)
Wed, Feb 17, 2016 at 6 PM (Moreland Theater)
---
---