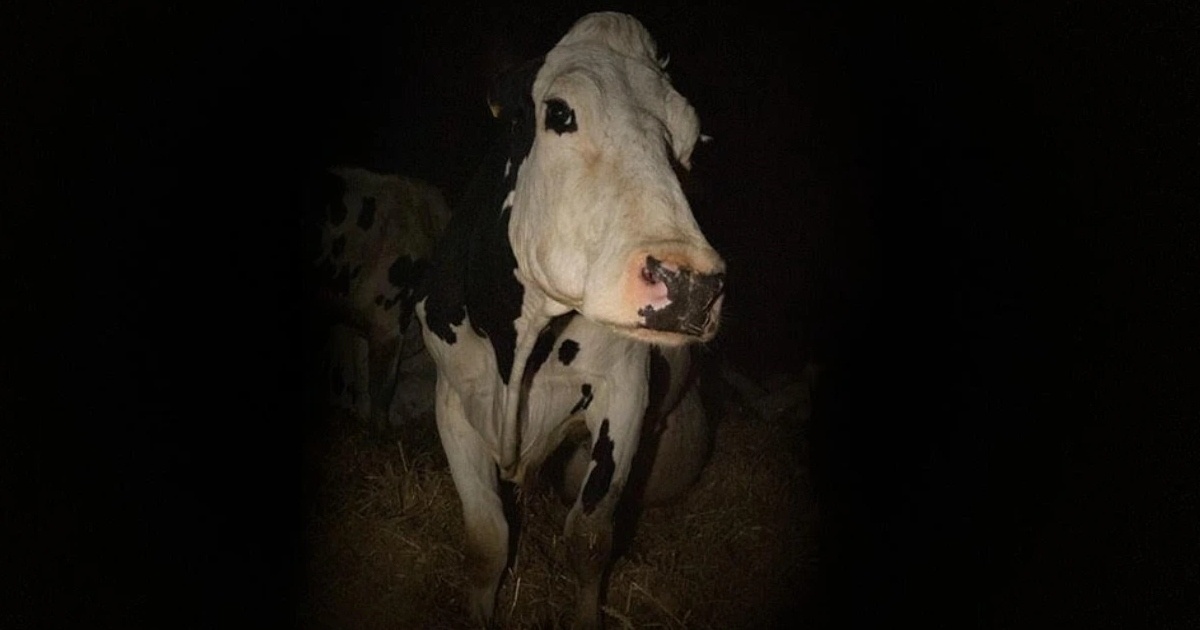 For the better part of 20 years, director Andrea Arnold has cemented herself as one of fiction cinema's great storytellers. Be is intimate character studies like Fish Tank or incomparable period dramas like Wuthering Heights, Arnold has become one of the most exciting and influential filmmakers of her generation. Hell, she's even gotten in on the prestige TV train, directing the second season of HBO's Big Little Lies. And now she's tackling documentary feature filmmaking.
Cow sees Arnold taking on a new mode in the form of non-fiction cinema, but to the director's credit this experiential picture feels deeply rooted in her overall larger project. Simply put, Arnold's film introduces viewers to Luma, a dairy cow located on a cattle farm in England. Profoundly intimate and empathetic, Cow takes us through Luma's experiences on the farm over a four year span, from birthing to milking, and everything in between. At times unshakably beautiful and otherwise harrowingly grotesque, the film centers almost exclusively on Luma's perspective, with the most actual language that's heard coming from a kinetic soundtrack of diegetic musical cues from songs just playing in the background.
Seemingly in conversation with films like those that have spawned out of the rise of collectives like the Harvard Ethnography Lab, Cow is unquestionably an impressive achievement aesthetically. As found in films like Sweetgrass, which is maybe this film's closest kin outside of Arnold's oeuvre, perspective matters greatly here, with the camera never allowing viewers to break from experiencing these events as Luma would. The photography is startlingly modern, with Magda Kowalczyk's cinematography embracing the muted landscapes fully. Empathy is vastly important to this film, and thankfully this film has that in spades. Hearts are broken after Luma moos while her calves are taken from her, blood pressure rises after watching her get shoved into small spaces. Things like these turn Cow into more a character study than anything resembling a social issue documentary. The crew is all but erased from the proceedings, and even the men and women working the farm are only heard of in mumbles just off screen and only lower extremities are visible whenever they're (briefly) on it. It's this focus on perspective that makes this a one of a kind picture.
Some images here are, indeed, profoundly troubling. However, with the focus set so strongly on Luma and Luma alone, the film becomes more sensorial than sensational. Arnold could have easily built a film that looks more like those YouTube videos your vegan friend shows you (or even the nightmarish Gunda, from 2020), trying to convince you meat consumption is evil. Instead her and cinematographer Kowalczyk have crafted a film of profound patience and humanity, a film that feels more like Arnold's Fish Tank than it does any recent modern documentary. Arnold's quietly claustrophobic camera works wonders here, embracing long takes to better envelope each viewer within Luma's world, seemingly sparking a connection between camera and cattle that feels entirely otherworldly. Tableaus like that of Luma's face set opposite a richly shot skyline make the more harrowing moments all the more potent and powerful.
At just 94 minutes in length, this modest, provocative dive into the world of one dairy cow stands as yet another knockout from director Andrea Arnold. Quiet, thoughtful and empathetic, Cow is a film unlike any other seen yet this year. Subtle and experiential, this is one filmgoing experience that won't soon be forgotten.