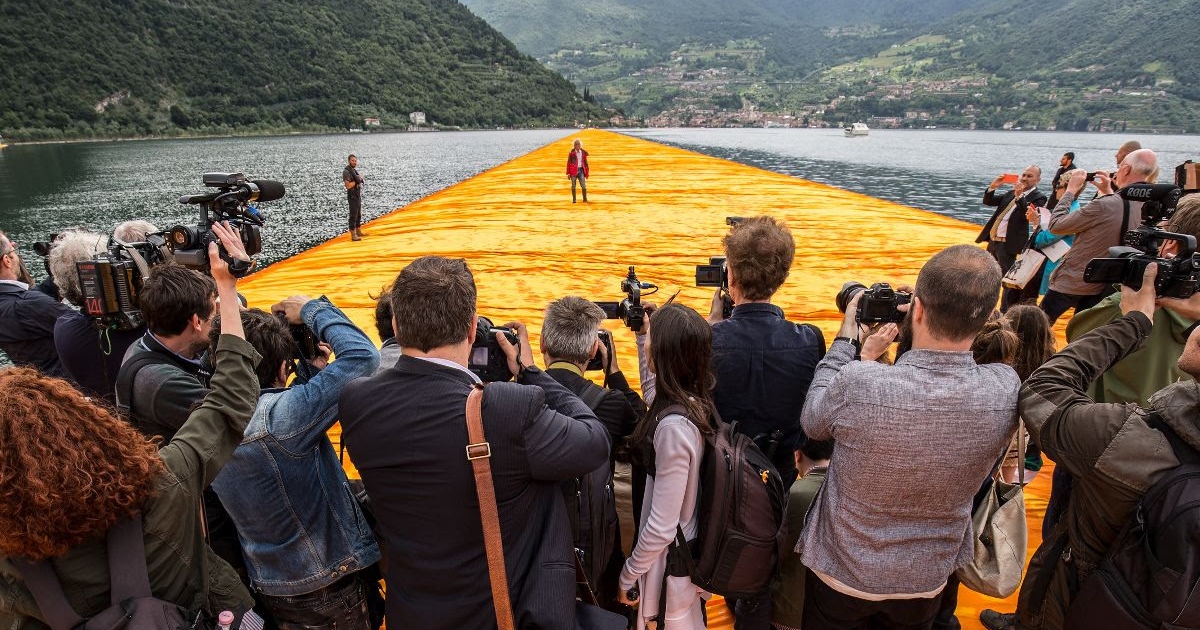 To anyone familiar with the world of installation art and site-specific artwork, there are few modern creators more famous and highly regarded than the singular Christo. In collaborating with his late partner Jeanne-Claude, Christo's career is chock a block with some of the most iconic pieces of modern installation art, specifically their 2005 masterpiece The Gates which took New York, and ultimately the world, by storm after being installed in Central Park.
And now he, his work and his collaboration with Jeanne-Claude has become the subject of a new documentary, entitled Walking On Water. Thankfully, it proves to live up to that long-winded hype.
Directed by filmmaker Andrey M. Paounov, Walking On Water places viewers in the middle of Christo's creative process, documenting not just the artist's career writ large, but more specifically the production and execution of his latest effort, The Floating Piers. As ambitious a project as they come, this piece would in effect give those who walk upon it the experience of quite literally "walking on water," specifically a two-mile stretch of water just off Italy's Lake Iseo. Covering the walkway in a yellow/orange material in the hopes of giving those who walk upon it a spiritually thrilling experience, The Floating Piers proves to be just that for many, with nearly 1.2 million people traversing the installation during its 16-day-long time in the spotlight.
That, for the most part, is all the detail we're truly given about any of the proceedings. Instead of crafting a biography, director Paounov paints an incredibly specific portrait born out of a specific burst of creativity. Very little is mentioned about previous works or his collaboration with Jeanne-Claude, instead, these few tidbits are used as peripheral information for what is at its very core a verite-style meditation on Christo the artist and his artistic process. Viewers become privy to the artist hunting for financing, battling with local and state bureaucrats and trying to keep themselves together as every plan or decision proves to be impossible or incorrect. Juxtaposing the true beauty of The Floating Piers with the chaos and true madness that surrounds large scale art, Pauonov gives the film a thrilling sense of vitality and energy, turning what could be a stayed and almost insufferable piece of demagogy into something deeply moving. At times frustrating, at others truly transcendent, Walking On Water is a character study par excellence.
It's also quite well made. Cobbling together various bits of footage shot over the course of the piece's production, Walking On Water is a captivating documentary that is in conversation with the verite tradition without ever feeling slight or drowning in its influences. When the piece is ultimately installed, the footage is rightly bombastic, proving to perfectly portray the scale of the installation and also in many ways the otherworldliness of the entire project. Setting itself in the formation of a piece that ultimately exists for barely a little more than two weeks and born out of incredible chaos, there's a melancholy to the entire picture that's oddly alluring, giving some much-needed depth to a film that's admittedly a pinch too long and much too rigidly structured. The ticking-clock-style structure isn't deplorable, just more formulaic and structured than the film needs to be, closing off in a way a film that otherwise feels of a scale fitting the piece it's focused around. That said, it's an evocative meditation on one man's creative process and one that's as captivating to watch as it is provocative to think about.