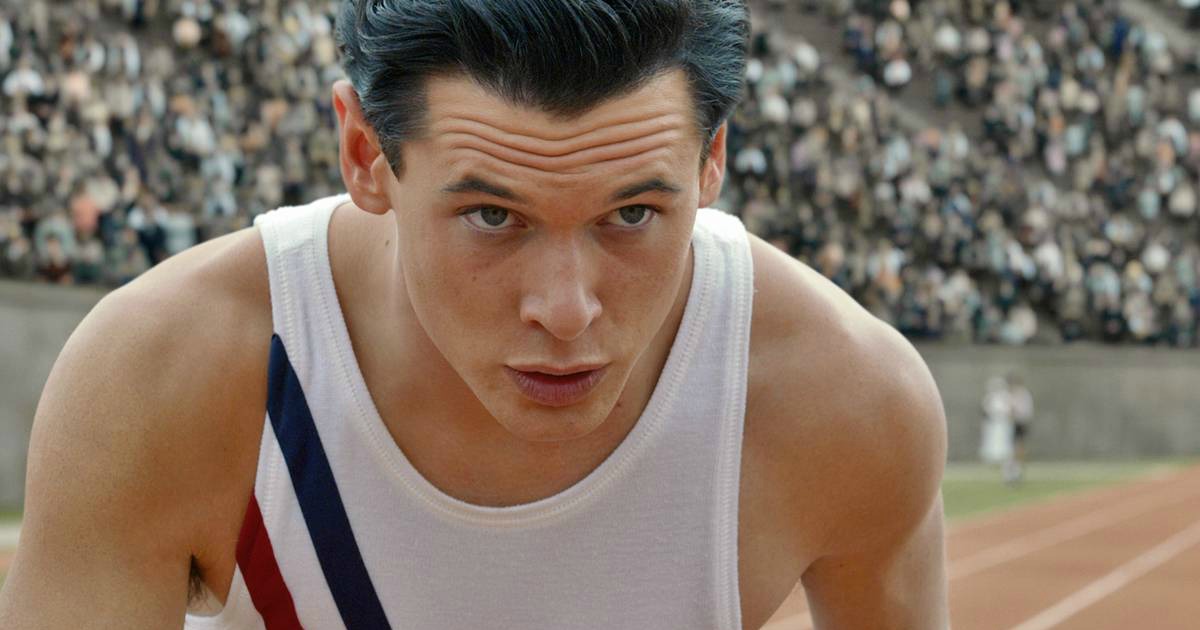 When you're a generation-defining screen icon like living legend Angelina Jolie, anything you touch inherently comes with its own bombastic hype and anticipation. And it's only magnified when you make the leap from in front of to behind the camera. Doing so for the first time with 2011's underrated drama In The Land Of Blood And Honey, the actress has gone full Oscar for her latest picture, a rousing if albeit trite and cliche-filled story of the power of the human spirit based on one of the most harrowing real life stories you'll ever hear.
Based on Laura Hillenbrand's beloved and unfathomably popular book of the same name, Jolie's latest film, Unbroken, brings to life the story of war hero and Olympic athlete Louis "Louie" Zamperini who went from Olympic star to prisoner-of-war after surviving 47 days on a raft following a plane crash in WWII. Caught by the Japanese Navy, Zamperini was sent to a POW camp and it's this tale of resilience and the beauty and strength in all of us.
It's just too bad that it feels as though it is three entirely separate pictures, none of which adding up to more than pure window dressing.
---
---
At its very best, the film is a collection of three entirely different narratives, at least structurally. Without much attempt at real emotional connection or narrative cohesion, Jolie haphazardly jumps from the tale of an up and coming athlete to that of a group of men stuck in the vast emptiness of the open seas, and finally that of a man looking to fight against the odds in a labor camp. All of these sequences are inherently compelling, but offer very little in the way of new or exciting insight into the depth of the human spirit, save for the middle segment set almost entirely aboard a raft. It's a truly fantastic bit of storytelling across the board, from Jolie's direction to the beautiful photography and even down to the otherwise serviceable performances that seem to thrive in this segment of the picture.
Speaking of the photography, that's far and away the film's greatest attribute, and it should come as no shock as it is from none other than the legendary Roger Deakins. Some of the year's best cinematography, Deakins gives the film a truly classic sense of style, a beautiful gloss and sheen that never feels too crisp. Jolie's direction isn't afraid to shine a light on the brutality throughout the film, and neither does Deakins' photography, really fitting Jolie's simplistic and classical direction like a glove. Not as showy as his work on films like The Assassination Of Jesse James By The Coward Robert Ford or even last year's underrated gem Prisoners (arguably that year's most superlative-worthy piece of cinematography), this feels very much rooted in the classic work of a filmmaker like David Lean, a name seen tossed into a number of conversations around this picture.
---
---
And thankfully the performances are almost all uniformly solid. Jack O'Connell stars here and while this is a far cry from his breathtaking and star making turn in the indie darling Starred Up, it's a really entrancing bit of physical screen acting. There's an energy to the performance that makes the character's unrelenting will to survive seem real and palpable, and it's a great performance when playing off equally fantastic names as Domnhall Gleeson or the scene stealing turn from the underrated Garrett Hedlund. Rounding out the cast are Finn Wittrock, Miyavi and even Jai Courtney, making for an intriguing selection of stars all giving some of their best work to date.
As a classic piece of prestige filmmaking, this is hard to take issue with. Crisp and beautifully made from the Alexandre Desplat score to the Deakins photography, Jolie gets some of the very best work out of some of today's very best creative minds. Herself proving to be an assured sophomore filmmaker with a decidedly stayed hand, Jolie's film is overall a solid piece of work. However, it's not one of actual emotional or intellectual intrigue, save for the film's second act which gains added tension from its oppressive setting. A relatively manipulative piece of filmmaking, Unbroken is a crowd pleasing picture that will hit mainstream audiences like a brick to the skull. However, cinephiles may left wanting. Clocking in at just under 140 minutes, the film's pacing is a roadblock here as well, overall making the film feel like a troubling slog for anyone not intrigued by aesthetic wonders.