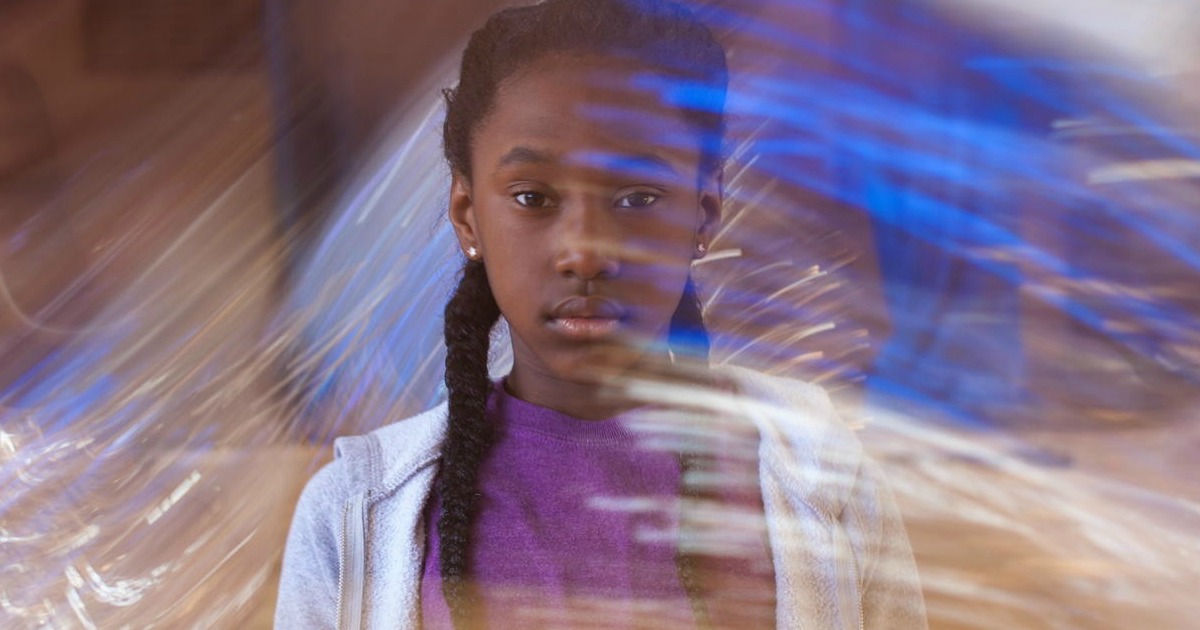 If only more debut films were like The Fits, the world would be a much better place.
The first film from filmmaker Anna Rose Holmer, The Fits is an achievement of the highest order, a first feature that is truly unlike anything in theaters right now. Starring the effervescent Royalty Hightower (who both gives one of the year's best performances and is absolutely a presence unlike any we've seen from an actor this young), the film introduces us to Toni, a young woman who spends most of her day sparring with her brother at a local gym where they also act as makeshift janitors. A superb boxer in her own right, she begins to spend less and less time in the ring after becoming ensnared in the world of dance, after catching a practice held by a local troupe in the same gym.
Finding something profound in the confidence and power shown by these women in their performances, Toni loses herself in this world, only to spark her own new friendship with a fellow young dancer. However, things take a turn of sorts after more and more dancers fall victim to a mysterious series of fainting spells. Debuting at the Venice Film Festival only to come stateside for festivals like Sundance and New Directors/New Films, The Fits is a breathlessly singular vision from an up and coming filmmaker far beyond her years.
---
---
On its surface, The Fits sounds like a relatively standard coming of age picture. But once you pass the one sentence logline, there's nothing cliche about this film. From the very outset, we see that tropes are being subverted, as we meet our lead as she is more than holding her own as she spars with her older brother. Very much a "tomboy," Toni is a preteen in Cincinnati who appears to be more at home trying to take off the heads of boxing opponents than hanging out a friend. Awkward socially, Toni finds a home ultimately in this dance troupe and in the friendship of fellow dancer Beezy, a woman seemingly half her size but double her energy. However, when girls in the group start suffering from "the fits," Toni is once again seeking a place to call home as it begins to foster a deeper connection between those who have gotten it.
The film tonally comes off, during many of its sequences, as a proto-horror picture, with "the fits" coming to its victim as a violent seizure of sorts. However, what it is at its very core is a film about what it means to find a home in the scattershot preteen years, and a nuanced look at female maturity that's unparalleled. While "the fits" may seem like a red herring, they are as important to the story and ultimately the central themes as any major character here. With only the women getting them, it won't take much of a leap to see this as any example of burgeoning female maturity, something that's at the very core of this film. Even small character moments like Toni changing in a bathroom stall hint at a film that's very much about the uncomfortable nature of this period in any woman's life.
It's also a deeply strange film aesthetically. Told almost entirely in static tableau that make the most of a very wide frame (some of the film's strongest sequences are simply set against various gym locations like a boxing ring or a basketball court), the fits sequences are bursts of terrifying energy with the spasms proving to be almost as alluring as the dance moves themselves and there are a handful of set pieces that are genuinely emotionally moving. There's particularly a sequence near the end of the film where Toni's dance routine that she had been practicing the entire time leading up to it finally seems to fully click, and it's arguably one of the most powerful portrayals of female empowerment seen on a theater screen in ages. Concluding with a sequence that is both surreal and utterly emotionally true and powerful, The Fits is a lushly shot and beautifully composed achievement. Toss in a startlingly unsettling score and a lead performance from Royalty Hightower that's as mature and nuanced a debut performance as you'll ever see, and you have one of the year's biggest surprises and truly unforgettable pictures.