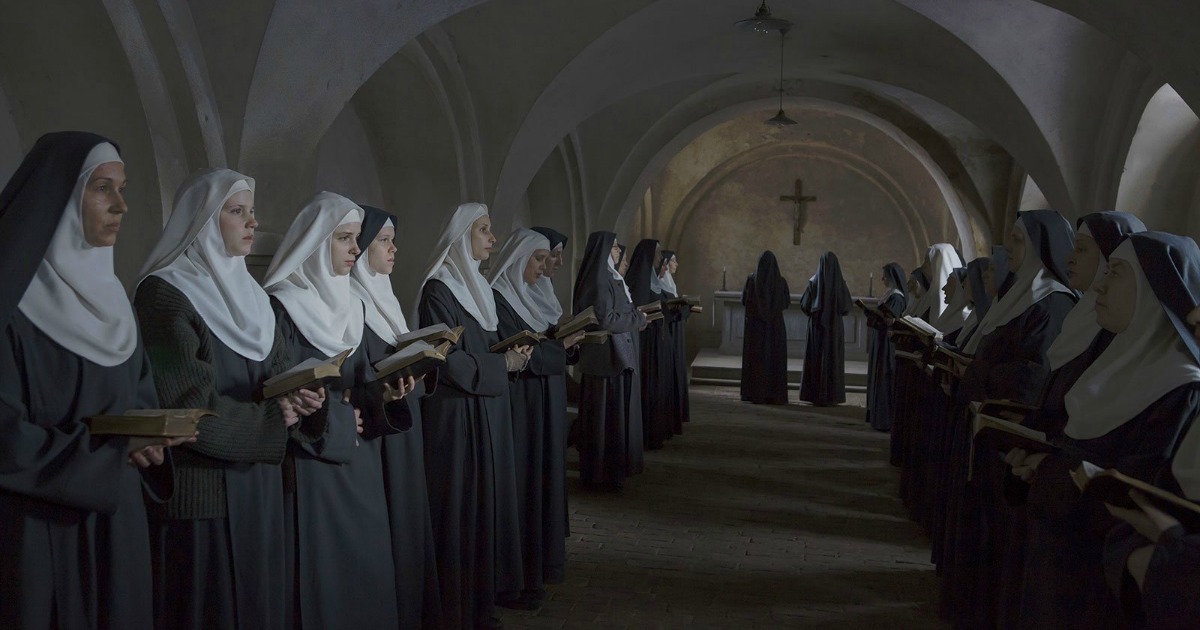 To many, the name Lou de Laage doesn't ring much of a bell. But anyone paying attention to the world of foreign and art house cinema this year has seen this striking young thespian become something of a break out star. After starring in Melanie Laurent's beloved Breathe last year, the 26 year old actress made another splash this year with her fantastic turn in the Juliette Binoche-co-starring gem L'attesa, a film she utterly stole from the legendary acting titan. And she's not done yet.
Entitled The Innocents, Lou de Laage stars in this Anne Fontaine-directed drama as Mathilde, a young doctor who arrives at a Polish convent with the hopes of assisting in a very tragic predicament. The film begins in December of 1945, and we soon discover that a Benedictine nun is seeking help in assisting a group of nuns currently with child after being subjected to numerous cases of sexual assault at the hands of Russian soldiers making their way through the region. One sister is about to give birth, with six more in some stage of pregnancy. Despite getting heat from the convent's Mother Abbess (Agata Kulesza) who only allows Mathilde to assist under a shroud of secrecy, Mathilde tries to help the sisters while also keeping up on work at her Red Cross position and also a burgeoning romance with a doctor played by fellow up and coming star of world cinema Vincent Macaigne. A breathtakingly crafted meditation on many themes ranging from the power of faith to the power of female relationships, The Innocents is a beautiful, haunting and emotionally enthralling drama of the highest order.
---
---
Lou De Laage is the film's star, but her name won't be the only one any viewer walks out talking about. Anne Fontaine is a director best known for a handful of art house hits, primarily the 2009 gem Coco Before Chanel, but this may very well be her greatest achievement to date. A character driven drama, Fontaine's direction is classical, with much of the narrative being told through tableaus and stunningly composed tracking shots. Fontaine herself spent time with Benedictine nuns while in pre-production for this film, and the film itself in turn carries with it much of the quiet that that life brings, and feels as much a piece of cinema as it does a religious painting. At times having the eye to seemingly reference directly the works of Johannes Vermeer (more than one shot directly draws comparisons to his most iconic of pieces), Fontaine's direction utilizes the gorgeous photography from Caroline Champetier, which itself is snow-covered and draws the viewer's eyes into this world of black and white beliefs being overwhelmed by shades of gray, and turns it into high art. Toss in some year-best editing and a score that's lush and ornate, and you have a piece of craft that ranks near the top of 2016's best.
That all being said, Lou de Laage proves once again that she may be the most exciting young French actress working today. Her performance is beautifully assured and measured, with a quiet strength being tested over a harrowing runtime just shy of two hours. Based on notes from real life nurse Madeleine Pauliac, this is a devastating narrative that finds our lead dealing with everything from a convent under duress, a growing romance with a fellow stressed out doctor and ultimately an attack that is very close to the type of violence that has spawned her trip to this convent in the first place. De Laage is utterly magnetic, and while some of that does have to do with her startling look, her physicality and on screen presence is unlike many we've seen in recent cinema. She has a depth of emotion at her disposal, a wealth of humanity that is accessed with the simplest of glances or gestures. It is, like the film itself, a quiet piece of work, and one that has depth that will keep any viewer talking long after the credits. Opposite her are names like Kulesza and Macaigne, both of whom are seasoned veterans of the world cinema scene, and yet de Laage steals each and every scene she's on screen for.
Clocking in at just a few minutes shy of two hours, The Innocents is a devastating drama, one that has the emotional power of diving head first into a classical painting. Gorgeously composed and with the narrative strength to give each respective character their own sense of place and singularity within the story, Fontaine's film is a superb meditation on faith and female relationships set against a backdrop of snow, religion and violence.