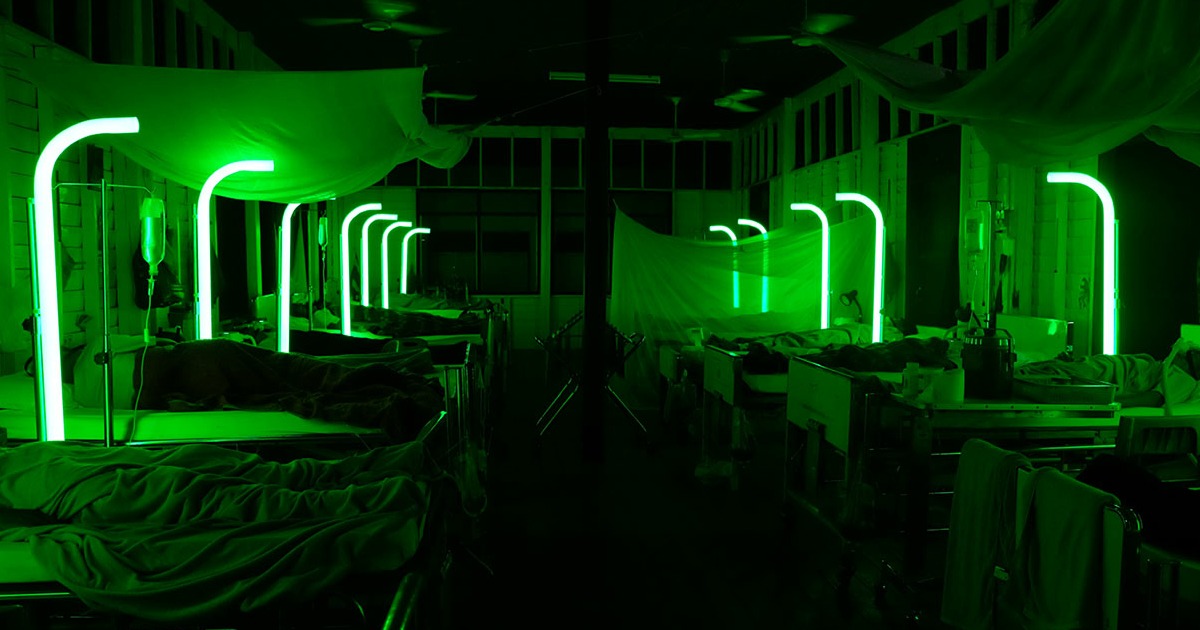 There are few filmmakers working today who are like Thai auteur Apichatpong Weerasethakul. Besides having a name that leaves writers waking up in cold sweats, "Joe" as he lovingly goes by is the resident surrealist poet of Thai cinema, as interested in striking tones and moods as he is sending his films off into lands of wookie-like specters and fish with, ahem, oral capabilities, all while keeping them grounded by genuine human discussions about everything from grief to sexuality.
And then there's Cemetery Of Splendor. Arguably the director's most accessible work to date, relations can be made to previous Weerasethakul films, particularly Tropical Malady and the hospital-set pair of narratives in Syndromes and a Century, but this is a beast of an entirely different color. Khon Kaen is the setting of this film, specifically a former school that has become a clinic housing and healing military types who have suddenly fallen into a coma of sorts, a mysterious ailment that is at the core of the film's narrative mystery. Jenjira is the picture's lead, a volunteer, and she begins to take special care of a newly admitted soldier named Itt, who awakens and begins sharing time with her. From here, the film takes a decidedly low-key approach to its surrealism, as we discover that the school set upon a royal burial ground, setting the stage for the type of matter-of-fact poeticism that Weerasethakul has become known for.
Despite clocking in at a pinch over two hours and having a pace many film goers would describe, at best, as slow, and at worst, as inert, few films have this much unabashed charm and humanistic whimsy to them. Very much in step with Weerasethakul's previous films aesthetically, each frame of this picture is quietly composed, static, with a blunt execution that makes the proceedings feel more akin to a waking dream than a motion picture. There are bursts of surrealism ranging from an amoeba making its way across the frame or the various colored lights that make appearances throughout the film, even composing the entirety of one of the film's more genuinely awe-inspiring digressions. These digressions, however, never feel entirely out of place. Very much a trope of Weerasethakul's filmic style, the sudden appearance of two statues suddenly taking human form in the middle of the day feels entirely natural to the world we are inhabiting.
---
---
And yet, "Joe" never loses sight of the humanity at the film's core. I myself don't know a great deal about Thai politics, but throughout Weerasethakul's filmography, we are visitors into a decidedly otherworldly plane of existence that speaks vital and definitive truths about a nation that is for all intents and purposes on the brink. With the past coming into the fray in a very real and tactile way, Splendor, much like an Uncle Boonmee Who Can Recall His Past Lives is dealing with things that can be discussed on both a micro and macro level. Setting the film in his hometown adds to the depth of readings here, with the viewer finding numerous aspects to further dive into headlong after viewing. This is a much a film about the state of the Thai nation as it is about the broader themes, particularly the constant battle between the past and the present. Western film fans have a great deal to chew on here, even without a grand knowledge of modern Thai politics.
However, the real stars here are the performers. In typical Weerasethakul fashion, the performances here are stayed, and yet deeply moving, particularly that of Jenjira Pongpas Widner, our lead. Her character herself has something haunting her, in the form of a leg that's not quite as long as the other, and while the literal crutches she uses to get around could become metaphorical ones for her performance, there's so much humanity and truth to her performance that it becomes a truly beautiful evocation of some deeply human ideas. Banlop Lomnoi as Itt is great, and Jarinpattra Rueangram as the film's medium Keng is a real show stealer. Much of the film's back half is resting on the shoulders of Keng and Jenjira as the former tries to get the latter back in touch with Itt, and it's a testament to all involved that it becomes one of the most moving narratives woven in quite some time.
Cemetery Of Splendor is Apichatpong Weerasethakul at his very best. Dripping with lyricism and a dream-like sense of reality, Weerasethakul's latest film is a gorgeously composed and startlingly emotional drama that feels as close to a visualized day dream than anything having come across screens in ages. Driven by quiet performances and a director with such an assured hand behind the camera that the beautiful landscapes of Thailand feel as natural on screen as the random appearance of two goddess sculptures suddenly coming to life , Splendor is an absolute triumph for one of today's greatest filmmakers.