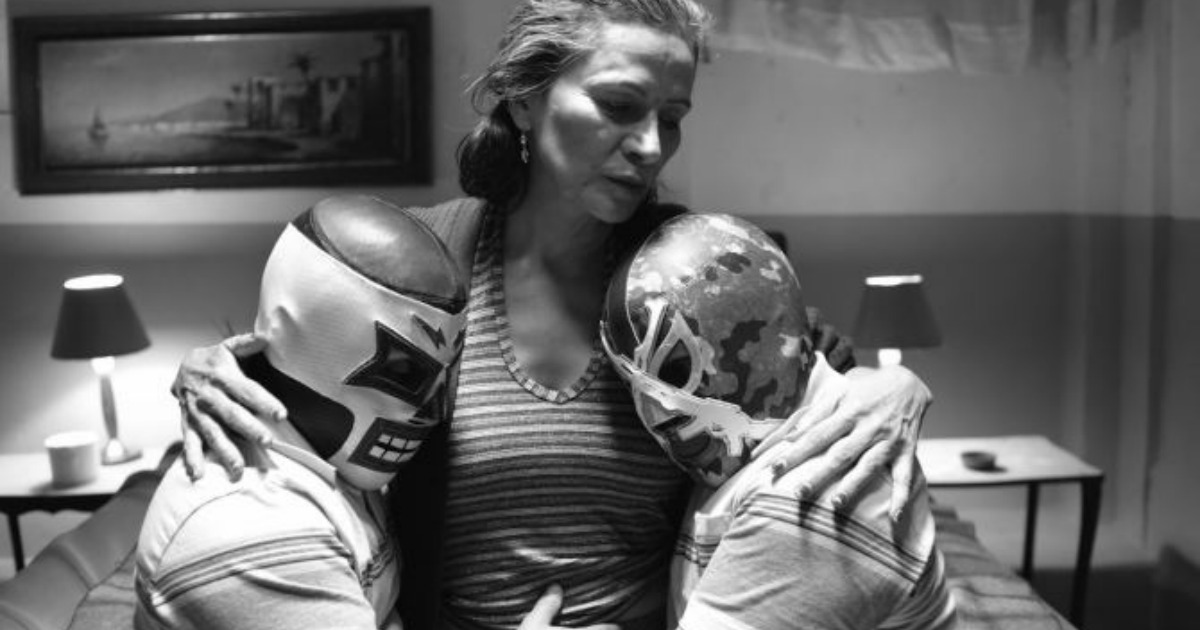 There really isn't a genre, or more so a movement, within the history of cinema that is quite like Film Noir. Best known for inky black and white photography, rain soaked urban landscapes and men in fedoras being thrust into turmoil by beautiful women with not the best of intentions, Film Noir burst out of post war angst in the early 1940s, and has since become home to some of the most original and vital motion pictures within cinema. Films like Rian Johnson's Brick have helped evolve this movement into something more than just a fancy name for films involving private investigators. Who would have thought there would be a luchador wrestling noir?
That's exactly what Arturo Ripstein's Bleak Street is, or at least in its broadest form. Thrusting us into the seedy underbelly of Mexico City and the world of luchador wrestling, Bleak Street is on the surface a seemingly prototypical piece of noir cinema. A brazenly surreal, black and white tableau-driven film that apes Bunuel as much as it does a contemporary of Ripstein, David Lynch, Bleak Street is based on a true crime story that it many ways shook and shocked Mexico in 2009. In July of that year, two dwarf luchadores were found dead in a hotel room, having apparently been drugged and robbed by two women with connections to organized crime, posing as prostitutes. Bleak Street is a fictionalized account of that story, giving the viewer a look not so much into the crime itself, but the events that brought the parties together.
---
---
Above all else, noir is a movement that has its eyes set directly on ideas of fate, and this picture explicitly fits that bill. With characters verbalizing their ideas of destiny and their own fate, existential ideas loom heavily over the proceedings here, with each character never truly in control of what their own "destiny" is. The film is drenched in an overwhelming sense of impending doom, particularly with regards to the photography here. Heavy in its use of light and shadow, Bleak Street is an almost baroque picture, a surrealist monument to the underworld of Mexico City that could be confused for a film ripped right out of the classical noir heyday. Told in lengthy tableaus driven by Ripstein's lyrical compositions that seem driven by the same spectre guiding these characters to their ultimate conclusion, this is a breathtaking visual achievement.
Performance-wise, the film is quite good as well. Starring here are Juan Francisco Longoria and Guillermo Lopez as Alejandro and Alberto, or Little Death and Little A.K. as they are known in ring, and while the film is set in the world of luchador wrestling, the minutia of that art is only window dressing. We see them begin practicing their moves, and it becomes clear that the physical act of wrestling isn't the focus here, instead the mythos of the art is on display. In Mexico, lucha wrestlers are seen as almost superhero like figures. This film in many ways has a dream-like meditative aesthetic to it, one that fits the type of otherworldly figures that luchadores are seen as. Led by Longoria and Lopez, these two actors give profoundly moving performances, particularly when one takes into account the fact that they are doing so almost entirely through their physicality. With masks firmly planted on their faces for the runtime of the film, these two play as the real emotional entry point in a film that is otherwise quite broad in its reach. We are always left at a distance from the characters here, particularly due to their masks, but that in many ways fits the type of tone poem that the film itself actually is. Driven by the aesthetic and atmosphere implemented by Ripstein's camera, Bleak Street is a vivid picture that relies more on a specific and distinctive mood than genuine emotional connection. Rounding out the cast are Patricia Reyes Spindola and Nora Velazquez as the two prostitutes who are thrust into the lives of our wrestling leads, but again they don't give the film the type of lived in naturalism one looks for in a drama. Instead, this is an existential meditation, a play more interested in ideas of fate than it is real human drama.
And there is absolutely a place for that type of picture, especially when it is this well done. Detractors will find the film to be cold and distant, but if one gives him or herself over to its idiosyncrasies and filmic experimentations, Bleak Street is a profoundly singular experience. One that is as vivid as it is genuinely brooding, a mood piece of the highest order.