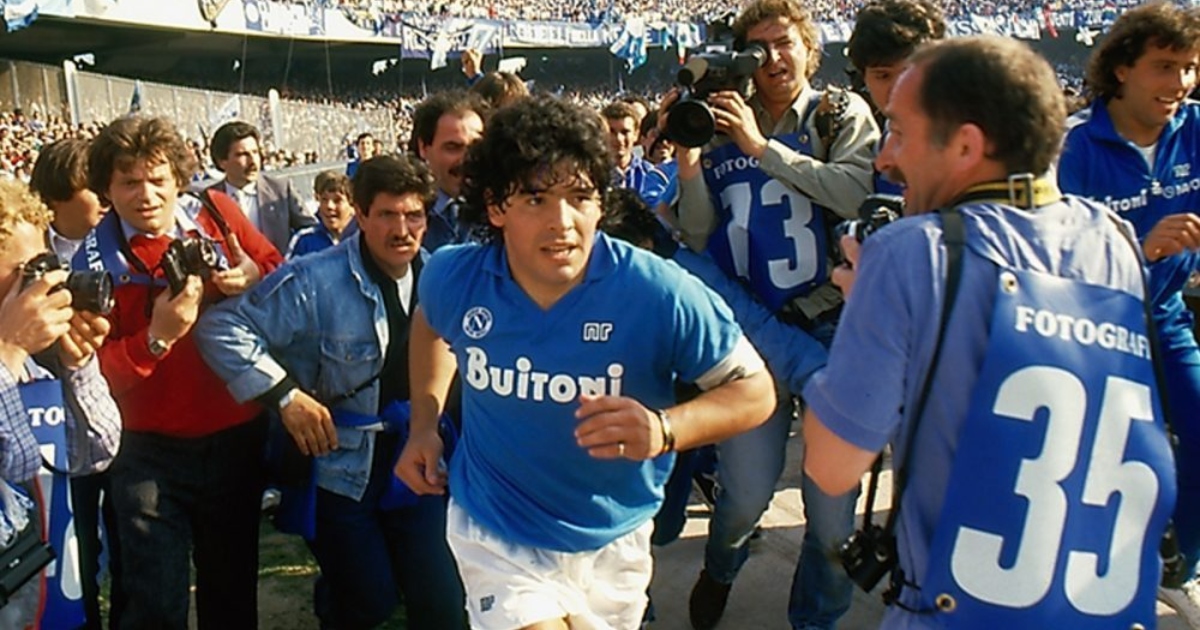 Despite having a career that dates back to the mid-90s, director Asif Kapadia has seen, starting with his incredible documentary Senna, his stock rise to the very heights of the non-fiction cinema world. With Senna, the Amy Winehouse biography Amy and now the engrossing sports documentary Diego Maradona, Kapadia has become one of today's most exciting and critically lauded documentarians.
Built from over 500 hours of never-before-seen footage from the archive of the titular soccer juggernaut, Diego Maradona is a no-holds-barred look into the man, the myth and the legend that is Maradona. With an almost scholarly eye towards deep research, Maradona is a richly textured, incredibly nuanced portrait not only of a titanic figure in the world's most popular sport, but the rise of a public figure into something of a god figure among his fans. A film very much about fame, passion and fandom's perverse ability to build a god and then chomp on their bones once they begin their inevitable fall, Kapadia's latest is one of the year's most thought-provoking documentaries, proof once again that he's as talented a voice as there is in cinema, fiction or non-fiction be damned.
Structured much like his previous sports documentary Senna, Diego Maradona isn't so much built on the talking head interviews and archival footage that modern non-fiction cinema is, instead subverting this by simply using interviews as expansive narration. Exhaustive in his research, Kapadia lets the impressively curated archival footage do much of the talking, as having complete access to Maradona's own personal archive has given him a treasure trove of footage to speak for itself. Interviews are solely heard in the background, elaborating primarily on Maradona's time following his transfer to the Napoli team in 1984. A mammoth signing at the time, the subsequent 130 minutes paints a portrait of fame and fandom that hits to the core of what the word fan means in the first place.
Short for fanatic, Diego Maradona is at its very best not when mining the admittedly rich life of its titular focus. Instead it elevates itself into the very heights of 2019 documentaries when portraying the rise and fall of a popular public figure. Maradona upon the start of his time in Napoli becomes quite literally a spiritual figure for fans who find his work on the pitch to be truly transcendent. Culminating in maybe the best sequence of Kapadia's entire career, come 1990 Maradona is taking on the Italian national team as part of the Argentinian collective, with a series of penalty kicks that will see him go from God to Devil in the time it takes a ball to reach the back of a net. It's a profoundly moving sequence, a bravura experiment in editing and storytelling that's proof positive not just of Kapadia's skill as a craftsman but of the power of the image to tell a textured story.
In between you have your relatively typical rise and fall story, that of a famous sports figure getting in with the wrong crowd who have perverse motivations and only want to corrupt what is, ideally, a beautiful expression of human physical prowess. At 130 minutes the film does feel a pinch long and a bit bloated, but the highs are truly profound. In theaters September 20 and on HBO on October 1, Diego Maradona is an impressive, expertly crafted sports documentary that's right at home among the very best of its ilk.