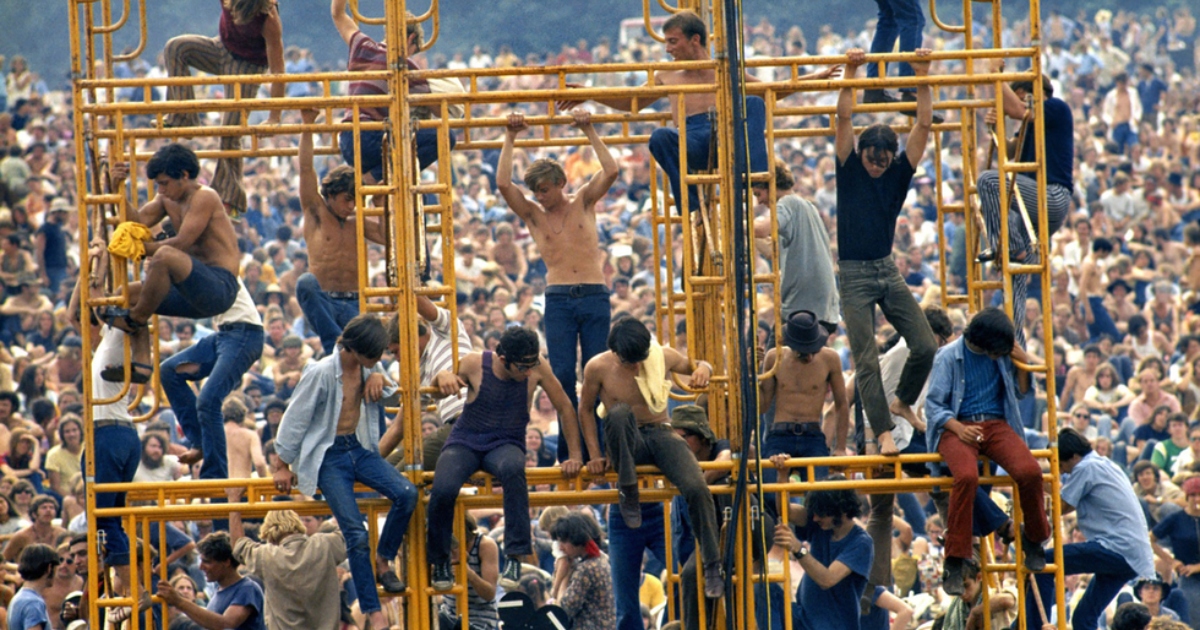 As it nears its 50th anniversary, the most influential and legendary music festival hasn't lost its cultural cache. Held over three days in the summer of 1961, Woodstock has become not just a legendary festival featuring performances from a who's who of iconic musical acts, but a calling card for an entire generation that came together for one moment in history to try and will peace, love and humanity into existence.
Once more into the breach then, as PBS' American Masters series is the latest outlet for a deconstruction of what has become an almost comically talked about event in American history.
Entitled Woodstock: Three Days That Defined A Generation, director Barak Goodman (Oklahoma City) is the newest director to attempt to tell the story of this music festival, in all of its hippie-backed glory. Told through archival footage and voice-overs from those who planned, attended and performed at the festival, Woodstock features never-before-seen footage and raises the question, what can be truly added to the conversation about this event, as it reaches its half-century anniversary?
At first glance, Woodstock is an incredibly handsome non-fiction film. The archival footage is restored to absolute perfection, an intimate and first-hand recollection of a singular moment in time and space. Intimacy is in no short order here, with the voice over offering perfectly compelling commentary over the event as it happened. This footage offers up a certain vitality and a crackling energy to the proceedings, similar to the best of the documentaries revolving around this subject. Never breaking out into a series of talking head interviews also elevates this above the type of documentary typically seen on this subject on networks like PBS or particularly CNN, who has made it part of their stock and trade to rehash the same types of narratives around this period in American history, always featuring various scholars or reporters waxing philosophical about how this was the purest moment of freedom for a generation.
That said, what makes this intellectually different than any other Woodstock documentary that we've seen in the last five decades? Be it the incredible, profoundly influential Michael Wadleigh film Woodstock, or even Ang Lee's inscrutable Taking Woodstock, this event has been mined almost instantly since it concluded and doesn't seem to be stopping anytime soon. This film, despite being admittedly very well made, does devolve into many of the same types of conversations featured in the above-mentioned pictures. There's talk about how many drugs were consumed, how the event brought together an entire generation of peace-minded youths in the wake of Vietnam and everything in between. So, again, why this film? Why this story? What makes Goodman's film worthy of one's time and energy is the first-hand connection to the events. We don't see this event through nostalgic eyes, truly. Sure, nostalgia runs heavy in the film's voiceover, but there's something to be said for just how captivating this footage truly is. The performances are across the board engrossing, and the archival materials from before and ultimately after the festival really give the film an expanded scope and sense of gravitas. Seeing thousands of people congregate under one relatively peaceful banner is something rare in the year of our Lord 2019, so while the recollections of doing "so much acid" are incomprehensibly mundane and ultimately kind of boring, the scale and scope of what happened over those three days in Summer '69 never will be. No matter how run into the ground they are by generations nostalgic for the era they never lived in.