There are very few filmmakers like director Baz Luhrmann and even fewer novels as beloved and singularly important/influential as F. Scott Fitzgerald's masterpiece, The Great Gatsby. However, if there were ever a seemingly perfect fit of director and source material, the two feel as though they have been linked together for quite some time.
This weekend marks not only the first major adaptation of the novel in nearly forty years (save for a TV movie that lives on as a curio for Paul Rudd fans, primarily), but the return to the big screen for the polarizingly singular Baz Luhrmann, an auteur who has as many fans as he does vehemently vocal detractors. Following his 2008 film, Australia, Luhrmann has been off the grid for a minute, but if there was ever a way to make a bombastic return, adapting possibly the greatest American novel ever written is just that thing.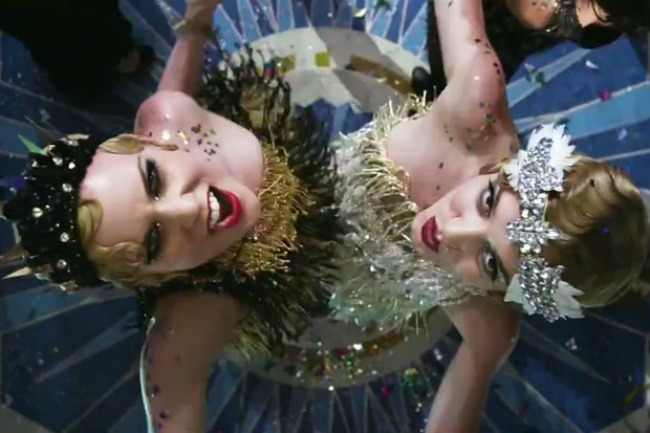 With jazz-age New York in the background, we meet a young man, Nick Carraway, as he recounts his experiences opposite an enigmatic war veteran named Gatsby. Jay Gatsby. With his cousin involved with a brutish cheat of a husband, Tom Buchanan, Nick goes from hunting down the myth that is Gatsby, to trying and connecting the separated lovers Gatsby and the now married Daisy Buchanan. A melodrama worthy of a gaudy television series, what we are given instead is a wholly superficial yet cinematically vibrant meditation on the impossibility of letting the past escape one's mind, as well as a film that may very well be one of the most dramatically inert and lifeless motion pictures that 2013 has offered us.
Based on the aforementioned legendary novel, the film almost inherently relies on both the filmmaker behind the lens, and the team he or she assembles to go in front of it. Here, Luhrmann has given us as A-list a cast as we'll see all year. Leonardo DiCaprio stars as the titular Gatsby, a man who is as much a legend amongst the socialite scene as he is a palpable collection of skin and bones. DiCaprio feels at home with Luhrmann as his director, and their past work together allows the actor to dig deep into this character, a deeply melancholic figure moved to halt his entire life, building something in monument of the possibility of returning to those moments he spent with Daisy. Carey Mulligan is opposite him as that beautiful socialite, and she is superb. She has an innocence about her that fits this character like a glove, and yet her chemistry with both DiCaprio and her husband in the film, played by Joel Edgerton, is thrilling. Edgerton is likely the film's biggest star, adding depth and palpability to the role. Rounding out the cast is our narrator and true lead performer, Tobey Maguire, giving a solid performance but also finding himself behind the film's main flaw.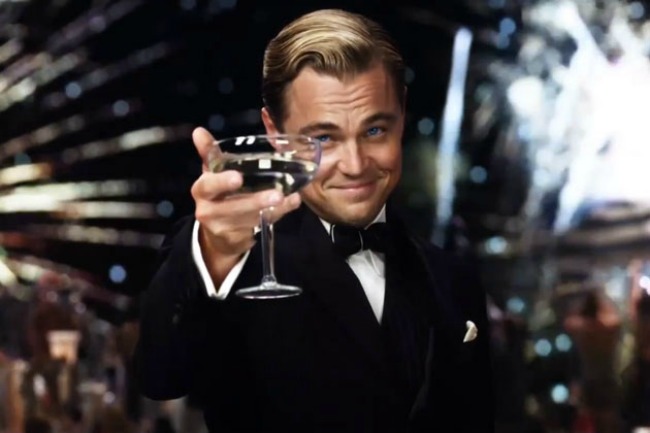 Structurally and, overall, narratively the film is completely and utterly inert. These performances all hold up here as solid studies of their respective characters, but within this broad narrative, weight is not something you'll find here. The stakes are seemingly as low as a drama could truly imagine, and when the film ramps up its drama performance wise or even visually, the pacing is still stuck in some sort of substance between mud and tree sap.
Speaking of visually, Luhrmann is at his most distilled here. A perfect choice for this jazz age tale, Luhrmann has such a breathtaking hand with setting tone and scope here, be it between gorgeous party sequences or really interesting uses of his camera within a CGI-heavy world. The CGI itself is hit and miss, particularly when it's used as part of a montage or when flesh and blood characters inhabit it. The odd CGI is a point of contention here, but what isn't is the film's top notch use of set design and cinematography. As gorgeous a film as you'll see this summer, The Great Gatsby, and director Baz Luhrmann in many ways, thrives when given the chance to throw caution to the wind, and craft the type of spectacle picture that posits lavish party sequences as its universe's version of a blockbuster action set piece. Really a sight to behold, Luhrmann's new picture may be his most troublesome, but it's without a doubt one of his most visually inspired. As far from a film like Strictly Ballroom as any director could possibly jump, this feels like Luhrmann at his most focused, cinematically, and yet his most narratively inert. It's really an odd bit of cinema.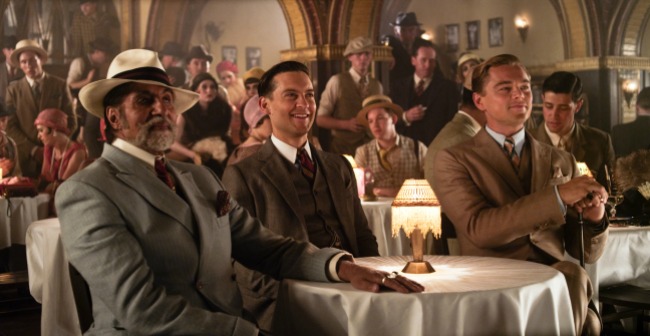 Overall, this marks Luhrmann's return to the world of melodrama that he has touched upon throughout his career, and with as many esoteric musical choices as he's ever made, the film is a visually inspired look at superficial characters within a world in which they can truly escape their pasts. Featuring solid, if forgettable, performances, The Great Gatsby is neither a poor motion picture, nor the filmic adaptation that Fitzgerald's breathtaking look at the American Dream truly and rightly deserves. The novel is a truly moving look at what the American Dream truly is and how the Dream itself may very well be the thing people truly want in their lives. Instead, what takes its place cinematically, is a narratively lifeless body dolled up for one final lavish party. Yet its one party that I enjoyed attending.