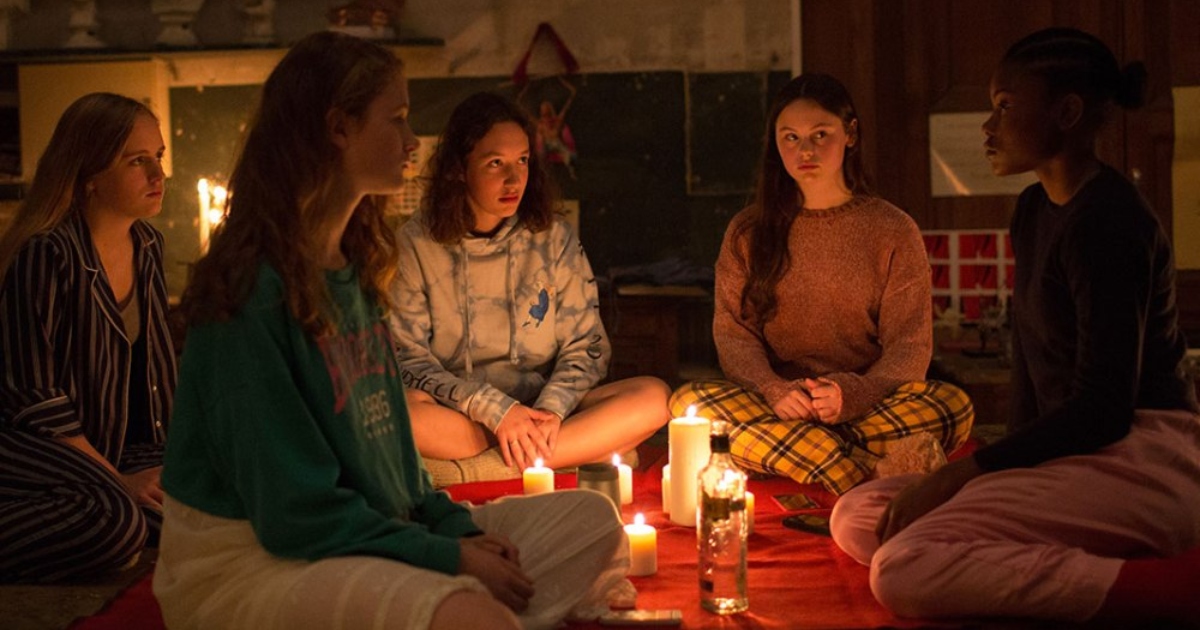 It being January, most people are either sucking it up and paying hard earned cash to see whatever the major studios deem, ahem, worthy of dumping off in the yearly graveyard that is the first month of the year, or catching up with whatever film recently got the much desired "Oscar bump" following the nominations.
However, despite popular belief, January isn't all Oscar nominees and fifth-rate studio cast-offs. One may think there isn't much to write home about over the first month or two of 2020, but that would be to woefully ignore what will be one of 2020's very best, and most intriguing, features.
Debuting on and running the festival circuit throughout 2019, Bertrand Bonello's latest, Zombi Child, is finally hitting theaters on January 24, and stands as one of the director's most singular and entrancing works yet. Bonello's film introduces viewers to Melissa (Wislanda Louimat), the teenage granddaughter of the late Clairvius Narcisse (played brilliantly by a stoic Mackenson Bijou), a Hatian man who in 1962 was allegedly zombified and then put to work in sugarcane fields. Placing these two narratives (one fictional one based in some semblance of factual history) in stark contrast, the majority of the film follows Melissa as she attempts to fit in at a strict French boarding school where one can only be accepted if one of their patriarchs (generation not too important) earned the Legion d'honneur.
Thus placing these stories in an even greater contrast, Zombi Child finds Melissa not veering away from her family's history, instead embracing it, as the film itself begins to deal more and more with collected histories, mythology and ultimately how the ghosts of the past never quite leave the youth. Melissa begins getting closer and closer to a group of fellow students and their figurehead Fanny (Louise Labeque, in an incredible proto-lead performance), a sort of free-spirit in the intensely stuffy French uppercrust, and leader of what reveals itself to be something of an elite, elusive club of young women.
The film also blends in the story of Clairvius and his transformation into some sort of flesh and blood ghoul, which sees him go from lifeless zombie into something not quite human but not quite dead. Viewers watch as Clairvius breaks himself out of his servitude only to try and find his way home after gaining back some semblance of humanity, all the while finding his plight put into stark contrast with Hatian history writ large. A film about voodoo culture and "zombies" is, at least in the hands of Bertrand Bonello, a perfect breeding ground for thoughtful dissections of colonialism.

https://www.youtube.com/watch?v=xEucEj1yqA4
Zombi Child is, not just structurally but very much tonally, a story of two-ish films. Opening within the world of Clairvius, the atmosphere is rightly tense and brooding, with the stark photography of Holy Motors DP Yves Cape cloaking the film in an overwhelming sense of impending doom, with Bonello shooting the film in a rather unsettling matter of fact manner. This is a much more static work from the filmmaker, who has, over the last decade or so, become synonymous with rebellious, provocative works of proto-surrealism like the full on otherworldly The House of Tolerance or the genuinely radical Nocturama. Here his camera is more or less rigid, with sudden bursts of movement only amping up the increasingly atmospheric narrative, even for what could otherwise be a relatively quiet scene of a group of young women brushing their teeth.
That's not to say the film isn't without it's radical moments. Bonello has, if nothing else, proven himself to be an above-average craftsman, here being no different. The costume design is superb and his direction is rightly bewitching, particularly in the more surreal sequences. A contemplative film in many ways, this is not a part of the zombie lineage of George Romero or The Walking Dead. Much closer in tone and atmosphere to Jacques Tourneur, this is a thought-provoking and often disorienting mood piece that puts in direct conversation colonialism, slavery and the mythological concept that is zombification, only to in many ways collapse in on itself in a bravura series of sequences that conclude the picture. Fully putting into focus the idea of identity and self, Zombi Child concludes with arguably Bonello's most radical finale since House of Tolerance, a finale that's at once utterly metaphysical and yet genuinely emotional.
Concluding on an embrace that follows a break in time and space, Bonello proves that he's among the highest order of working filmmakers, a director so sure of his hand that he's able to walk the tightest of ropes, weaving together narratives both intimate and cosmic, into something that is as provocative as it is sincere and emotionally shattering.