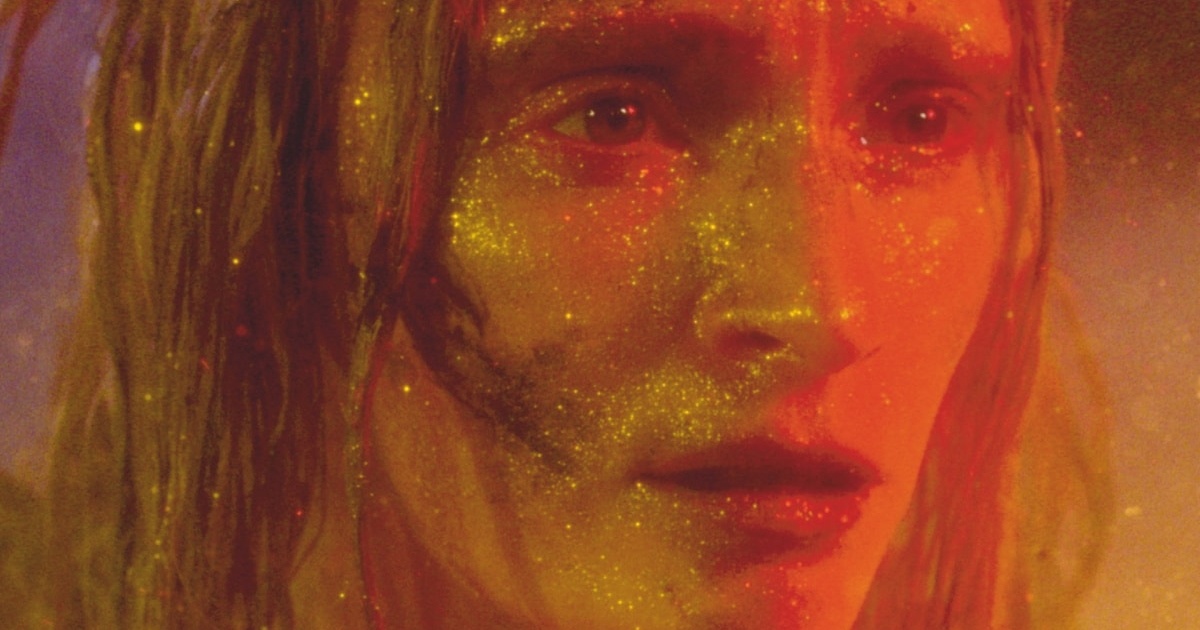 Over the last week or so, legendary English singer-songwriter Kate Bush has become something of a "trending topic," if you will. With the use of "Running Up The Hill" in Netflix's Stranger Things, the beloved musician has garnered a new wave of fans brought in by the hit series.
However, one other piece of media hitting at the start of June takes a decidedly different approach to honor(?) the musical icon.
Entitled After Blue (Dirty Paradise), this new film from cult director Bertrand Mandico (Wild Boys) and tells the story of Roxy, a lonely teenager living on a planet named After Blue. This isn't just your normal teen, however, nor is this planet all that familiar to ours. Inhabited solely by women, the planet has become transfixed by a murderer named Kate Bush, who was unknowingly released by Roxy. Forced into exile with her mother Zora, Roxy must traverse the rugged, mystical, surrealist landscape of After Blue to track down Kate Bush and end the wave of violence that's taken hold of the planet.
Billed as "El Topo in space," After Blue is much more than a simple Jodorowsky clone, finding director Mandico at the very height of his surreal, otherworldly powers. A proponent of what's known as International Incoherence, Mandico's films are ones of modulating tones and psychedelic aesthetics, with this film being arguably his most experimental work to date. Ostensibly a mix of science fiction and acid Western, Mandico's latest is gorgeously shot, with vibrant colors making each new set piece more opulent than the one preceding it. Maximalism is the name of the game here, with breathtaking set design and practical, in camera effects turning what could have been a thinly-told rumination on humanity ruining a proverbial Eden once again into something as emotionally resonant as it is artistically ground-breaking. Its this retro-tinged stylization, with all of its superimpositions and rear-projections, that takes Pascale Granel's breathless photography and elevates it to the realm of modern pop art.
Speaking to the International Incoherence of it all, this may be one of that movement's greatest exemplars. In the manifesto, Mandico and co-creator (conspirator?) Katrín Ólafsdóttir write "to be incoherent means to have faith in cinema, it means to have a romantic approach, unformatted, free, disturbed and dreamlike, cinegenic, an epic narration. Incoherence that's an absence of cynicism but not irony." There are 12 tenets of the movement, all pushing those who follow it to release themselves from cynicism, and push to reach a more tactile, fluid sense of cinema. That manifests in Mandico's work quite literally, with fluidity in things like gender and community making his work feel decidedly transgressive and provocative. After Blue fits that bill quite literally. Not only does our lead find her sexuality to be awakening and evolving here, but the community surrounding her goes through various ebbs and flows, helping to turn After Blue into a film about what may happen to us as the world comes to its inevitable end.
That said, one of the most exciting aspects of International Incoherence is that of "Acting Incoherence," or the tenant that states that actors must "alternate" between non-acting and overacting. This is seen throughout this film, but particularly in the performance of Paula Luna Breitenfelder, whose portrayal of Roxy is one of the year's more intriguing performances. It's a performance of entrancing charisma, with viewers watching as she not only faces the end of the world, but does so after being rejected by the world she grew up within. Elina Lowensohn is also quite good as her mother Zora, and Agata Buzek easily steals every scene she's in as Katajena Bushowksy, aka Kate Bush. There's a playfulness throughout the film that softens some of the more sinister narrative aspects, but its this anarchic energy that turns the film into a transfixing rumination on the end of times.
At a pinch over two hours in length, After Blue may be a bit long in the tooth for those unfamiliar with Mandico or the movement he helped spark. However, if you have a fascination with fiction filmmaking that attempts to bring something new and fresh into the deadening world of modern cinema, this may be one of the more fascinating films of 2022. A truly one of a kind film from a one of a kind filmmaker.