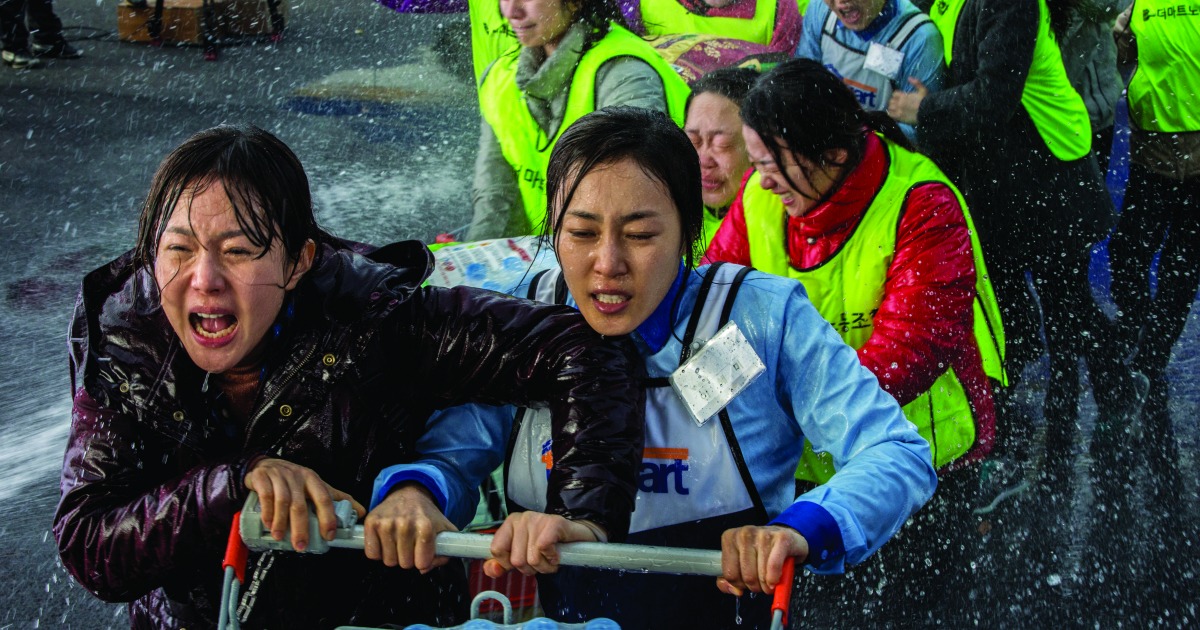 When one thinks of Korean cinema, it may take more than a few minutes to get to the discussion of female filmmakers. Names like Kim Ki-duk, Park Chan-wook and arguably the most beloved of all Korean auteurs, Hong Sangsoo, will lead any conversation about this part of world film. That will all change if this year's New York Asian Film Festival has any say in the matter.
As part of the 2015 festivities, the festival is highlighting women filmmakers in Korea, while shining a direct light on someone arguably even more powerful. As head of Myung Films, producer Shim Jae-myung is the central focus of the festival's sidebar: Myung Films: Pioneers and Women Behind The Camera in Korean Film. NYAFF 2015 screened a handful of the producer's greatest achievements, such as Ki-duk's brilliant The Isle, but the real highlight comes in one of the studio's recent releases, and one of the many films in this sidebar helmed by a woman.
Entitled Cart, the film comes to us from director Boo Ji-young (Sisters On The Road) and is a deeply moving social drama. Based on a true event, the film tells the tale of a group of women who help run a "big box" supermarket, who in the face of layoffs, go on strike. Without coming off as preaching or playing emotionally to the most base of human instincts, Ji-young has crafted a beautiful look at the human condition, and its strength in the face of seemingly insurmountable odds.
Visually, the film is absolutely startling. Soaked in melancholic blue photography from cinematographer Kim Woo-hyung (probably best known for his work on Kim Tae-young's Late Autumn), the film is relatively low in scale, but with an intimate camera really allows these performances to breath. There are bursts of action and violence, which are done with frenetic energy and yet a strong sense of place and geography, but director Ji-young is far more interested in the relationships at play here, both on a person-to-person level as well as a much broader cultural level.
Performances here are equally as strong. Driven by a story about, in many ways, doubt, the film's three lead performances from Yum Jung-ha, Moon Jung-hee and Kim Young-ae are beautifully toned, at points deeply assured and at others brutally melancholic. Their strike has the weight of their entire world descending upon it, and what happens feels both natural and utterly heart wrenching. Ji-young has a great hand taking these broad sociological topics like the labor issues in South Korea, and ultimately giving those very issues human faces with this film, a picture that feels a tad too broad, but one that has real heart at the center. The supporting cast is also fantastic here, with each major character getting a moment or two to flesh out their story and add a great deal of drama to the feature.
Clocking in at just a few ticks past 100 minutes, this briskly paced social justice drama is a startlingly assured sophomore feature film from director Boo Ji-young, and one that really gives a great glimpse into one of the great issues facing South Korea today. Given even more context thanks to this thrilling look at the importance of female voices in Korean cinema, this is a fantastic drama that will hopefully find a market as Asian cinema continues to gain support throughout the US.