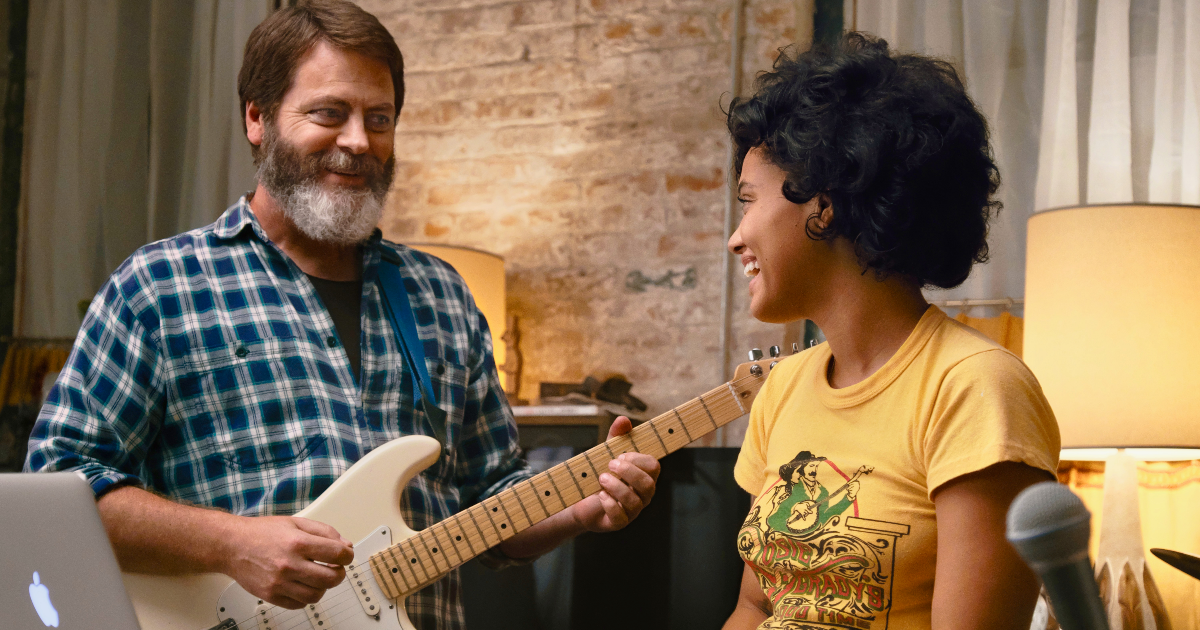 Over the last handful of years, really ever since his breakout 2015 smash I'll See You In My Dreams, director Brett Haley has become both a poster child for those with a disdain for a certain strain of "indie-lite" dramas and a star to those craving a specific type of character study that's played in a minor key. In 2017 he cracked into the world of prestige pictures with his Sam Elliott-driven drama The Hero, and now this weekend sees the release of his fourth feature effort, and arguably his most mature and nuanced work to date.
Again setting itself in a very specific register, Hearts Beat Loud is in keeping with Haley's quiet narrative style (often seen as "slight," by those unwilling to embrace the lower stakes), yet features a handful of truly great performances and a story that's both emotionally moving and also captivating in its own, unassuming way.
The film stars Nick Offerman and Kiersey Clemons as Frank and Sam, a father and daughter awaiting an oncoming separation in their own ways. Frank is an owner of a Brooklyn-based record store who is at once fighting tooth and nail to keep his store above water while also trying to cope with his daughter's impending college journey. Sam is doing her best to set herself up for success as she nears the start of her tenure at UCLA's medical school, only to face her own separation anxiety, sparking a relationship with an artist played by American Honey's Sasha Lane that evolves into something far more than either had expected. Plans change, however, when during one jam session that's portrayed as both cartoonishly simplistic and yet wonderfully kinetic, the father-daughter team build a song that becomes a minor hit when Frank uploads it to Spotify. Causing a minor rift between the two after Frank begins begging his daughter to start a band, the two go on their own journeys of both self discovery and mutual bonding.
If that sounds like a "nice hang" but not much else, that's because that's really all it is. And it should be commended as such. Both Offerman and Clemons are great, the former proving to be a much more talented actor than he's been given the chance to be and the latter giving a nuanced and textured portrayal of a youth caught in a crisis of the heart, and the film thrives in the moments they share together. It is a dynamic that film goers have seen in this exact type of indie drama for decades, but both actors give lively performances that are warm and inviting. Sasha Lane steals every damn scene she's in as well, with her and Clemons having chemistry that makes their sequences truly compelling. Their relationship never feels false or put on, instead their connection is portrayed as full and rewarding for both parties. Toni Collette shows up to give Offerman a secondary story, and while she's fine (there's a karaoke scene that's killer), her and Blythe Danner both feel out of place here, or more so given nothing to really do.
Directorially, Hearts Beat Loud is workmanlike. The music, featuring songs written by oft-Haley collaborator Keegan DeWitt, is quite good and of the type that would find a home on an "indie" Spotify playlist. The direction here isn't much to write home about, with the photography doing much of the heavy lifting. It's quite a gorgeously shot film, particularly the few nighttime exterior shots, with director of photography Eric Lin giving these sequences an unexpected expressionistic touch. Specifically the scenes shared between Clemons and Lane are artfully done, giving them a mood reminiscent of those all-too brief nights between two lovers before time runs out.
Far from the year's best film, Hearts Beat Loud is in its own way a rare breed. The type of motion picture that is as wonderfully compelling in the moment as it is warmly remembered, Haley has carved out a niche crafting pleasant dramas driven by solid performances that have low stakes without becoming shrug-worthy. In a world of universe collapsing blockbusters, these types of lower stake dramas are too few and far between.