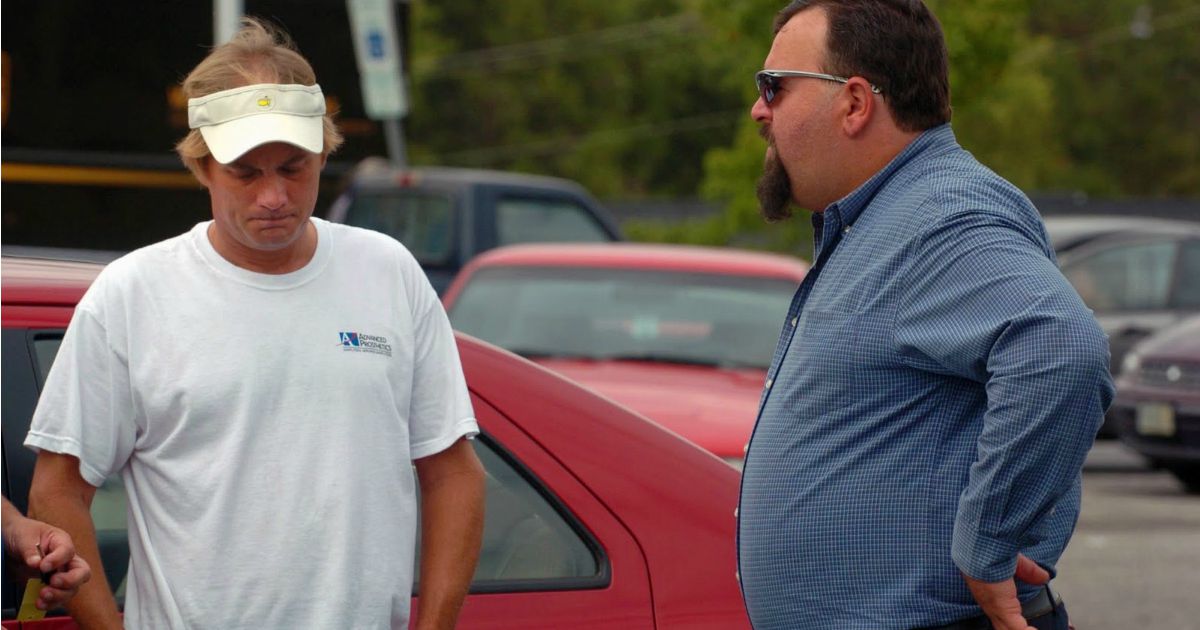 Documentary cinema is in a golden age. While films and filmmakers seem to crop up out of the world of non-fiction cinema daily, and niches continue to become more and more esoteric, there is an increasing number of filmmakers pushing the boundaries of what the medium can offer viewers. Be it aesthetically or narratively, there are some films that have to truly be seen to be believed. Because only in documentary cinema can a film turn a story about an amputated foot into a powerful meditation on the modern American Dream.
Entitled Finders Keepers, directors Carberry and Tweel have not only made a film that follows an impossible to believe story, but they do so in one of the most vital and lively films of 2015. Finders Keepers introduces us to John Wood, a North Carolina man whose life is forever changed when it's discovered that his amputated leg has been found inside a smoker that was recently sold during an auction of a storage locker owned by Woods. However, that's only where the story begins.
Woods is as interesting a documentary subject as we've seen so far this year. Born into a family of relative wealth and privilege, Woods not only lost his leg, but his father, in a plane crash during his youth. Falling into a life of drugs and addiction, Woods tripped down a rabbit hole only to lose nearly all of his worldly possessions, including ultimately his amputated leg. Seeing this bizarrely alluring story as his chance to change his life, Woods' story is as compelling and entrancing a story as one could ever dream of seeing. And that's only half of this fantastic picture.
---
---
The man who purchased the smoker and in turn the leg, Shannon Whisnant, is a man of a different breed. A salt of the Earth type, Whisnant has aspirations of hitting the big time. A man with endless energy and a penchant for wisecracks, all he wants in this world is to be on TV and to make people laugh. Seeing this as his big break, he begins selling tickets to view the smoker, leading to widespread news coverage and ultimately a lawsuit and some much craved TV time.
Clocking in at 84 minutes, Carberry and Tweel have crafted a superb documentary. Brisk in its pace, the film works at a relatively high clip, particularly as we get into the battle between our two leads. The second and third acts are utterly compelling in their portrayal of the legal proceedings, and the circus that began surrounding all parties involved. The film gets to almost cartoonish heights when TV's Judge Mathis gets involved, turning the story into something rarely seen outside the world of comedy cinema. However, Finders Keepers is at its very best in the quiet moments that break through the insanity. The backstory for each man here is compelling, particularly Woods' narrative, one of peaks and valleys, failure and hopeful redemption. Whisnant's story is one that's much more broad, one man seemingly finding his golden ticket to the ever elusive 15 minutes of fame that everyone and their mother crave.
Directors Carberry and Tweel have, with Finders Keepers made a film that is both anarchically energetic and deliciously layered. A nuanced look at everything from legal ownership to what today's American Dream looks like, this is a charming, dense and entertaining nonfiction feature that will become one of the year's most popular pieces out of that medium.