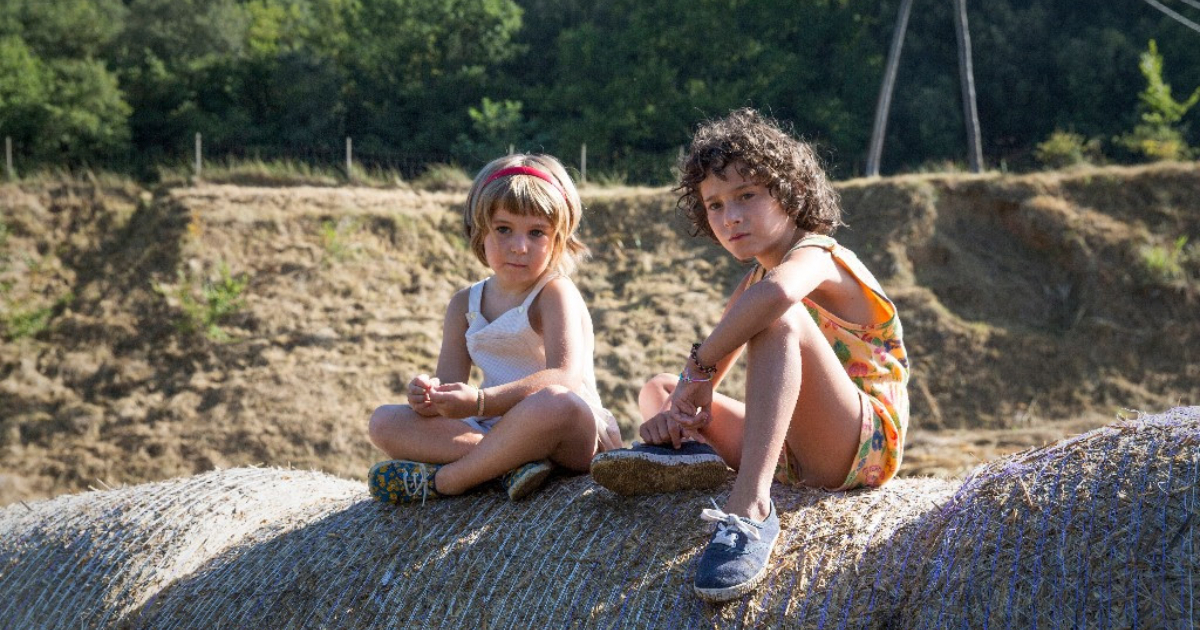 Sure, it may be a holiday weekend, but the best film arriving in theaters this weekend isn't the latest in a quadrillion dollar film franchise from a galaxy far, far away. Instead, it's one of the year's great feature directorial debuts, a film that's moving, expressionistic and full of humanity.
Entitled Summer 1993, the film marks director Carla Simon's first time behind the camera for a feature film, and after opening at last year's Berlin International Film Festival (where it earned Best First Film honors), finally hits theaters in NY and LA on May 25th. The film stars Laia Artigas as Frida, a young child who we soon learn has recently lost her mother, thus finding her in a state of flux. Over the span of the film, it's revealed that she not only also lost her father but has lost both her parents to AIDS, which leads her to move in with her aunt, uncle and younger cousin in the Catalan countryside. Not entirely sure what life has thrown at her, she begins adjusting to life with her new nuclear family with varying degrees of success. Be it the occasional fit being thrown or even losing her cousin in the forest as nothing more than a playful ruse, Frida's struggles what life has thrown her (knowingly or not) are the film's central focus, which despite its lack of any real defined structure, is one of 2018's most moving and captivating works of cinematic storytelling.
At its very best, Summer 1993 is a profoundly human piece of filmmaking. A film of almost thrilling simplicity, the nuance given to Frida as both a character through Simon's writing and as a flesh and blood person through the performance of Artiga is beyond reproach. Structured like a summer day dream of sorts, the film is a coming of age picture that's more interested in the quiet moments of unknowing grief and growth than it is the melodramatic moments one usually remembers long into their adulthood.
Simon's film is an autobiographical work that treats all of its characters with real humanity, particularly that of the aunt, played brilliantly by Bruna Cusi. Aunt Marga is a titanic presence here, a character that is, much like the film she's dropped in to, full of love and anger and frustration and sadness. All of these emotions are played with great nuance by Cusi, able to breathe a lived in sense of humanity into what could have been something far more shrill.
While much of the film's weight does lie on the shoulders of Artiga, Cusi's performance is just as important, as giving depth to Frida's new family allows for the film's emotional core to become as textured and layered as it truly is. Particularly in service of the film's final shot, without a humane portrayal of the new parents in her life, the final, heartbreaking finale would fall as either flat or completely maudlin. Instead, Artiga is breathtaking here, giving a burst of emotion that's as devastating as it is shockingly universal. It's an emotional release that's not sure of itself in any other way than to say that there's a deep sadness here and it needs to be released.
It's also simply a gorgeous piece of filmmaking. Simon is a shockingly assured filmmaker, turning this film into a perfect manifestation of its dreamy title. The title Summer 1993 conjures up images of hazy afternoons, verdant landscapes and memories that may or may not be almost painterly. Here the photography is rich and textured, the film looking like a humid day dream that fits more along sides impressionistic pieces of fine art. It's an intimate film that may lack real urgency or structure, but is gorgeously composed with a deep understanding of tone and atmosphere and how it plays into the overall aesthetic of the picture.
At its core a film about depression and PTSD, Summer 1993 is a lyrical coming of age drama that focuses on one summer in the life of a young child thrust into a change of scenery that's truly traumatic. Far beyond what one should expect from a debut directorial outing, Carla Simon's first feature film is powerful and nuanced, a heartbreaking meditation on growth and grief as seen through the eyes of a child far beyond her years. It's simply an incredible film. An unforgettable one.