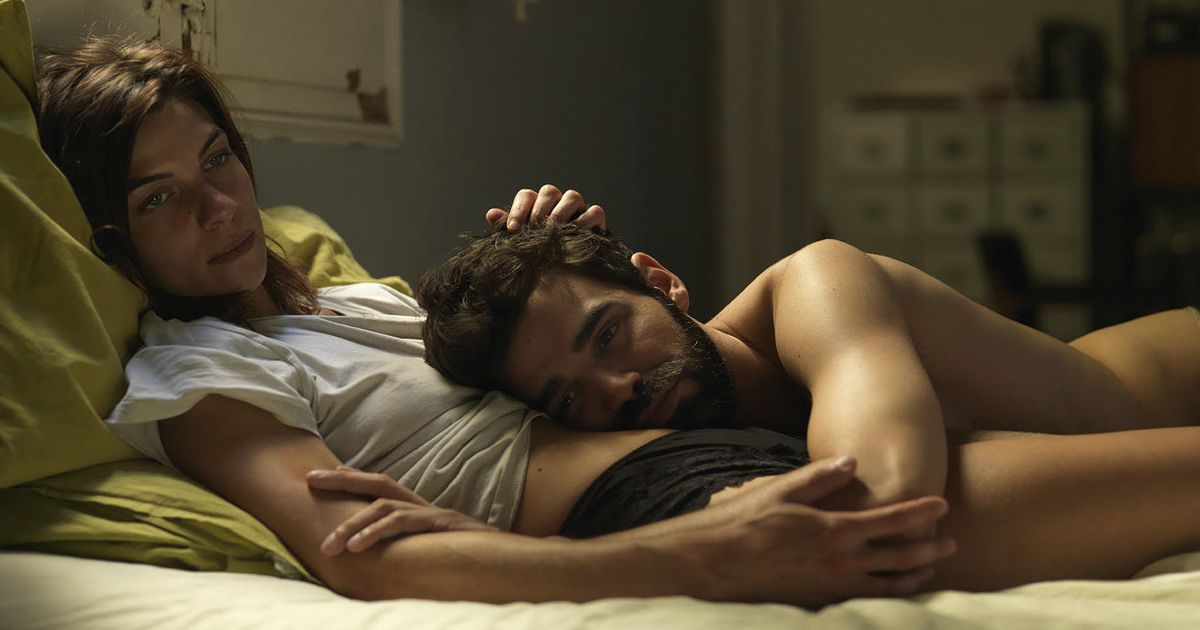 With the continual rise of social networking and apps like Skype, what has become of the "long distance relationship"? At the click of a mouse or the touch of anyone's iPhone screen, you can be in touch with a loved one in mere seconds. Gone are the days of waiting anxiously to receive a letter or even the short amount of time one would take to get an e-mail. What is the nature of the modern long distance relationship?
That's the question that director Carlos Marques-Marcet tries to dig deeply into  in his newest film, entitled 10,000 km. The film introduces us to a loving young couple, Alexandra and Sergi, in the midst of making love. They've decided to try and have a child, only to, in the same roughly 20 minute long opening take, discover that Alexandra has been offered a gig 10,000 km away in LA. Both have been moonlighting as teachers, both not being able to truly follow their dreams, so it becomes very hard for Alexandra, an artist, to pass up a shot at working in the art world in LA. So, following the opening sequence, we see their various interactions through text messages, Skype calls, Facebook, emails and any other modern way of communication. A startling look at modern relationships and how they haven't really changed, 10,000 km may sound like a film you've seen many a time before, but this is possibly one of the year's greatest romantic film achievements.
Marques-Marcet is a revelation here. It comes as no shock, based on the opening sequence here, that through his short film work he's had the chance to work with filmmakers like Abbas Kiarostami (his third short film found him a spot in a workshop overlooked by Kiarostami and filmmaker Victor Erice). The heart and soul of the film, these opening roughly 21 minutes set the stage for everything that is to follow. Introducing us to these characters at their most intimate moment, this sequence shows us how deep and pure these two lovers' connection truly is, and it gives us rare insight into the sadness and pride a situation like this may evoke. It's a nuanced sequence looking at a situation filled with it.
From there the film goes into brief vignettes, trying to dig deep into the nature of this type of relationship. With a physical connection gone and this seemingly joint life splintered back into two, the short pieces here both get to the heart of what it's like to lose someone physically and yet still carry them with you as well as shows off the filmmaker's assured hand with short fiction. Each of these set pieces feels has a narrative of some sort, and there's one in particular where the two dance with their laptops that is so emotionally resonant and powerful that it is one of the year's greatest scenes. Superficially, the film is very much rooted in the modern indie neo-realist movement that has seen films like the Before trilogy take hold, but much like that series, the voice behind this feature is so singular and original that it feels vital and in many ways deeply important for this time period.
Visually, the film is gorgeous. His direction here is quiet and assured, closer to Linklater than say, Matias Pineiro, taking the realist photography of Pineiro and tugging on the reigns a bit more with his actual direction. Allowing the performances to take center stage, the film's aesthetic beauty comes mainly in Dagmar Weaver-Madsen's photography, which is quite superb. Again, much like the film itself, it is quiet cinematography, but it births a great deal of emotional weight due to its naturalism.
However the stars here are the two leads. Natalia Tena (Game Of Thrones) stars here as Alexandra and she's opposite David Verdaguer's Sergi in what may be the best acting duo on screen all year. Each character feels completely lived in, particularly Alexandra, whose passion for art and her love for Sergi come across beautifully in the opening sequence. While it's on Verdaguer to make that sequence dramatically work, as Sergi's melancholy is needed to push things forward, it is her unease about the decision she must make that really propels the drama forward. Verdaguer is equally as great, and it is his show come the film's final act. Both turn in top notch performances and really make for one of the more emotionally powerful pieces of fiction yet to be seen this year.
Currently playing in NYC and on various VOD platforms, the film may be a hard one to hunt down, but it is one that begs to be seen and discussed. The year's greatest romance film, 10,000 km is a delicate, nuanced and emotionally powerful look at the tolls a long distance relationship takes, even today.