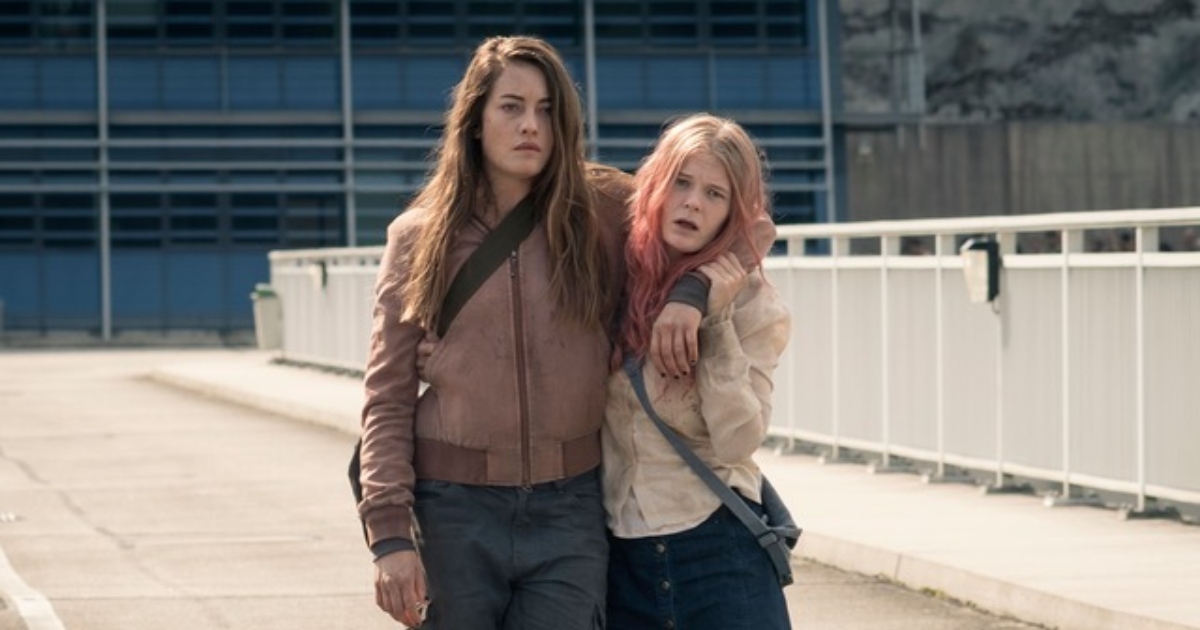 What is it, 2010 again? With the zombie craze all the rise at the start of the new decade, as we come to a close two subversive riffs on the tried and true genre have arrived in theaters. Jim Jarmusch's Cannes-opening The Dead Don't Die is now playing to mixed reviews (it's a curious near-masterpiece if you ask this writer), and one of the year's more fascinating genre experiments is following a week later.
Entitled Ever After, the film made its world premiere at the 2018 Toronto International Film Festival, where it garnered some solid notices but has been riding a wave of relative obscurity until this debut at New York's IFC Center. Released by upstart distributor Juno Films, Ever After comes from director Carolina Hellsgard, and stands as a testament to what one can do when attempting to breathe new life into a genre long declared dead (pun not entirely intended).

Ever After tells the story of two women who have tried to make the most of a world thrust into despair. Two years after an apparent zombie outbreak took over the planet's population. Caught in a no-mans land between two cities where the response to the disease was to either wipe the infected out or to strive for a cure, Vivi (Gro Swantje) and Eva (Maja Lehrer) have also taken polarized responses to what has been a torturous two years. Vivi is a reserved, often easily frightened young woman, with her strength coming from the comically self-assured zombie slaughterer Eva. After their strange, surreally designed train breaks down at the start of their journey from the vicious Weimar streets, the pair take to foot both coming to grips not just with the world they now live in but the reasoning behind their continual fight for safety in the face of existential despair.
What makes this film so impressive is its ease at blending its genres. Superficially a zombie film, this is also part road trip film and oddly part fairy tale. As our heroes go on their journey, they encounter seemingly fantastical entities like castles in the wide open fields or, more importantly, a witch (played by Danish film legend Trine Dyrholm) who posits the film's main theme. She's an example of those welcoming this destruction of society, as she deems it simply revenge for humanity destroying what was given to them. The design of the character is fascinating and delightfully surreal, helping to further this film's own strange atmosphere.
Other than that, this is a relatively standard drama. One would be misguided to call it a straight "horror" film, despite some fun zombie effects and a few tense set pieces. The narrative is told in a sort of vignette style, with the plot working on city miles, starting and stopping in a way that feels occasionally frustrating and disjointed. All performances here are quite fine, with Swantje proving to have the greatest arc as come the film's understated finale it's her character that the future of this story relies on. Dyrholm turns in a serviceable performance as the film's main "big bad" and it's fun to see Lehrer kick major ass throughout the film. The chemistry she has with Swantje's Vivi is compelling enough to make this 90 minute feminist road drama worth the time. Between the performances and a director who embeds the film with an entrancing blending of genre and atmosphere, Ever After is a gorgeously made (led by great cinematography from DP Leah Striker) drama that's a bit uneven but worthy of keeping the keenest of eyes out for as it makes its theatrical and ultimately VOD runs.