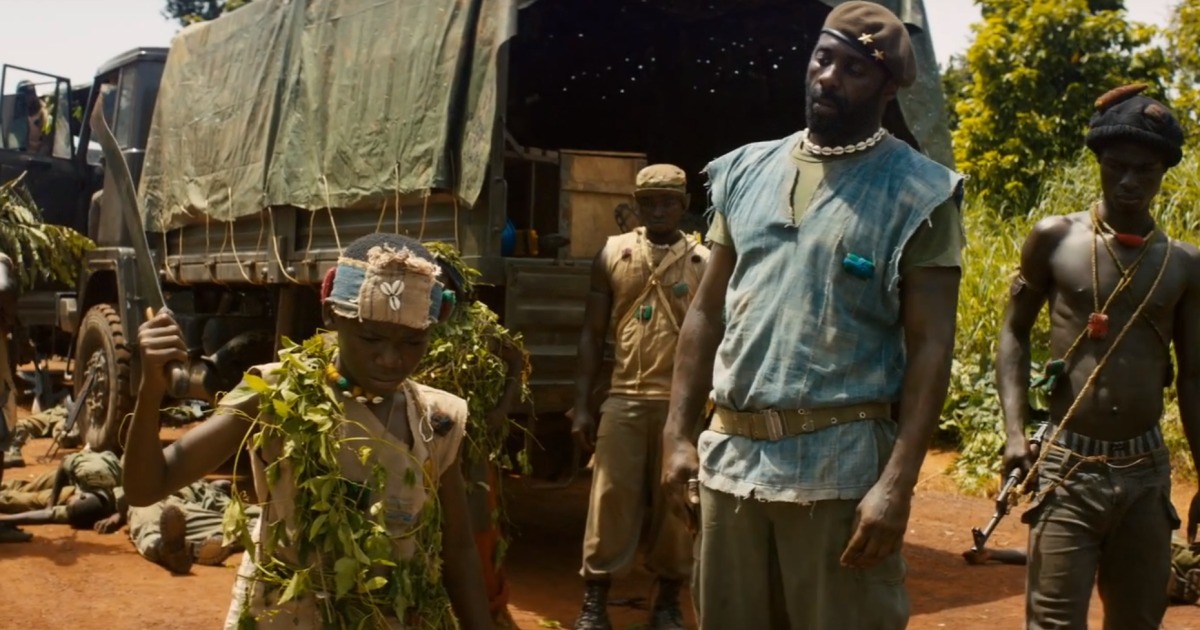 We live in a vastly changing cinematic universe. As more and more films steer further away from a release schedule that focuses on an actual in-theater run, the world of video on demand has become a landing ground for bigger and bigger pictures. Once the home of small independent releases trying to make a splash in niche markets, today even studios have begun shortening the theatrical window for specific films, looking to grab a hold of the ever growing VOD market. And now, Netflix may have just given the film world a true game changer.
Ostensibly going date and date, the mighty streaming service juggernaut has teamed with Bleeker Street to give the world a new film entitled Beasts of No Nation, arguably the biggest example of this changing theatrical landscape to date. With Bleeker handling the theatrical side of this release, the new film from director Cary Fukunaga has become one of the festival circuit's most talked about films, as this week it not only debuts in theaters, but as part of Netflix's streaming catalogue.
Fukunaga, who is arguably best known for his run as one half of the creative voice behind the first season of True Detective despite also directing the superb features Sin Nombre and Jane Eyre, is back with arguably his most assured and haunting achievement yet. Beasts tells the tale of Agu, who is a self-proclaimed "good boy from a good family" in an unnamed village in an unnamed part of Africa. The lack of setting or the context revolving around it is a distinct choice, and one that does this story a great deal of good. Agu (played by Abraham Attah) is the son of a teacher, and part of a loving family. However, when refugees enter their village, only to be followed by rebels believing them to be spies, his life changes forever. Without much care for human life, the rebels begin killing villagers, including Agu's family, sending the young boy on the run, ultimately into the jungle.
---
---
While on the run, he is captured by a group of men (boys, really) led by a man only known as the Commandant (Idris Elba). Ostensibly a militia looking to take back control of the country, Elba and his crew take orders from a faceless leader (who we do meet in the final act), and ultimately allow Agu to enter their ranks, saving his life (for the time being). Based on a novel from writer Uzodinma Iweala, this is a brutally unsettling descent into the darkest reaches of humanity. It's a film about the real cost of war, and few portraits have been this unflinching and unforgettable.
Fukunaga's hand is all over this picture, but the true stars here are the two leads in front of his camera. Attah is an absolute revelation here, a newcomer unlike any we've seen in quite some time. Taking on the film's lead as Agu, much if not all of the film's emotional resonance rests on his performance, one that evolves with each and every frame. His youth and real bright eyed humanity is the greatest loss here, and watching him go from student to warrior is devastating. There's a humanity behind Attah's eyes that we watch dissolve, culminating in such acts as his ostensible initiation, Elba's Commandant asking him to kill a man with a machete. It's easily the film's most brutal sequence, but more than being gruesome it's troublingly resonant emotionally, a rare feat for filmmakers today. Elba is also quite great as the aforementioned Commandant, a man with a gnarly affinity for drugs and young boys. He's charismatic but voices empty rhetoric, captivating children coming out of homes destroyed by his enemies. It's a powerful performance with a level of evil that Elba rarely shows, and truly gets at the heart of what modern war takes from its victims.
---
---
That all being said, this is arguably the first true Cary Fukunaga picture. With his work on True Detective shining a light on his work with the camera and finding him seemingly evolving with each and every episode, this is a decidedly grand step forward for the filmmaker. Garnering much hype for a lengthy, unbroken tracking shot that confirmed his run on the aforementioned HBO series as one of the most groundbreaking directorial achievements of this "golden age" of TV, there are many long sequences here, including a bravura tracking shot involving a raid led by Agu. Brutal, unflinching, heartbreaking and disturbingly thrilling, this sequence is one of many superb moments in the film, finding Fukunaga at the very height of his powers. Intimately framed and naturalistically shot, it's a raw motion picture, and thanks to some of the year's best cinematography from Fukunaga himself this is a grandiose cinematic achievement with real humanity. Toss in a superb score from Dan Romer, and Beasts of No Nation stands as one of the year's most unforgettable features.
Beasts of No Nation is more than an answer to a trivia question. While the release schedule will garner all the headlines (and if this review is any inclination, all the ledes), the film itself stands as a singular achievement on par with the best films of the year, and the decade so far. Fukunaga, with this return to the big screen after a run on a certain HBO cop drama, not only announces himself as one of film's great young voices, but also a true auteur. Driven by two awards-worthy performances, this film will leave any viewer gasping for air with each frame. See this movie, and on the biggest of screens possible.