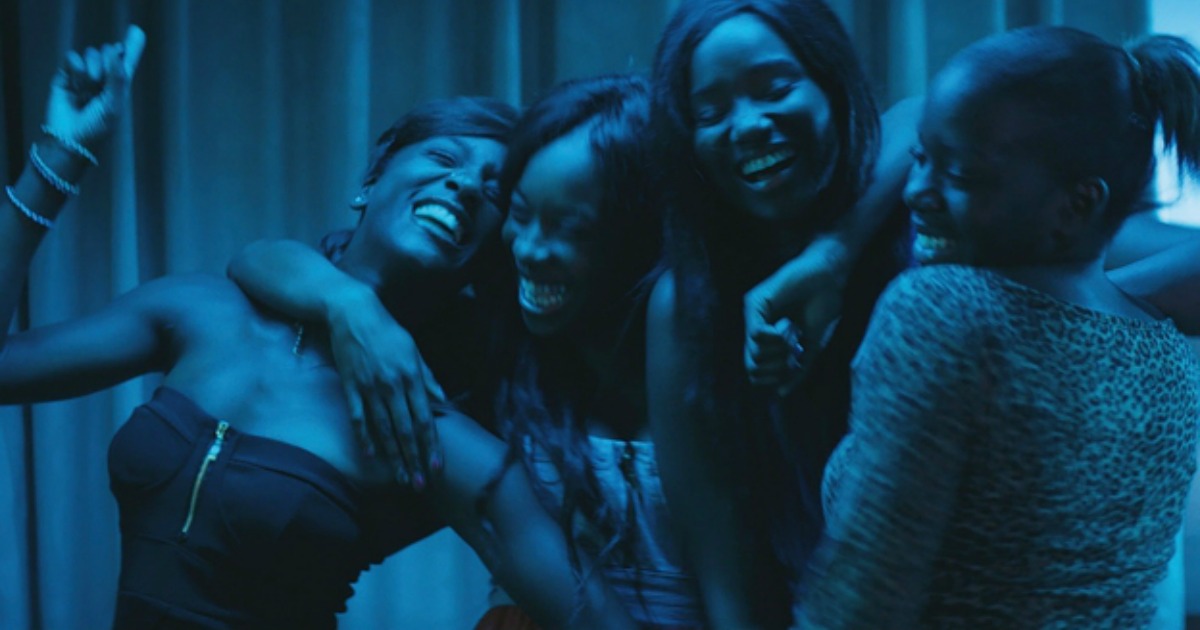 The name Celine Sciamma is not one that would be described as a household one. Jumping onto the scene with the breathtaking debut feature Water Lilies, Sciamma has since gone on to follow that film up with an equally fantastic film from 2011 entitled Tomboy, a film that not only won a jury award at that year's Berlin International Film Festival, but would be featured on numerous year-end lists. Now, taking yet another look at a woman's coming of age, the director is back with what is not only her best film, but arguably the first must-see film of this new year.
Entitled Girlhood, Sciamma's new film tells the story of Marieme, a young girl who after being expelled from school, embarks on a new life after growing close to three girls with the freest of spirits. Trying to find solace in these new friends, what with a home life which includes abuse and a neighborhood run by a gang of young men, she changes everything from her style to her name even, trying to not only fit in but find the home and acceptance she and everyone of her age bracket so desperately craves.
As the lede would have you believe, Sciamma is a filmmaker that many would have little knowledge of, and as this film proves, that's for absolutely unjust reasons. A beautifully made and evocatively crafted film, Girlhood is a film that defies, in many ways, one's idea of a typical "coming of age" feature. Opening with a lushly composed and absolutely engrossing all-girl football game, this is a perfect introduction to a world where one must fight for respect and in many ways love and admiration, as well as being a fantastic prologue to the feature. Letting the film's fantastic soundtrack and score shine, this is a truly great opening segment, and it only gets more entrancing. Be it the naturalistic sequences that push the narrative forward or the handful of almost dream like flights of fancy involving the group of girls doing things like lip syncing to a pop song, the film has a great sense of tone and mood, as well as a style all its own. The photography here is superb, as Crystel Fournier (Sciamma's go-to cinematographer) churns in some powerful work, using moody blue hues to really give the film a sense of melancholy without ever going into full melodrama. The aforementioned lip-sync sequence is arguably the film's touchstone moment, a beautifully lit and shot piece of impressionism that sees our lead, for the first time, truly let her guard down and become comfortable not only with those around her, but inside of her own skin. It's an unforgettable sequence that really transcends the film as just a pitch perfect microcosm of a woman's journey through her teen years.
And thankfully, the performance that drives that sequence and the film as a whole is one of the best we've seen in quite some time. Karidja Toure stars here as Marieme, or Vic as she gets dubbed by the gang's leader, and gives a performance one won't soon forget. She's an imposing presence, not only in her taller frame but the toughness that comes across in her eyes, a toughness that isn't put upon but instead raw and heartfelt, one that's been built through a life that's given her very few lemons to make lemonade with, and her physicality really comes through here. It's a performance that absolutely needs to be seen to be believed. Opposite her is Assa Sylla as Lady, the leader of the group she falls in with, and she may be the real glue that holds this picture together. Giving us a glimpse as to a potential future for our lead, her character and her performance is a dense one, one of desperate melancholy and despite seeming like a tougher young woman, there's an innocence and a youthful glee that comes through that really holds her performance up as one that is far deeper and more raw than one would imagine. Given ample screen time to make an impression, Sylla steals many of the scenes she is a part of, and is a welcome presence on screen. Rounding out the cast are newcomers like Lindsay Karamoh, Marietou Toure and Idrissa Diabate, all of whom really help turn this film into a memorable and deeply resonant coming of age film.
With a title like Girlhood, and a narrative like the one it carries with it, the comparisons to Richard Linklater's Boyhood have been thrown around easily and often. However, they couldn't be any less fair. Despite having two entirely different ideas at their cores, Sciamma's film is far more esoteric and insightful, and tries for things cinematically that Linklater's film has no interest in hitting. Hopefully, however, with many websites making direct correlations to the film throughout their discussions of it, the comparison will bring eyes to the film that otherwise wouldn't even give it the time of day. A beautiful, haunting and emotionally devastating motion picture, Sciamma has once again knocked it out of the proverbial park with the first great film of 2015. If this is any inclination, we are in for one very special year of cinema.