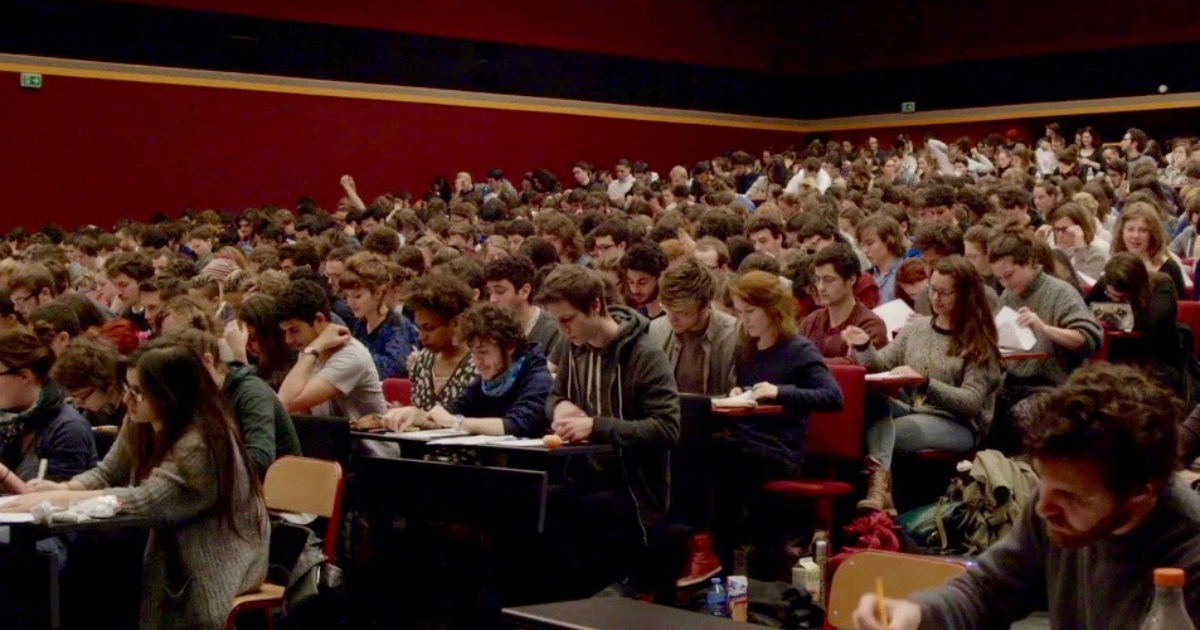 On the face of it, few things sound as relatively insufferable as a two-hour documentary looking at a year in the life of students at a French film school. That's a logline that feels more pretentious as every word falls out of one's mouth, and yet marking the first release from Metrograph Films (the distribution arm of the beloved NYC theatrical stalwart) is a documentary called The Competition, and it's an absolute doozy.
Directed by one of France's foremost documentarians, Claire Simon, The Competition thrusts viewers into the world of La Femis, one of the nation's most exclusive and premiere film schools. From the opening shot (a literal opening of the gates) we see that waves of young men and women are eyeing a position among the prestigious ranks of students at this school, for things ranging from directing to distribution and publicity. Unlike your typical slice-of-life documentary, Simon's film attempts to portray a cross-section of a student's time over one admission cycle at this school, from first exams to the final exit interview, and everything in between. The opening shot is worth mentioning here, as from this gate being pushed open, the film attempts to dissect the process of cultural gatekeeping, as introducing viewers to various committee members who must take the future of these young students into their own hands. Not much time is spent with students, instead opting to implant the viewer into the middle of heated debates about the merits of these students who they only know from an interview or two and whatever exams that passed or failed.
It's this dissection of the democratization of film that is what makes this film endlessly fascinating. This film feels like it's in conversation with a film like Fredrick Wiseman's At Berkeley, specifically in its quiet directorial hand and fly-on-the-wall trappings. Whereas that Wiseman epic saw its expanse widen as every new segment began, Simon's film simply allows the events speak for themselves, from a bizarre exam using a clip from a Kiyoshi Kurosawa film, to the frequently uncomfortable interview segments. There's a distance from the acts here that feels like a noteworthy difference between Simon's film and those of Wiseman (Wiseman may be subtle but he's not afraid to make a statement), but what comes in the final act of Simon's film proves to be a profoundly unsettling deconstruction of the artist that feels almost like a horror film for anyone who has ever had a job interview go sour. From a directing student who goes blank trying to name a favorite film or another who simply rubs the committee members the wrong way despite having all the talent in the world, watching these titans of the French film upper class dissect young men and women through brief interviews and a series of strange tests is fascinating and incredibly provocative.
The film's most clarifying segment comes in this very final act. Two students have their interviews back to back, and after the second student exits the room, a heated debate begins. Over the span of the next five or so minutes, the film devolves into a debate over potential and talent, teachers sparring over the idea of what one should reward. Do we reward driven, raw talents? Do we try to mine anything, even small, out of an already mature and seemingly fully formed filmmaker? Should you value a brief interview? Tests mean a lot, right? Is it really telling if someone can outline a film in 45 minutes without any notice? These are the questions facing a generation of men and women where jobs are few and far between and opponents for those jobs only exponentially increasing with each and every new day, and in this film that's the most successful idea to come across. Admittedly a bit long and paced oddly, The Competition won't be for everyone, but adventurous documentary hounds should seek this out in any way possible.