Very few things are as common as the "actor-turned-director." With names like Eastwood and Affleck making it more a career change than really a part time gig, actors ranging from Zach Braff to Rose McGowan have taken the good will and gravitas they've built up throughout their careers and a bucket of cash and have become just a few of the ever growing wave of actors taking the leap behind the camera. However, few take on such lofty material as thespian-turned-filmmaker Daniel Auteuil for his latest series of pictures, beginning with this brand new romantic drama.
The first in a series of features based on the works of playwright Marcel Pagnol, one of three plays to be adapted by Auteuil, a filmmaker himself who appears enamored by the work of Pagnol. Having directed a remake of Pagnol's The Well-Digger's Daughter in 2011, Auteuil is back with the first of three adaptations of Pagnol's plays, a trilogy that begins by telling the love affair between two people in a French port. Entitled Marius, the film introduces us to the titular lead character, a handsome young bar keep at his father's waterfront bar. Enamored by the sea, he has dreams of joining any one of the many ships that come into the port and get his mind lost adrift in their sails. However, there's something keeping him grounded. And her name is Fanny. Despite proclaiming his disinterest in marrying her, the two are seemingly drawn together like two gorgeous and dream-filled magnets. This take a turn however, when Marius' dream boat arrives in port, and the two star crossed lovers must make the hardest choices of their lives.
---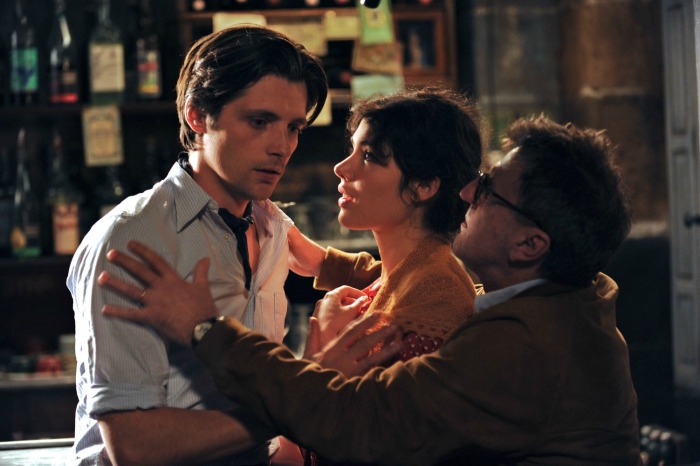 ---
Part one of three films including Fanny (released just one week after this film via Kino Lorber) and the yet-to-be-made Cesar, this is truly just the first chapter of a much larger story. Yes, there are a few narrative threads that lead to some intrigue, but clocking in at just a pinch over 90 minutes, the film's pace is its biggest issue. The relationships here take center stage with the narrative arc not adding up to much reward come the film's final shot, particularly the relationship between each of the main trio. Marius and Fanny have fantastic chemistry and despite being a relatively romance story (Pagnol did write this play originally in 1929, so it's tough to fault the story for being rooted in storied romance tropes) it's a touching tale of the battle between love and one's personal dreams and goals. When the two banter with the father here, the picture changes tone into something far more intimate and less melodramatic, with Cesar being the type of father figure that becomes a cornerstone of any small village. Cesar's discussions with Marius are tough but tender, and while he dotes on Fanny, he knows it is because there's not a better person out there for his stubborn, but loving, son.
And the performances behind these characters are superb as well. Inherently a melodrama, Raphael Personnaz and Victoire Belezy are quite good here as the bombastically in love central couple, with emotions running high and aspirations set even higher. The two have fantastic chemistry together, and while again it is set rather high, their relationship draws the viewer in quite well. Auteuil steals the show, however, as Cesar, proving he's one of the more interesting actors that most film goers would never recognize. It's a beautifully toned performance, grounding the film in a way that it desperately needs, saving it from becoming just another high strung period melodrama. It's a human and humane performance, one that brings a load of heart to an otherwise loud motion picture.
---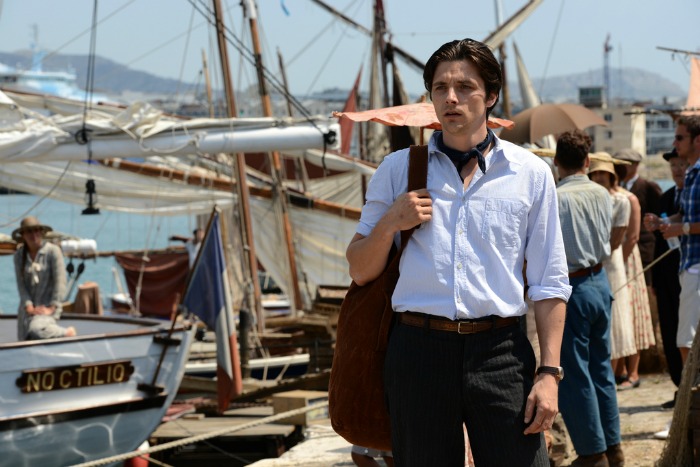 ---
As director, though, Auteuil fails to really make a stamp for himself. Admittedly a beautiful and well shot film, Marius looks and feels very much like any run of the mill French period piece. Wonderfully designed and beautifully costumed, the biggest takeaway here is the warm and inviting photography that paints this story. Softly lit in an ever growing wave of earth tones, the port city is a perfect place to set a story of romance like this, with the infinite horizon drawing the eye of the titular lead character, and his mind even more so. The camera doesn't do much to take any attention away from the film, and while the sets here do feel very much like "sets," Marius has the feels of a mixture between a classic French romance and a shot stage play one would find on PBS. And that's meant in the most loving of ways.
Ultimately just part one of a new romance trilogy, Auteuil's latest film is a slight and in many ways histrionic melodrama that thankfully finds grounding via some great performances and some gorgeous photography. A lovely, if cliche-ridden, tale of a man's battle between what his heart wants and what he knows his heart should want, dream versus love, Auteuil's new film is a charming little melodrama, the type of which doesn't get made very often.