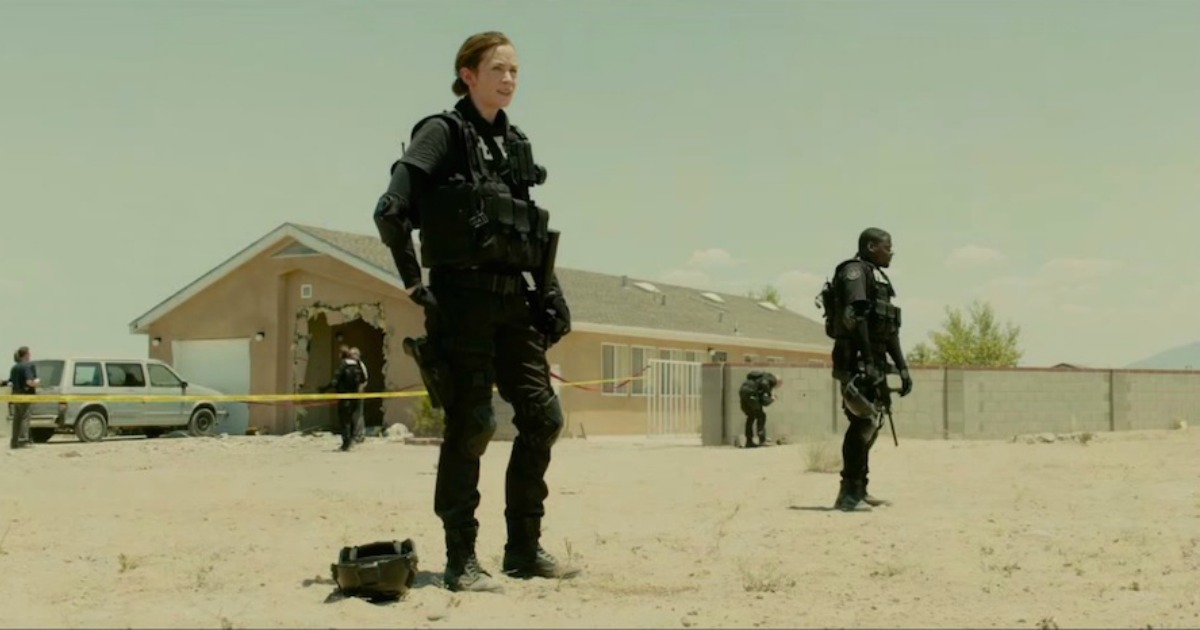 It's officially the fall film season. With various festivals already in the books and this year's New York Film Festival still very much in full swing, fall is here in full force, and with it comes a cavalcade of intriguing art pictures, lauded foreign features and films from some of today's most interesting auteurs.
And then there's director Denis Villeneuve.
Best known for the award winning Incendies and the pair of startling 2013 pictures Prisoners and Enemy, the Canadian filmmaker has become one of cinema's most beloved directors, at least critically. Culturally, he's been lauded as a craftsman of the highest order, a director who has a distinctive voice and one that may rely on relatively hamfisted screenplays, but dig deeply into the heart of humanity.
---
---
Take his latest film, Sicario, for example. Arguably Villeneuve's most respected work to date, Sicario debuted at this year's Cannes Film Festival, to rather unanimous praise. Starring Emily Blunt, this descent into the bowels of the drug war follows Kate Macer, an FBI agent with a penchant for "kicking down doors" as part of a kidnapping unit. After digging into the world of drug trafficking and vicious cartel wars, she joins a task force whose sights are set on some truly "big fish." Instead of simply arresting small time crooks, fiends and dealers, this group is not only looking to snag high ranking cartel members, but ultimately insight these cartels to take one another apart.
While this premise may sound stilted and rather run-of-the-mill, there are few films quite like Sicario and even fewer filmmakers like Villeneuve. Yes, the narrative sounds like your standard story of the flaws in the war on drugs. However, much to the benefit of the film, the drug war here has little import on the actual picture. With Josh Brolin's Matt Graver going as far as to tell Blunt's Macer that if they find any drugs on their final raid she can confiscate them, the vision of this group has gone much wider, and arguably far more existential. These are cartels that, much like some major terrorist organizations, have learned their ways from American organizations like this, or have been directly created by this government. The drugs in this drug war picture mean less than nothing. This is a war film. A modern war film. A film about the space between good and evil in the fog of today's style of war.
---
---
Blunt is startlingly good here. Starting off as a tough as nails FBI agent in the midst of what seems like another standard raid, she is thrust into the middle of a world she recognizes, but isn't quite sure of the motivations behind those controlling it. After joining a group led by Matt Graver (Brolin), she joins a group that closer resembles a camo-clad militia than an actual government agency, to try and shake some chaos into the world of these drug cartels. She's ostensibly the white hat in this film of distinctive greys, and is given ample space to flex some acting and action muscle. It's a beautifully toned performance, giving her character room to not only kick more ass than her male counterparts, but also never lose sight of her sexuality even in the face of this chaos. Brolin is superb as well, playing on his inherent charisma and charm, and yet embedding each seemingly comedic moment with a stark sense of dread. He's got a few great comedic quips, but they come in the middle of some of 2015's most tense and breathtaking moments. Rounding out the lead cast is Benicio del Toro as Alejandro, a soft spoken, mysterious Columbian who is ostensibly Brolin's muscle. A man created by these cartels, who will do anything for any group that decides to "set him loose." It's some of his best work so far in his career, and allows him to dig into the physicality that makes him such a superb thespian.
However, the real star here is Roger Deakins. Shooting this film as if it were set on the surface of the sun, Deakins gives the film a searing orange tint, and tightly winds the picture up into a tense and seething meditation on modern war. Villeneuve's camera is a free moving one, but one that's never afraid to linger on the film's darkest and most violent outbursts, of which there are many. Deakins shoots close ups as naturalistic as possible, never shying away from giving due time to the blood, sweat and tears shed by the men and women he frames, giving Sicario a shockingly raw, visceral and natural aesthetic. Be it the soon-to-be iconic border crossing sequence or the night vision finale, Deakins is at his very best here, proving once again he's possibly the best living cinematographer. Toss in a startling score from Johann Johannsson and you have a thrilling, intellectually stimulating genre that's as thought provoking as it is aesthetically stirring.
Despite a final act that does in many ways leave the lead of the picture sidelined, Sicario is arguably the best thriller of 2015, and one of the greatest meditations on modern war as we've seen in ages. A film that will open up even more upon more viewings, Villeneuve has crafted a masterpiece of thriller filmmaking, a motion picture that is as visceral as it is unforgettable. From the direction to the acting, the photography to the bombastic score, if Sicario is any hint, we are in for a hell of a fall, this year.
---