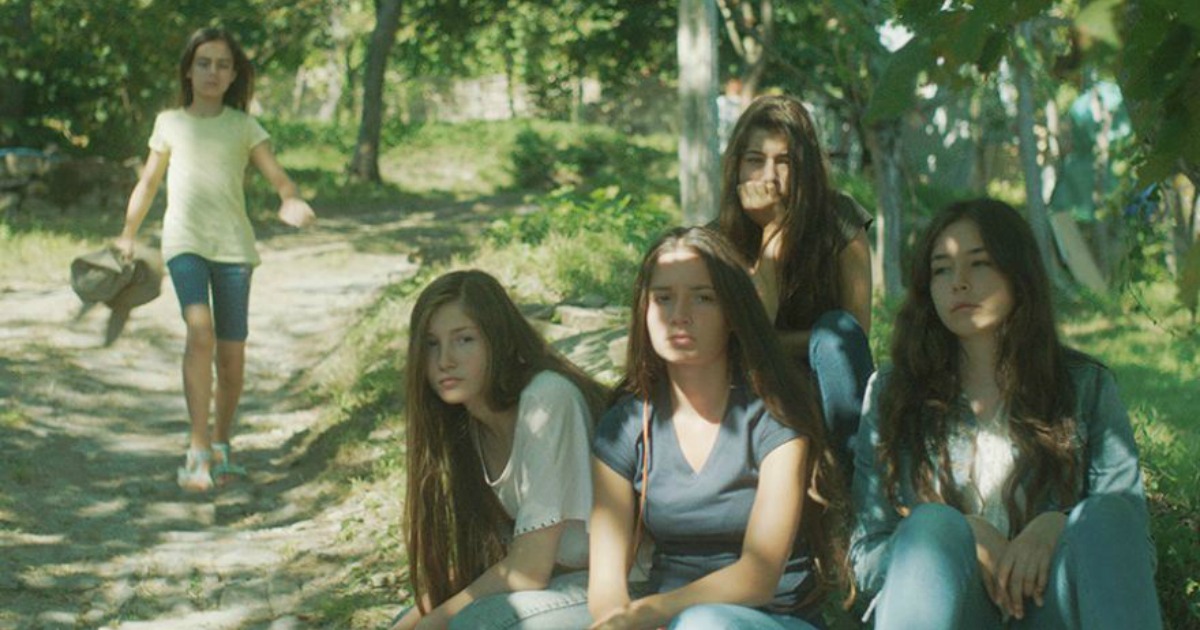 As Oscar nominations near, nations from across the globe have submitted their selection for what film will hopefully bring them awards glory come that broadcast early next year. However, as with any year's submissions, sometimes countries can think, for lack of a better term, outside the proverbial box with their respective selections. And sometimes, one of film's greatest and most influential locales not only gives people a swerve with their selection, but brings to light a new and profound cinematic voice.
That's exactly what has happened this year with France and their shocking selection of a little talked about film, Mustang. Director Deniz Gamze Erguven's superb motion picture comes out of this year's Cannes Film Festival, specifically its Director's Fortnight sidebar, and despite this otherwise great resume, it faced stiff competition on the French film scene. With a Palme d'Or winner in Jacques Audiard's Dheepan and a critically adored film from iconic director Arnaud Desplechin within the very same Cannes sidebar staring it dead in the face, one would have to imagine Mustang is a film of the highest order. And thankfully, it exceeds those high expectations.
The debut film from Erguven, the Turkish filmmaker safely asserts herself as one of world cinema's most vital new voices. Mustang tells the story of a group of five sisters in the midst of a life changing time. In a small Turkish village, the five sisters begin to spend their summer the way teenage girls should. Full of the verve and vitality of young women across the globe, these five sisters lead very singular existences. Kept under proverbial lock and key in the prison-like patriarchy of their fundamentalist family structure, each sister begins to be married off to boys they have barely learned the names of while losing all sense of freedom after a neighbor brings up to the parents of this family that the young girls have been spending time with male classmates. However, when these marriages begin happening, the younger sisters team up to try and free one another from this ill fate.
---
---
A towering piece of female empowerment, it's hard to find a more beautiful and nuanced look at a world that is as backwards as they come. Coming out of a culture where government leaders believe women shouldn't even laugh in public spaces, Erguven's debut film is a punch directly to the gut of a country whose sociologically backwards beliefs don't seem to be altering any time soon. What would otherwise be a quiet and languid journey into this oppressive landscape more akin to the types of dramas we see out of Iran, Erguven instead gives us a raucous, breathless meditation on what the female identity truly is in Turkey today. This is a film driven by five fearless young women, and from these energetic characters the viewer is not only able to draw a much needed sense of vitality but also a truly poetic example of female empowerment. The film's final act is especially powerful, it turning the film into a bravura bit of magical realism as the youngest sibling takes it upon herself to break free of a life lacking any free will. Vibrant in every sense of the word, Mustang jumps from one sequence that feels like it's ripped out of an escape picture like Brute Force only to become a melancholic neo-realist film, and everything in between. It's a truly fantastic piece of filmmaking.
And while the structure and themes of the film are genuinely superb, it might be Erguven's aesthetic hand that's the most assured. Despite being a first time filmmaker, Erguven has complete control over her craft, having an uncanny ability to tense sequences with the liveliness of any thriller and then instantly turn her picture into a troubling portrait of gender subjugation. There are moments like the genuinely emotionally moving sequence of the young girls attending a soccer game that are not only resonant on their own, but when played opposite the various moments where marriages are arranged and in connection with the film's awe-inspiring finale, Erguven proves to not only have control over her storytelling, but her ability to play with mood and atmosphere. Visually, the film gets naturalistic photography from the team of Ersin Gok (best known as a grip on Argo for any IMDb nerds out there) and David Chizallet, two relatively green cinematographers who bring to this picture a sense of realism that is is much needed. Very much in the same vein as a film like fellow 2015 festival darling The Wonders, the film owes a great debt to films of both the neo-realism and poetic realism movement, with moments finding the two DPs at their most intimate and others, like the aforementioned soccer match sequence or a really powerful sequence involving a wedding, at their most baroque. It's a startling achievement for what is a freshman collective of creative talent.
Then there are the performances. Where to begin with a cast that, across the board, elevates this picture into sure fire Top 10 material? Across the board, the performances here are great. Ilayda Akdogan stars as Sonay, the eldest sister, and she's ultimately followed by Selma (Tugba Sunguroglu), Ece (Elit Iscan) and Nur (Doga Zeynep Doguslu). Rounding out the team of orphan sisters is Lale (Gunes Nezihe Sensoy) who is the most entrancing of the group. She becomes the film's main character come the final act, and while the entire film relies maybe a touch too much on an episodic structure, closing out with her complete shattering of the patriarchal power structure by sheer force of will is fantastic. Sunguroglu also turns in interesting work, as her story is one of resignation, a fate that feels all too real given all of these cultural circumstances. The rest of the cast gives really great work, all given enough space within the film to allow their characters to truly breath. A film that feels entirely lived in, these performances are just the beginning of a lengthy list of examples as to why this is one of the best and most nuanced motion pictures of 2015.