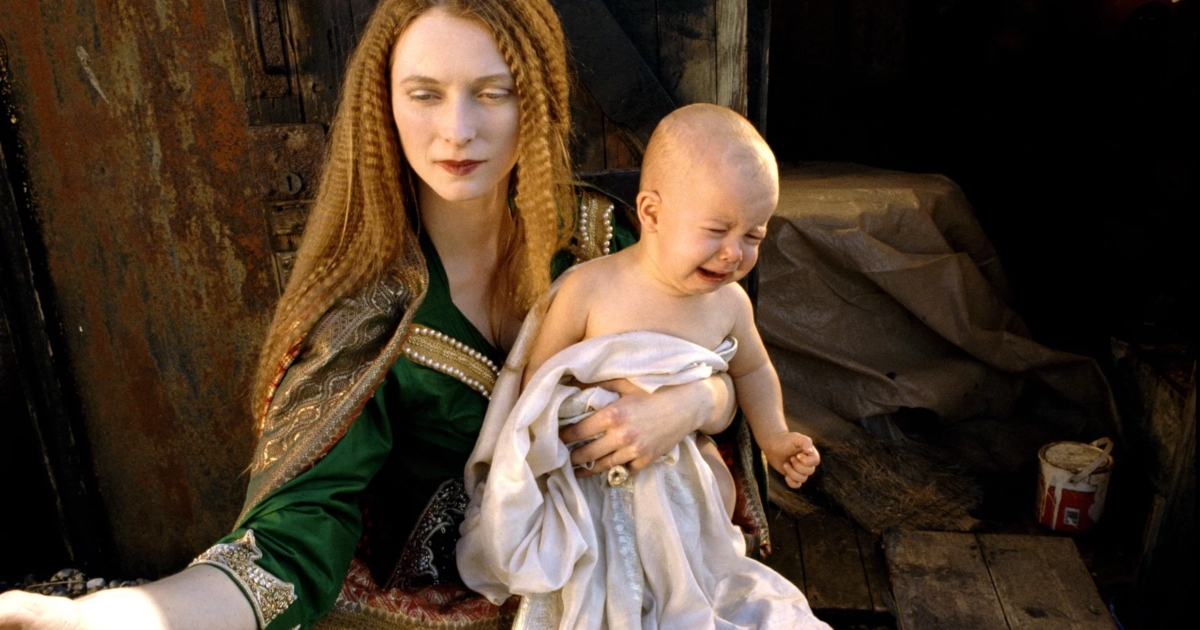 There are few things more exciting than a new restoration of a film that's more or less been impossible to see for two decades. Well, that is unless that film's from director Derek Jarman, in which case it's ostensibly some form of cinematic Holy Grail.
That's the case with The Garden, Jarman's incredibly baroque and avant-garde reclaiming of the Old Testament for queer audiences. Newly restored by Zeitgeist films and running exclusively for one week at New York City's incomparable Metrograph, The Garden is a knotty piece of filmmaking to describe, best built-in viewers eyes as a repurposing of the elemental qualities of the Bible for a generation of queer men and women persecuted and shunned just as the AIDS pandemic was wiping their brothers and sisters off the map. Himself diagnosed shortly before beginning work on this film, Jarman thrusts viewers into a world where The Devil is clad in leather and Jesus is a gay couple, an obtuse and elliptical world that's more interested in parables and musical sequences than preaching or condemning.
Typical of Jarman's work from this period (specifically The Last Of England from two years prior), The Garden is a frustrated film, a film of unending rage that's as nightmarish in its vision of humanity as it is oddly gorgeous and almost transcendent. Setting the film as more or less a dream had by a character played by himself on screen, Jarman's direction here is baroque and thrilling, using the Super 8 photography to his advantage by casting it opposite some incredible production design and a kinetic sense of energy that's entirely the director's own calling card. This is a film born out of a filmmaker's understanding of his impending doom, and the question of mortality isn't far from his mind, playing as much like a work of dream analysis as it is a visual essay film. The song and dance numbers only amplify this by breathing a sense of joviality into a film that's decidedly bleak and raw. An opponent of Amendment 28, which had more or less gone into effect directly preceding this film in England, this is Jarman at his most confrontational, most anarchic and in many ways most alive. Four years later he'd die from the disease that saw his community ravaged, and while the structure of The Garden may seem playful and light, this is one of Jarman's most thrilling and unshakable works.
That said, it's far from esoteric. Don't let the heavy material fool you, this is as captivating a work as there is in Jarman's filmography. Somewhere in between the all-out experimenting of Blue and the painterly Caravaggio, Jarman's The Garden features a collection of fascinating performances, particularly from his muse, Tilda Swinton. She more or less plays the Madonna, in a performance that's both at arm's length and yet rapturous. The lo-fi aesthetic fits the punk-rock storytelling of the film, but these performances and particularly the Michael Gough-voiced, Jarman-written narration feel of a piece and entirely pointed with regards to the film's sense of social and political commentary.  The shots of what appears to be a production within a production are absolutely astounding in their vitality, and with things like Judas' death being perverted for a new credit card advertisement, the film is clear-eyed and furious. It's a powerful, engrossing statement from a master filmmaker facing mortality head-on. A must-see masterpiece, especially thanks to this new, glorious 2K restoration from Zeitgest Films.