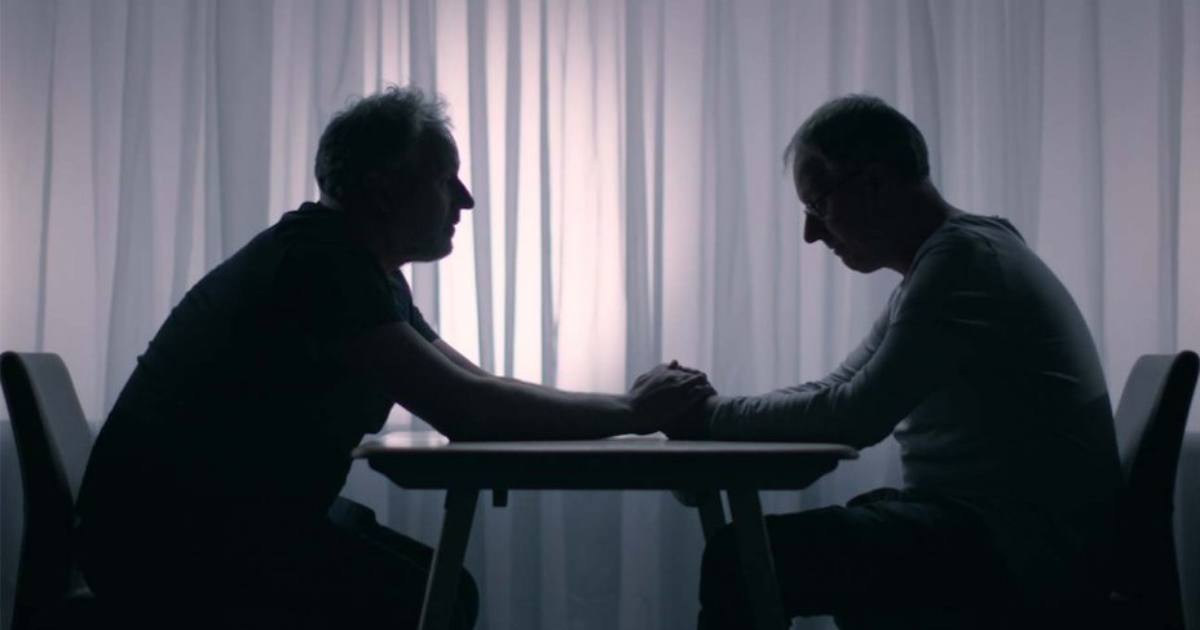 It's not every day that Netflix, the loudest voice in the media-streaming room, brings one of their films to theaters. At best saved for the topper most of crop, like upcoming films from Noah Baumbach and Martin Scorsese, Netflix's theatrical arm is relatively minor, finding the company at complete ease with just "dumping" their smaller fiction films and documentary features onto their service with little celebration.
That's what makes the new documentary Tell Me Who I Am, at first glance, a rather striking picture.
The rare Netflix-backed documentary that's getting the true-blue day-and-date release (it's available on the service on October 18 as well as at NYC's Quad Cinema the same weekend), Tell Me Who I Am is a fascinating, deeply troubling and utterly captivating non-fiction film that is an absolutely unshakable experience.
The film introduces viewers to Alex Lewis, a man who, following a motorcycle accident in 1982, fell into a coma at just 18 years of age. Once awoken from the coma, Alex attempted to get back into the real world but suffered from total memory loss. Parents were unrecognizable, friends were as if they never existed to the man, and the only person that makes any sense to him is his twin brother, Marcus. Following his release from the hospital Alex begins to rebuild his life with the help of his brother, trying to rediscover everything from who his parents are to how and use a television remote. However, not all was conceivably right. Brothers born into a toxic home environment, instead of telling his twin brother about all the abuse they were subjected to, Marcus built Alex's life into one of peace and tranquility, with surely troubled parents but not anything more than any other parent trying to do their best for their kids.
Structured around three different parts, the film's first "act" is more or less an interview with Alex, with him attempting to reconstruct his life as he begins to discover just what his life truly was. The kids, for example, weren't allowed to sleep in the house, something that just didn't sit right with the image Marcus had built for Alex following his accident. Following this is Marcus' chance at setting the narrative, finding him surely defensive but also still very much settled in his stance that building this life was the right thing to do for the barely legal Alex after his crash. The two come, literally, face to face in the incredible, soul shattering finale that finds Marcus finally revealing not only why he did what he did but just to what extent this brother would (and did) go to protect the twin he so clearly loves and cherishes. It's an intensely moving and increasingly uncomfortable final sequence but it's also so clearly from a place of love that it becomes truly transcendent.
Originally told in a best-selling 2013 book of the same name, Tell Me Who I Am is yet another impressive film from Oscar nominated documentarian Ed Perkins. Incredibly accomplished visually, the film carries the same mood and atmosphere as some sort of true crime thriller, with the narrative twisting and turning around a glossy, well shot and edited bit of non-fiction filmmaking. An intimate, first hand recounting of this tale, the film is a blend of nearly claustrophobic close up interviews, haunting reenactments and some archival materials, and while that may sound cliche in a world of democratized documentary filmmaking, it plays in actuality as if it were something more resembling a psychological thriller. And therein lies why Netflix may see this as a fitting film to release, albeit in a truly limited manner, into theaters. An impressively cinematic documentary, Tell Me Who I Am is a captivating look at two brothers and the grief they live with, and in this character study is a fascinating, unflinching look at love and forgiveness in the face of abject horror.