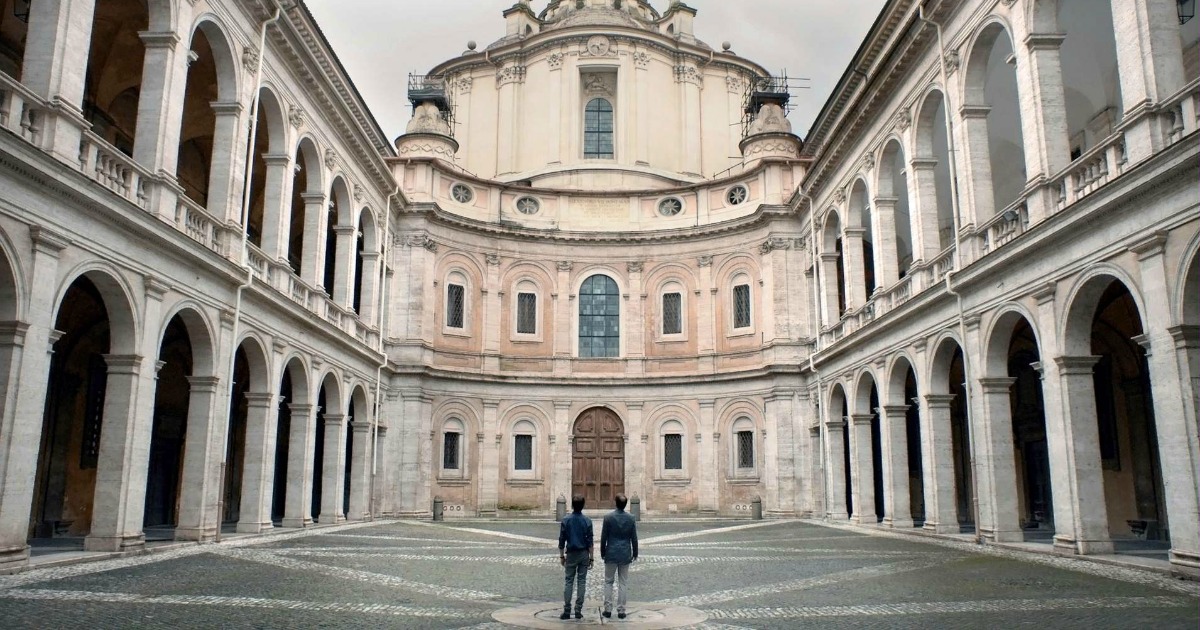 When one is tasked to think of subjects that would make for stimulating dramas cinematically, the topic of architecture isn't one that instantly pops to mind. Static, only changing when its surrounding elements seem fit (be it through natural erosion or more violent means, like say a war), a given area's architecture is both a singular piece of art, and yet an oppressively omnipresent entity that couldn't be further from the ever evolving and kinetic medium that is cinema. However, as seen in great documentaries like Antonio Gaudi and now Eugene Green's masterful La Sapienza, there may actually be a beautiful narrative vitality in the world of architecture.
Green's film introduces us to a couple seemingly ripped right out any of the great neo-realist gems from director Roberto Rossellini. Alexandre Schmid (Fabrizio Rongione) and his wife Alienor (Christelle Prot) are in the midst of a journey with intentions ranging from creative and spiritual growth to rekindling the love that has seemingly fallen by the wayside following a series of tragedies. Alexandre himself is in the throes of studying the work of legendary architect Francesco Borromini, whose Sant'Ivo alla Sapienza is what inspired the film's title. While in Stresa, the couple meets a young brother and sister duo, and in them, they find more than what they've been looking for. In Goffredo, Alexandre finds the youthful teenager who not only reminds him of himself but has the same inquisitive mind that Alexandre has seemingly lost, and in the sweet Lavinia, Alienor finds the kindred spirit that ultimately helps bring vitality back to both her life and her soul.
Easily the film's biggest star, the name Eugene Green may not be that well known among most US film nuts, but hopefully this piece of work will help change that. A perfect distillation of Green's aesthetic, La Sapienza will take a moment or two to get  used to for those viewers not familiar with Green's work, as the shot/counter shot cadence during dialogue sequences are both unnerving at first glance and ultimately breathtaking once familiarized with. The performers look square into the camera, as if to look in both the eyes of the viewer and the character opposite them in the discussion, and offer up philosophical musings on life, art and the nature of creative expression as a form of cathartic release. With gorgeous photography and panoramic views that will leave any viewer gasping for air, the film's aesthetic conceit is one that may be a tad jarring in the first act, but will ultimately be utterly gripping for those who decide to go along on this journey through this breathlessly crafted world. It's in these panoramic shots, juxtaposed opposite the ever encroaching close ups Green uses throughout the dialogue sequences, that the film's real scope is realized. A film much larger in scale than its Certified Copy-like journey through its Italian locales, this film spans topics, and occasionally time periods, to weave a narrative that questions just what exactly is the great power of artistic expression.
The film also has a rather lively heart beating just below the surface. Alexandre's awkwardness with those around him offers up a great deal of subtle, dry comedy, and the final act is one that is both surreal and absolutely heart breaking. With a final sequence that is both brazenly crafted and emotionally resonant, the amount of real emotional depth created here is startling given the film's dense and almost otherworldly screenplay. It's a slowly paced piece of work, one that will turn away many viewers not interested in the lofty and complex bits of dialogue, almost baroque in their compositions (fitting, as this film hinges greatly on the study of baroque architecture), but one that is as emotionally touching as it is intellectually stimulating.
Thankfully, the film also has a series of superb performances to hold on to. Rongione is fantastic here as Alexandre, the heady and brilliant architect whose creative reinvention is the reason for this journey. As mentioned above, Rongione's greatest attribute here is his ability to bring a sense of humor to an otherwise pretentious lead character, a heart that turns this character into something engaging instead of utterly insufferable. Sans this humor, the film would be dry to the bone, offering up little in the way of human connection for the viewer to latch on to. There is a glimmer in his eyes during his interchanges with Goffredo, and an occasional smirk that is almost as vital and important to the film as any of its central thematic discussions. Opposite him is Prot, and actress this writer isn't too familiar with but one who turns in one of the year's better co-lead performances. It's a more emotionally relatable and human-level performance, as her interactions with Lavinia are much more grounded and rooted in things tangible instead of intellectual or philosophical, and the back and forth between the couple in the film's final shot is one of the most touching things you're bound to see on screen all year.
Overall, while Green's film is a prototypical piece of  work from the auteur, it's also one that will be as polarizing a film as one will see in theaters this year. Grandiose in theme and yet brazenly grounded aesthetically, La Sapienza is a neo-realist picture in inspiration and yet thanks to heady discussions about everything from faith to art as catharsis, this is something entirely beyond description.