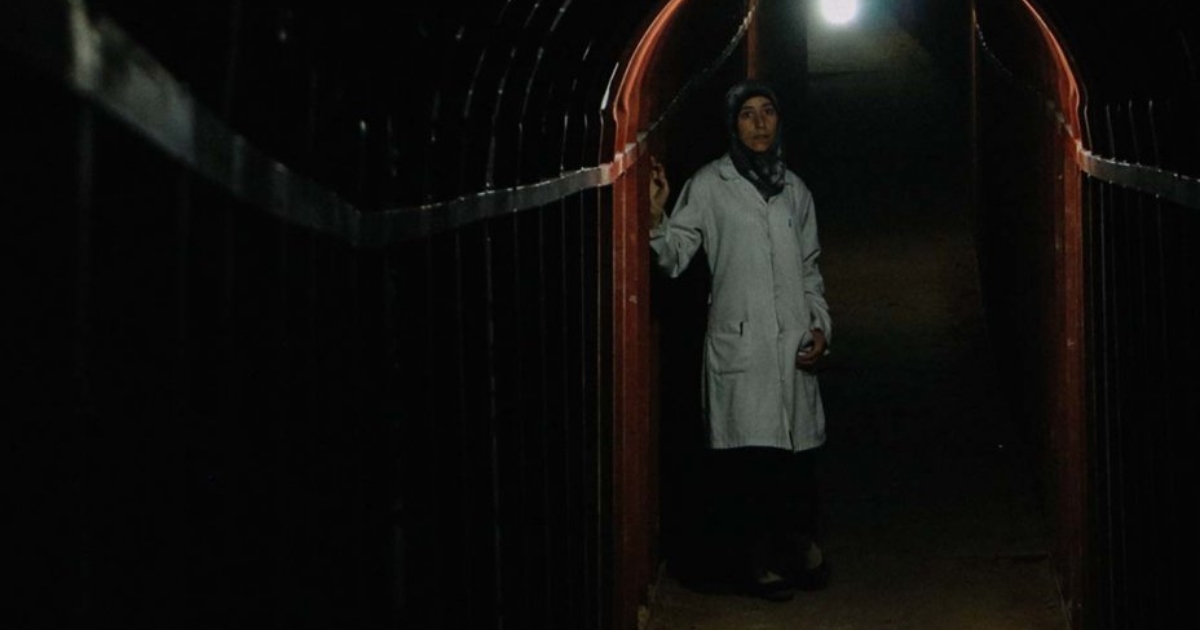 There are heroes, and then there's 30-year-old pediatrician Dr. Amani Ballour.
The subject of the new documentary The Cave, Dr. Ballour is a figure very few people have any recognition of, but with the world's collective eyes honing in on Syria and the atrocities facing that country's civilians on a daily basis, the Dr. and the work she and her crew do every single day is something not just worthy of a captivating documentary, but so very much more.
Drawing its title from the nickname given to the underground hospital she and her team call home, The Cave introduces viewers to Dr. Ballour and company, a group of female doctors not only dealing with a war torn nation but one whose patriarchy would do everything in their power to keep them from reaching their goals. A haunting and haunted rumination on the stresses of being a saver of lives in a world where they are under attack at every given moment, The Cave is a thrilling, ceaselessly captivating documentary that finds director Feras Fayyad following up his critically adored Last Men In Aleppo with what may be the very best documentary on the recent war in Syria yet.
What makes The Cave so endlessly special isn't just its portrayal of life during wartime. No, instead what makes this film worthy of one's time is its ability to take this prototypical social justice documentary and subvert it with commentary on a much broader scale. While very much about the horrors of war, Fayyad's eye is as much on that of gender and the interplay therein, focusing squarely on the relationship between men and women below the surface as they work together in a manner that is simply impossible above ground. A righteously feminist film, The Cave more or less opens on Dr. Ballour's credibility being called into question by the husband of a patient, only to have her defended by a fellow male surgeon. However, Dr. Ballour is never seen as anything less than a titanic presence, people coming to her defense not out of fear but out of purely earned respect and admiration.
In between explosions and bloodshed, Fayyad's camera focuses squarely on the life of these life savers, energetically embedding viewers within a chaotic world through the photography of cinematographers Mohammed Eyad, Muhammed Khair Al Shami and Ammar Suleiman, all of whom shoot the film with impressive assurance and profound intimacy. Viewers watch as Dr. Ballour and crew deal with families torn apart by war, loved ones ripped from the arms of their companions and even children stripped from their parents by a violent explosion. Moments involving children are often the most engrossing, not in any melodramatic or manipulative way, but in a world where generations are evolving socially at such a rapid rate, seeing a powerful woman breathe some semblance of life back into the world of a young girl beaten down by a world of violence and tradition is something truly profound. One can scoff at some of Fayyad's directorial flourishes (the final coda is a bit pretentious), but what is undeniable is that The Cave is both one of the great documents of war-torn Syria and also one of the year's most moving portraits of the power of the human spirit.