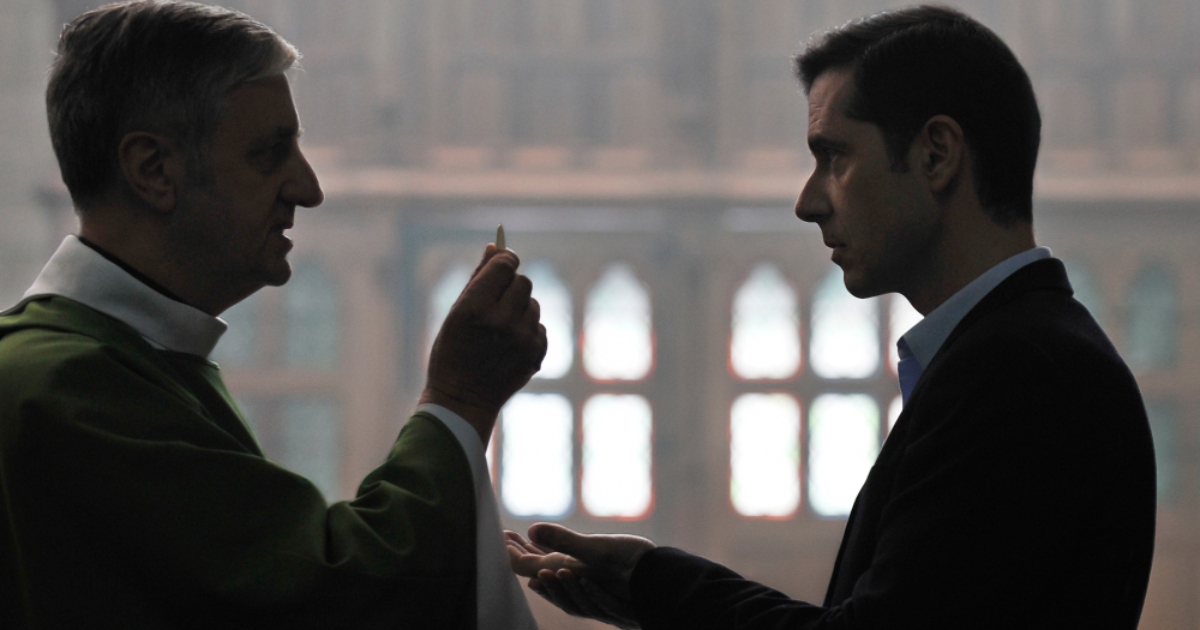 Over the span of his roughly 30-year long career, French auteur Francois Ozon has become synonymous with the type of erotically-tinged satire that has itself evolved into something of a stock and trade for the French film system. Sharp and toothsome, his films are, more often than not, drenched in a type of sexuality that's at once titillating and also occasionally surreal.
That's what makes By The Grace Of God all the more compelling.
Simplistically billed as a French response to a film like Spotlight, By The Grace Of God is a ripped-from-the-headlines drama that delves head first into both sexual abuse scandals and the Catholic Church, as well as the grief that these heinous acts leave in their wake. The film introduces viewers to Alexandre (the always incredible Melvil Poupaud), a well to do Lyon businessman who, on the surface, leads a life that would be a dream for just about everyone watching. An almost absurdly bourgeoise father of five, he and his family lead ideal lives, as close to one another as they are the church that they call home every week.
However, their lives are completely upended when Alexandre discovers that Father Preynat (Bernard Verley), the very priest that abused Alexandre as a young Scout, is still working with children to this day. Righteous and oozing fury, Alexandre is thrown into disarray only to harness his anger and focus it on taking tactile action. As he progresses he is put in contact with other victims, others like Francois (Denis Menochet) and Emmanuel (Swann Arlaud), both of whom join Alexandre in taking action against both the man who abused them and the structure that allows the monster to work to this very day.
Unlike (and what I am about to say may be a bit controversial) Spotlight, By The Grace Of God is both a captivating social drama and also an impressively made piece of fiction filmmaking. Ozon, despite seemingly being out of his proverbial element, crafts an intensely emotional and texture story of grief and political action, a film that carries the same sense of frustration that made (and still makes) Spotlight an engrossing watch and elevates it with gorgeous photography, thoughtful production design and directorial hand that's both nuanced and yet clear-headed. A film of palpable urgency and elegance, the film's tension comes entirely from the seemingly unending red tape our leads must go through, and the new and shattering reminders of their past trauma that each of these hurdles bring with them. Very much a procedural-type drama, with the narrative jumping from each new character for what feels like a vignette-style structure that ultimately makes the story feel all the more textured and truly lived in. Potentially wearing its heart (and themes) too clearly on its sleeve, By The Grace of God is a layered, if maybe a bit too chilly, character study in the body of a social justice procedural.
Speaking of things that feel "lived in," these performances certainly fit that bill. Poupaud is the closest thing the film has to a lead, and is absolutely incredible here. Poupaud's Alexandre is a conflicted figure, a man who despite being abused as a child still has found a way to not only hold back the grief that can cripple so easily, but overcome it and thrive with a beautiful family and a rich career. Now, the idea of Alexandre's clear economic status comes up very little here, a side of this discussion that's only played out in subtext, but the few moments where it does reach the surface offers up some of the film's most entrancing intellectual discussions. Did this trauma build the man into who he is today? How does he deal with his devout beliefs despite being abused by a man he once trusted within that structure? And why now? These are all questions that are asked both within the text itself and through Poupaud's performance, particularly when set opposite Denis Menochet's Francois.
Francois is a man of a similar stock economically, just instead of finding strength in his faith, went a route of rejecting that same faith he had prior to being abused at the age of 11 by the same priest. Menochet's performance is one of stronger indignation, At first more or less hand waving the case being brought against the priest by Alexandre, Francois is thrown into a rage when he ultimately discovers the case was brought on by Alexandre's discovery of Preynat's continuing work with youth under the banner of the church he now calls an enemy. Ultimately inspired to start, with a fellow abuse victim named Gilles (Eric Caravaca) a website for survivors of similar abuses to tell their story, Menochet's performance is a much bigger one, a performance that really comes to life once Francois begins finding his strength as some sort of figure head for this new group.
Rounding out the top-line of this film's cast is Swann Arlaud as Emmanuel, another Preynat victim who has been in truly rough shape ever since. Now in some semblance of a relationship (albeit an unhealthy one), Emmanuel is prone to violent seizures that make his arc the most moving emotionally. Coming a pinch too late in the film to really allow the arc to breathe, Arlaud is absolutely breathtaking here. The type of role that could easily lead to a melodramatic performance that would go against everything the film previously sets up, Arlaud is instead tragic and fully realized in a way that makes the film's final act all the more profound.
Fueled by rigorous research on Ozon's part, the names may be changed but the emotional core is crystal clear. A haunting, captivating tale of a group finding strength to overcome shared grief in each others arms, By The Grace Of God is a gorgeously crafted and emotionally shattering study of grief and faith.