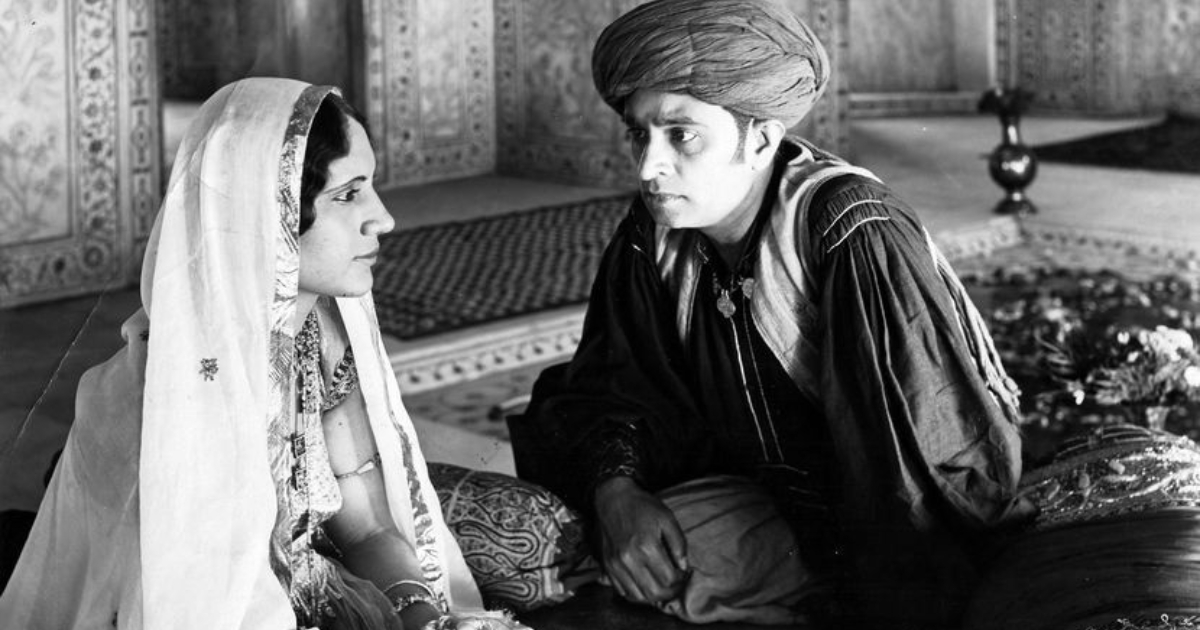 Here at The CriterionCast, we try our absolute best to not only stay up on the latest and greatest in the world of film, but the companies that happen to be releasing them either in their first theatrical run or in some form of retrospective run. That's why, when an email about a film like the 1928 Indian silent film Shiraz: A Romance Of India drops into one's inbox the shocked response is so startling.
Not only is this film a relatively unknown work of silent cinema (there is a BFI release from which this film's DCP was drawn), but the company running its theatrical run (which begins Friday January 18 at NYC's Metrograph Theater) is equally unsung. More or less unheard of before now, Juno Films is releasing this incredible silent film in theaters for one week, in anticipation of what will hopefully be an inspired home video release and VOD debut.
The film introduces viewers to Mumtaz Mahal (here played in a fictional role by Enakshi Rama Rau), the Mughal empress who would ultimately be enshrined thanks to her husband and the construction of his monument to her, The Taj Mahal. While drawing on real-life figures, director Franz Osten and star Himansu Rai break from the docu-fiction route and instead build a fantastical adventure yarn that finds Selima (Rau) at the center of the action. At first abducted and sold into slavery for Prince Khurram, only to be turned into the property of Emperor Shah Jehan all the while her brother, Shiraz (Rai) never loses sight of the love for her that he carries so deep within himself. The rub? The film opens up with Selima, as a child, being ambushed (along with her mother) by a group of bandits, only to be saved by a family who raises her as their own. Only an amulet gives away her noble heritage. Tossed around from owner to owner, she becomes the apple of Shah Jehan's eye, leading the two to fall in love much to the chagrin of Shiraz who, not until old age, will be able to truly proclaim his love for her, when he designs the ambitious and awe-inspiring Taj Mahal which will be his final declaration.
The brilliance of Shiraz comes at once in its scope as well as in its timelessness as a historical document. At first glance, the film is as awe-inspiring a romance/fantasy as anything ever made during this time period. Featuring a new score from beloved artist Anoushka Shanka, Shiraz is a grand epic that features gorgeous production design and direction that has an effortlessness and a scope that's unlike anything from this time period. Particularly in the final act, it becomes something incredibly tender, a film that provides a great deal of nuance and humanity to a film where heroes and villains could easily be painted in broad strokes. Before then, the film is played as a bittersweet epic, with startling set pieces like our "hero" being set for execution by elephant stampede, a harrowing sequence that's as thrilling as it is heartbreaking.
However, while it's a grand piece of work, it's also a quietly exciting bit of documentary filmmaking. Specifically, in the film's bombastic conclusion, we are privy to archival footage of the Taj Mahal, and it's profoundly captivating seeing this material, particularly when paired opposite shots of expansive crowds and shots of late 20s location footage, making it feel like something both important artistically as well as historically or anthropologically. Performances are also quite good here. Relatively unknown here stateside, both Rau and Rai are both absolute revelations here. It's hard for silent film performances to really make an impact particularly when the style surrounding them is so arch and specific, but here each lead performance is nuanced and full of warmth and humanity. They're tender performances that are textured and particularly in Rau's case so much emotional heft lays squarely on her shoulders that it's an absolute testament to her ability as a performer when the emotions really hit their apex.
And what more could one want from an upstart distribution company? Bringing this gorgeous BFI restoration stateside, hopefully, Juno films will be pairing this theatrical run with a home video release that's equally as exciting.