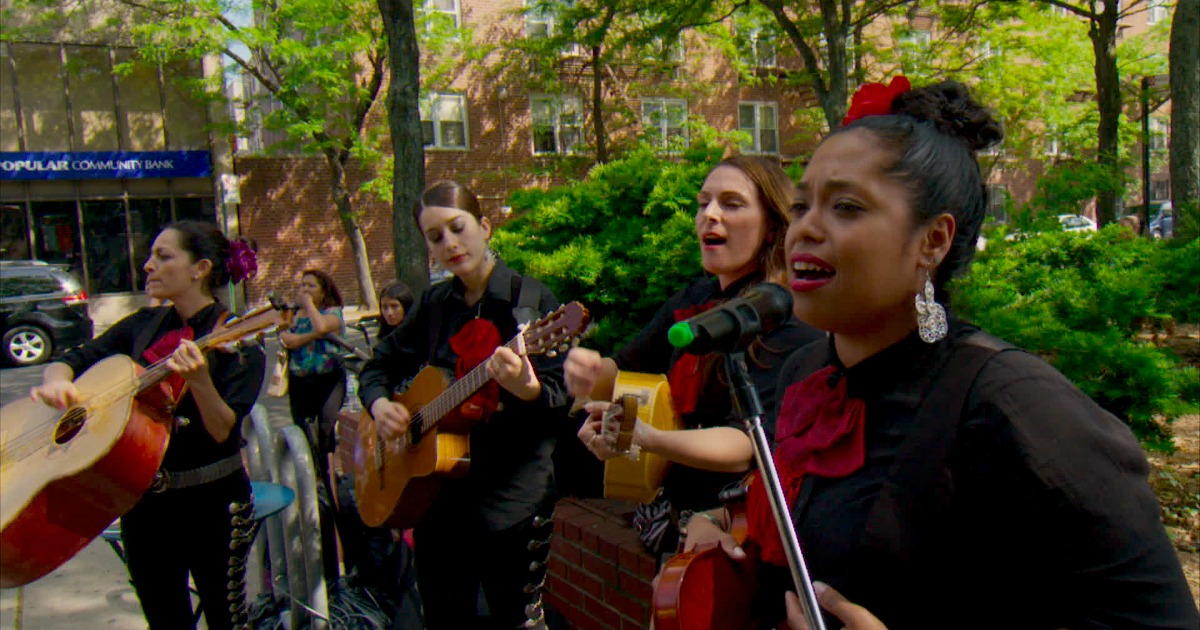 There are few filmmakers working at as high a clip as one Frederick Wiseman, and even fewer who have had as large an impact on filmmaking. Now 40 films into his career, all 49 years of it, Wiseman has become synonymous with a certain brand of street level, verite storytelling that he helped bring to the cinematic forefront early in his career. Fully evolving that style into what is now a mode of long form, narration/interview-free documentary storytelling, films like At Berkeley have found Wiseman crafting hours long narratives out of the lives of a wide cross section of humanity.
In Jackson Heights is the filmmaker's latest, and possibly greatest, achievement of this segment of his career. Wiseman this time sets his sights on the Jackson Heights neighborhood in Queens, New York, one of the nation's most diverse neighborhoods. With large populations of people from India, China, Afghanistan, Pakistan, Bangladesh and across Mexico and South America, there are some 167 languages spoken here, and that's just the ethnic diversity quota. A large LGBT community calls Jackson Heights home, and the lives of a handful of people who find refuge in the open arms of this neighborhood are who we follow during this great new film from a top tier auteur.
Clocking in at just a pinch over three hours (190 minutes to be exact), In Jackson heights takes a look at the daily life of this community, and the oncoming gentrification that looks to wash away the area's diversity. Part of a growing series of films from Wiseman looking at an area instead of a person or institution (films like Aspen, Belfast, Maine and Aspen all find Wiseman in a similar mode) these films in many ways are the filmmaker at his most distilled.
---
https://www.youtube.com/watch?v=L-oBRfiUaF0
---
As a filmmaker, Wiseman's observational style is at its very best in these types of pictures, particularly one with as diverse a focus as this film. Wiseman introduces us to people ranging from New York City Council Member Daniel Dromm who is first seen at the Queens Pride Parade, to soccer fans who are freshly riled up after a match, all with the same nuance and space given to their stories. There are no flights of fancy here, no director's waxing political about what they are witnessing, instead Wiseman allows his camera to let these men and women speak for themselves. LBGTQ rights play a major part in this picture, and where most filmmakers would make a large, grand statement about the hot button issue, Wiseman not only allows the film to speak for itself, but allows the film to show the contradictions that neighborhoods like this are bound to have.
Be it a group discussing the importance of an accepting community center and how Jackson Heights is now a respite for the community or a woman telling a group that she was recently discriminated against for being transsexual, the film is full of not only grand sociological statements, but also a wide breadth of emotions, ideas and concepts.This woman ultimately becomes the closest thing the film has to a main character, and plays as the film's emotional and intellectual backbone. As welcoming a community as Jackson Heights truly is, discrimination still occurs, particularly against trans men and women. The film allows these men and women to have a platform to tell their story, and Jackson Heights is at its very best when we see active discussions between men and women within a subsection of this neighborhood, focusing on their experiences and lives within this true "melting pot."
This is a film about the neighborhood as a living organism. While Wiseman's aesthetic is decidedly low-key, his observational style is one of deep importance to today's documentary cinema. As non-fiction filmmaking becomes more diverse itself, Wiseman is a breath of fresh air taken in long and deep. While his pictures may seem cumbersome (there are a few moments in this film's runtime where it felt a little long in the tooth) this long-form storytelling is of great necessity both cinematically and anthropologically. In a world where empathy is a lost artform and discrimination has become "speaking your mind," Wiseman's films, and even more so his filmmaking style, has turned him into one of cinema's most important directors.