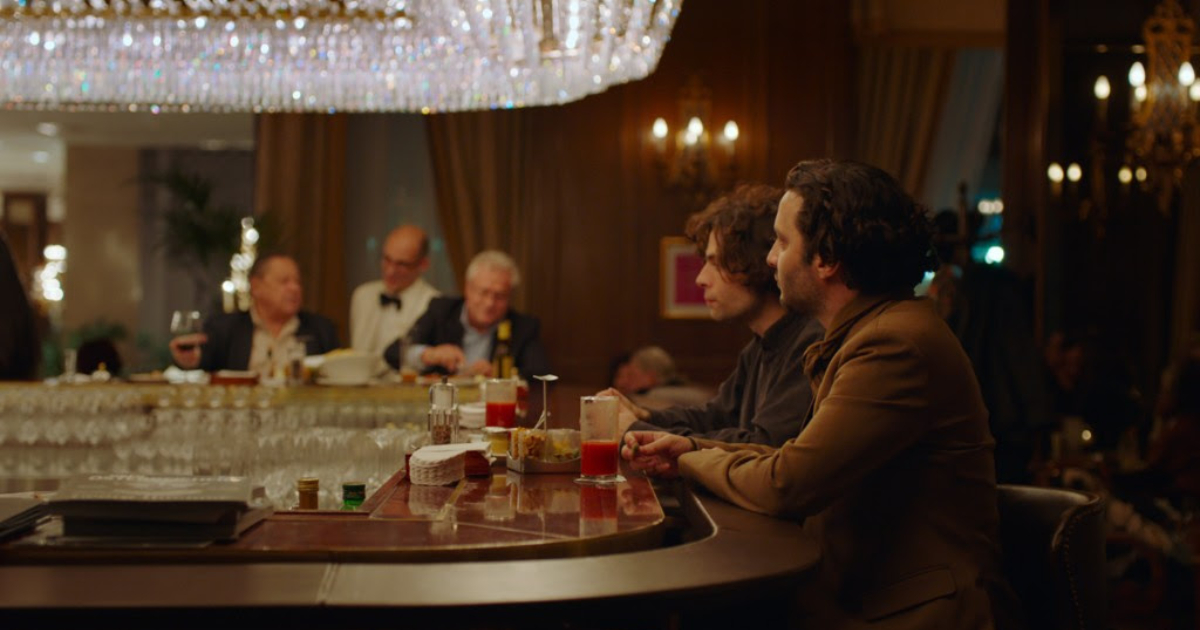 Even in the most studied of arthouse/foreign film circles, the name Gaston Solnicki may not ring much of a bell. Unless you are privy to films that are likelier to end up on the awards stage for festivals like Locarno instead of Sundance or check what film Mubi has added each morning, Solnicki's last film Kekszakallu was a quietly championed gem (including a rave from this very critic at this very site), and yet it didn't quite make the splash one would have hoped.
And yet Solnicki appears to have little interest in playing to wide audiences, as he's not just returned with a film as equally challenging as his brilliant Kekszakallu, but even more obtuse and elliptical.
Entitled Introduzione all'Oscuro, this barely 70-minute long essay film has a simple conceit. In July of 2017, a legendary art world figure lost his life after suffering a heart attack, and while having lived a full life the loss of film critic Hans Hurch was one felt deeply. Best known for his partnership with the directing team Straub-Huillet as well as his position as director of the Vienna Film Festival for 20 years, Hurch was an influential figure in the art film landscape, where he would not just champion some of the great creatives the medium had to offer, but also become close friends with Solnicki himself.
This is his love letter to his fallen friend, and while that sounds like it could become a maudlin hagiography, Solnicki has much higher aspirations. Narratively, the film resembles a travelogue as much as it does an actual narrative feature, watching as a man floats in and out of various locales made a home by Hurch both literal and figurative. The film is built around tangible items like the Straub-Huillet film Antigone on which Hurch worked (seen at a local theater in the film) or even a specific style of piano played by Hurch, which we see Solnicki attempt to buy in one of the film's more esoteric sequences. There are title cards that attempt to give the viewer some cursory background information regarding Hurch, but Solnicki isn't so much interested in the factual minutia of his lost friend, instead focusing on the items that made of the world he inhabited and attempted to create. We do hear Hurch himself as well, but for the majority of the film it a clear-eyed attempt to dissect a life once lived.
Solnicki isn't aiming for the megaplexes with this one, and this is exactly the type of counter-programming one needs during this otherwise stuffy fall film season. Zama photographer Rui Pocas proves once again he's the best working cinematographer you've never heard of, following up the Martel and his gorgeous work on The Ornithologist with a quieter picture, but one of gorgeous, sumptuous photography, particularly when dealing with interior sequences of which make up the majority of the film. A bar that has a drink named after Hurch becomes one of the settings for the film, and this scene is as gorgeous a sequence as seen in a film this year, and it's simply a young man mourning his friend at a bar. It's warm, moving, and richly textured, that despite being deceptively simple, the photography breathes a whole new life and emotional depth into the proceedings.
Meditative without ever feeling distancing or cold, Introduzione is a deeply felt, profoundly humane portrait of a fallen comrade, a passed loved one, as seen through the eyes of the items that formulated their life. Shockingly evocative given the almost Brechtian self-awareness, Solnicki once again proves to be a thrillingly singular artist, a filmmaker sure of his style and handling of tone. Elliptical, sure, but also humanistic and tender.