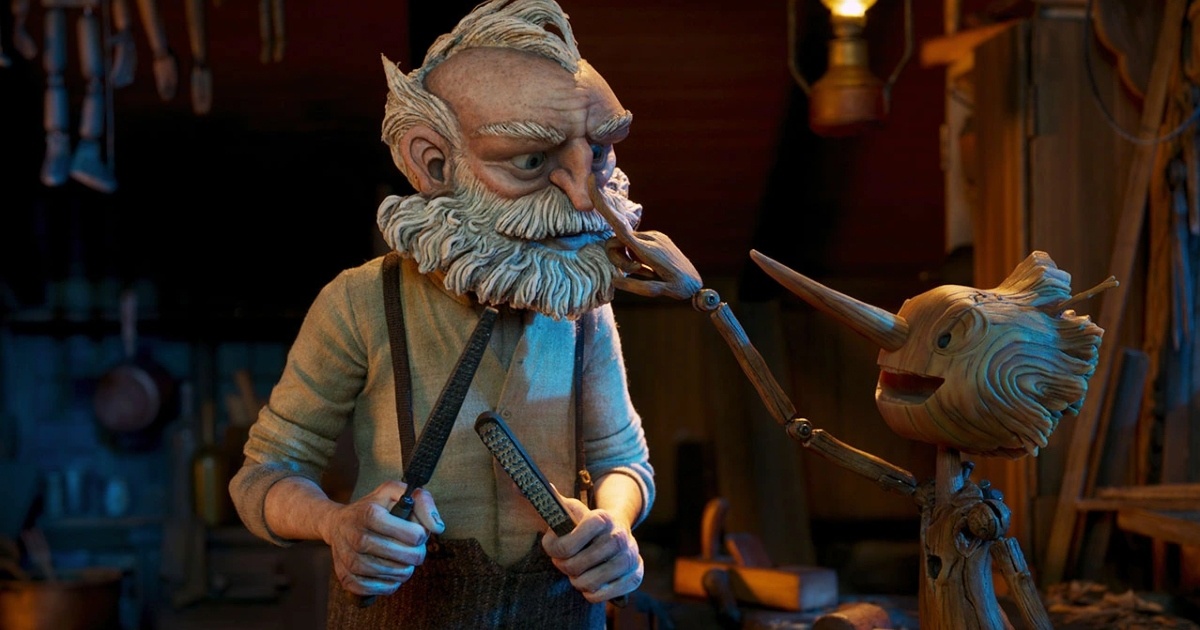 In 1940, Walt Disney Productions released an adaptation of the 1883 Italian children's book, The Adventures of Pinocchio. Simply titled Pinocchio, the film would become not just one of the most beloved children's films of that century but would help make the young wooden boy a pop culture icon.
Fast forward to 2022, and Disney has brought us a live-action reimagining of that film. However, that's not the Pinocchio film we're here to talk about today. No, as Disney's interest in bringing back old franchises has been overshadowed by the world's biggest streamer and their collaboration with one of cinema's greatest auteurs.
Pinocchio is the latest film from beloved director Guillermo Del Toro and arrives on Netflix on December 9, 2022. Teaming Del Toro with co-director Mark Gustafson (best known as the animation director on Fantastic Mr. Fox as well as a director on the TV show The PJ's), Pinocchio sends the famed Spanish director into the world of stop motion, which, thankfully, appears to be a place he was always destined for.
Drawing inspiration from 2002, Gris Grimly-backed adaptation, Del Toro's Pinocchio transposes the story onto WWII Italy, with war and fascism not just knocking at the door, but blowing the hinges off. Viewers are introduced to Gepetto, a quiet woodworker who mourns the loss of his young child. In his darkest moment, he's encountered by a Wood Sprite (voiced here brilliantly by Tilda Swinton, whose voice is both ethereal and yet a touch menacing) who brings to life a wooden puppet to stand as his son's proxy with the thought that this mystical creature can never die. Initially responding with terror and dismissal, the two begin to grow closer until, on Pinocchio's first day of school, he's tricked into joining a traveling sideshow of sorts, with the promise of money and support for his father getting him to tag along. From there, with war never far from the frame, Del Toro and Gustafson craft a stop-motion movie musical that's a complete step in a new direction for Del Toro, while still perfectly fitting the famed filmmaker's sense of the otherworldly or supernatural.
While the animation here is startling, and something worth talking about, the real beating heart of this film is in the relationship between father and son, creator and creation. Gregory Mann stars as the titular puppet, and Harry Potter fans instantly recognize David Bradley's growl as Geppetto. Both turn in stunning performances, with the heartbreaking pain, felt by Geppetto being perfectly embodied in Bradley's emotional, often rightly arch, performance. Both characters' journeys during the film are rife with nuance and texture, particularly with the decision to move the narrative to Fascist Italy. There's an extra sense of doom and gloom over each frame of this film that raises the stakes for the film itself and adds further nuance to the film's overall question of what makes us human and who defines us.
This, paired with the gorgeous animation, helps make the film far more melancholic than one would remember this story being. The animation here is leaps and bounds ahead of anything seen this year, with Del Toro seemingly chomping at the bit to experiment with setting and character design. His take on Pinocchio is at once whimsical and just the right amount of horrifying, particularly come the film's conclusion. The growing of his nose after each lie is perfectly handled here, and even leads to one of the film's more thrilling action set pieces. The human characters are also given love and care with their designs, with Geppetto getting more and more worn down as the film progresses.
With Pinocchio, Guillermo Del Toro and Mark Gustafson have crafted one of the rare spectacles in modern cinema. The animated film that's both high on craft and packed with dense themes, that neither punch down to its younger audience nor alienate it by leaning too far into its older demographic. An absolute knockout, this film.