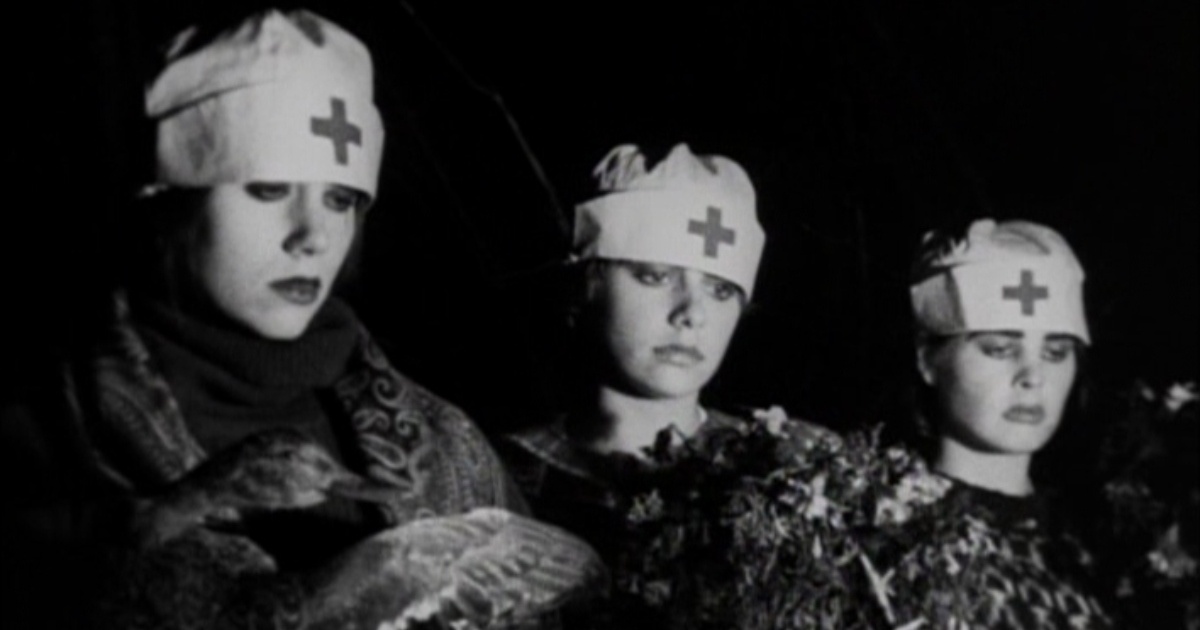 As far as debut feature films go, there are very few as singular and evocative of its director's career-long project like Guy Maddin's strangely beautiful and beautifully strange Tales From The Gimli Hospital.
At just 64 minutes in length, the film is a firecracker of a debut, embracing not just Maddin's fascination with Canadian history (he's arguably the most important modern filmmaker from our neighbor to the north not named James (Cameron) or David (Cronenberg)) but also his passion for cinema of a bygone era. Set in an Icelandic settlement known as Gimli, Canada, during a smallpox outbreak at the turn of the century, Tales concerns itself with two men who share a hospital room and the madness that begins to cripple both of them.
Gorgeously rendered in haunting, silent-era black and white, the film feels strongly in conversation with the films of people like David Lynch, where things like production design and sound work become paramount to the larger, blindingly surreal experience. Similarly crude in its ambitions to Lynch's Eraserhead, Maddin's film is a sensory experience, set in a "Gimli we no longer know." It's this purely cinematic recreation of some disturbed, nightmare-driven recreation of a period that's the highlight here.
That said, it also feels decidedly timely. Inherently a film about madness and jealousy, the film is at its very best when exploring the toxicity found in male interactions, particularly as they devolve into little more than glorified pissing contests. While not anything new, as our society begins to hold people accountable for things of that nature, Maddin's darkly comic story of two men driven to self-destruction is smart as a whip and has as much bite as one as well.
It's also simply a feat of ingenuity. Ostensibly built inside his parents' old salon, the set, which Maddin all but built himself, is a claustrophobic one, the perfectly decrepit landscape for the complete breakdown of two men's psyches. Maddin's ambitions have grown with each subsequent film, but few works of his match the sheer audacity of spirit that his debut carries in each frame. That said, the performances here are relatively lackluster, with neither lead drawing much emotional connection out of the viewer. Neither Kyle McCulloch nor Michael Gottli turn in performances worthy of the otherwise strangely captivating picture they star in, yet neither out stay their welcome given both the film's meager runtime and its abrasive aesthetic.
And now it's in a glorious new 4k restoration. From the geniuses over at Zeitgeist Films and Films We Like, with oversight from Maddin himself, Tales is coming back to theaters beginning with a run at the IFC Center in NYC on 10/14/2022. The new restoration highlights the strange beauty of the film's black-and-white photography and features the inclusion of a long-lost scene.
While it lacks the polish or scope of Maddin's subsequent films, Tales From The Gimli Hospital may be one of the director's most fascinating achievements. Seemingly made on a literal shoestring budget, Maddin's first feature is a captivating and combative meditation on masculine madness. A one of a kind knockout from a one-of-a-kind filmmaker.